Online voting could transform governance in Indigenous communities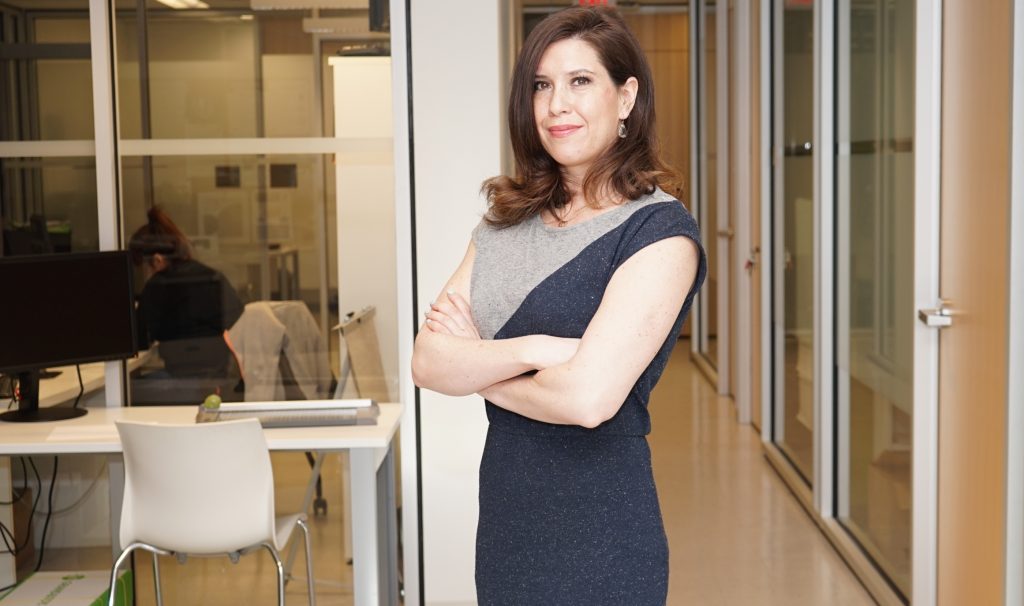 Chelsea Gabel worked closely with Indigenous communities and forged strong relationships built on trust for her research into online voting and self-determination.
---
BY Sonia Verma
March 6, 2019
When Chelsea Gabel received a SSHRC Partnership Development grant in 2014 to look at whether online voting contributed to Indigenous communities' capacity to ratify their own legislation, it was still a very new idea.
"When we started, I think there were 15 Indigenous communities in Canada that used online voting," says Gabel, the director of the McMaster Indigenous Research Institute, and the Canada Research Chair in Indigenous Well-being, Community Engagement and Innovation.
"Now there are more 80, probably closer to 100, and we're getting contacted left, right and centre for our expertise and to come into communities and talk about online voting. We can't keep up."
Based on her research with colleague Nicole Goodman from Brock University, Gabel sees online voting as a tool to enhance self-determination for Indigenous communities in Canada.
For one thing, it makes it easier for First Nations members, especially those who live off-reserve, to voice their opinions on issues that matter to them.
"As well, I think one of the key motivations for adopting online voting is to encourage greater participation within communities," Gabel says.
Under the Indian Act, which has been in effect since 1876, many First Nations have to reach quorum to make decisions. Community members have to be physically present to ratify their own laws and policies.
"But with online voting, you can get participation and be able to have your own matrimonial property laws, your own cannabis legislation, your own electoral code, your own land codes," Gabel says.
"Communities are using online voting to ratify their own constitutions."
After Gabel and Goodman wrote about the issue in the International Indigenous Policy Journal and in Policy Options, Indigenous and Northern Affairs Canada approached them to write a major report.
Gabel and Goodman will present their report and recommendations on March 25 at an Alternative Voting Workshop, hosted by the First Nations Land Management Resource Centre.
One of their eight recommendations is to amend the relevant regulations of the Indian Act and First Nations Elections Act to allow First Nations to have the choice of using alternative voting methods, such as online voting, in their elections and referendums.
"Many communities have to write their own custom community electoral code, which is based on a model set up by the Indian Act, telling communities how they're supposed to govern their elections," Gabel explains.
"As things stand, only communities that have already passed their own electoral code, or that have self-government agreements in place, can use online voting for elections and referendums."
Gabel's participatory approach to research is one reason there's so much demand to learn about and adopt online voting.
"We worked directly with the communities on this project for the past 5 years," Gabel says. "All the information we're presenting belongs to them, and we want to be sure they're heard.
"Historically, researchers have gone into communities, collected data and flown out," she says. The communities don't usually know how the information will be used.
"We really want to make sure that we work with communities, in a collaborative research process that is directed, driven and led by communities," she says.
"It means lots of trips to the community, doing presentations and getting feedback. And when we go there, we hire local youth in the communities to help with surveys. We hire interpreters so if people want to do the surveys, or vote in their own language, they have that opportunity. And everybody gets trained in how to use the technology."
Education and advocacy are a vital aspect of their work, Gabel says. "We see that as a really key and critical part of the projects, building capacity and ensuring that there are these positive working relationships. And that's what community engagement is about."
That can be a challenge when you're working with the government. Not only do many Indigenous communities mistrust Crown-Indigenous Relations and Northern Affairs Canada, but there's a huge gap between government expectations and reality.
"The government has specific timelines and desired deliverables, but these don't always align with the timelines of communities," she says.
Gabel and Goodman relied on long-standing relationships built up over decades of working with these communities, but it wasn't always easy, she says.
"The process of community engaged research means a report is ready when the communities say it's ready," she says. "This is what reconciliation is about. Government needs to be patient, needs to listen, and needs to give communities time to reflect, and ask them what they want and what they need. The final product should be a reflection of what is best for communities."
Despite its challenges, the project has been very rewarding, and the feedback from First Nations has been overwhelmingly positive, Gabel says.
"This is the first project of its kind with a broader discussion of Canadian policy in this area," she says. "Indigenous voices have largely been absent from this conversation. And now we can say Indigenous communities are really at the forefront of online voting. They are the experts, they are the ones who experimented with it and can speak to the strengths and the challenges of online voting."