World-renowned cardiologist hunting for root causes of heart disease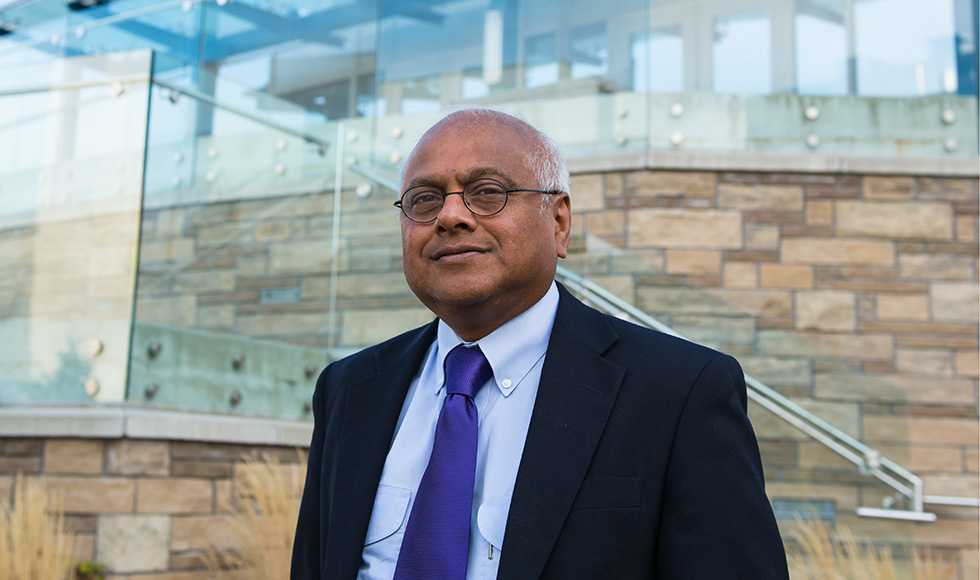 BY Tina Depko
February 5, 2018
The name Dr. Salim Yusuf is synonymous with the Population Health Research Institute (PHRI).
His leadership fostered the development of Canada's premiere global health research institute, a world-leader in large clinical trials and population studies.
The joint initiative between McMaster and Hamilton Health Sciences started with a focus on cardiovascular disease and diabetes. Over the years since the institute began in 1992, research has expanded to encompass population genomics, perioperative medicine, stroke, thrombosis, cardiovascular surgery, renal, obesity, childhood obesity, bone and trauma, and implementation science.
PHRI studies have enrolled close to one million participants worldwide, with researchers in more than 100 countries.
"We are trying to understand the causes of heart disease and other chronic diseases in societies not just in Canada, but globally," says Yusuf, executive director of PHRI and a professor of medicine of McMaster's Michael G. DeGroote School of Medicine.
"This understanding is important because of the variability of such factors as ethnicity, culture, location and economic status. We want our work to be globally relevant. We have influenced medical practice by discovering some of the causes of cardiovascular diseases, developing better forms of treatment and fostering more effective types of prevention."
Yusuf established PHRI, and he has assembled a large, all-star team of researchers, including P.J. Devereaux, Sonia Anand and Hertzel Gerstein, among others. Many of the PHRI scientists are leading clinicians and researchers in their respective fields.
"We have an incredible team of people who are like-minded and we all support each other," he says. "Everyone at PHRI is a gem."
In addition to his role at the helm of PHRI, Yusuf's own large-scale clinical trials and epidemiologic studies have made a significant impact on the treatment and prevention of cardiovascular diseases worldwide. He has published more than 1,000 articles in refereed journals and is one of the most cited researchers in the world.
"From the beginning, I was taught by my mentors Richard Peto and Peter Sleight at Oxford to ask important questions and to answer them reliably," he says. "My work is in real people globally, and it is very satisfying to see my research have a positive impact on people's health during my lifetime."
Yusuf's work has garnered numerous accolades, among which are an appointment as an Officer in the Order of Canada, the Canada Gairdner Wightman Award and an induction in the Canadian Medical Hall of Fame.
Interestingly, this world-renowned cardiologist and epidemiologist did not have any familial connections to medicine when he set off for medical school in Bangalore in his home country of India. He subsequently received what he calls a 'life-altering' Rhodes Scholarship and completed a DPhil at Oxford. During his studies at both institutions, he had a particular interest in cardiovascular medicine and cardiovascular disease.
"It was a time when there was a lot happening in the cardiovascular field, and the physiology of the cardiovascular system was attractive to me because it appeared logical," he recalls.
"It also happened that my father had suffered from heart disease, so there was another link there."
Yusuf came to Canada and McMaster in 1992 to serve as the director of the university's cardiology division. He was drawn by the opportunity to work alongside respected figures like Jack Hirsh, David Sackett, Michael Gent and John Cairns.
"Salim Yusuf was recruited to McMaster University 20 years ago and has developed a research program which is renowned the world over," says Jack Hirsh, professor emeritus with the Department of Medicine at the Michael G. DeGroote School of Medicine.
"He achieved this because of his unique and truly remarkable interrelated qualities, including intelligence, superb training, ability to identify important questions, passion for research, enormous stamina, leadership, tenacity, fiscal wisdom and negotiating ability. Salim is an international force who is as well known in the developing world as the developed world. His research has transformed the way physicians practice."
Yusuf is a joint member of the Department of Medicine and the Department of Health Research Methods, Evidence, and Impact, and he holds the Heart and Stroke Foundation of Ontario/Marion W. Burke Chair in Cardiovascular Disease.
Yusuf says his success, especially in relation to PHRI, has surpassed his expectations, and there are many more exciting research projects slated for the next five to 10 years.
"It is far bigger and more impactful than I ever anticipated it would be and it's because of the people who are at PHRI and our collaborators worldwide," he says.
"PHRI has changed the approach to research globally, with people in developing countries and smaller hospitals actively participating and doing their own research. We've enabled a lot more people to join the research community. And it has changed medical practice and saved lives. Our work will likely continue to benefit millions of people in the future."
When Yusuf is not at work, his other passion is his family of three children and three grandchildren, as well as extended family members, including his siblings and their children.
"I sometimes get ribbed by my kids who say that I'm not listening because I am working," he says with a laugh.
"My work, my colleagues and my family are the only things that matter in my life, and they are closely intertwined."