McMaster places 14th in the world in Times Higher Education Impact Rankings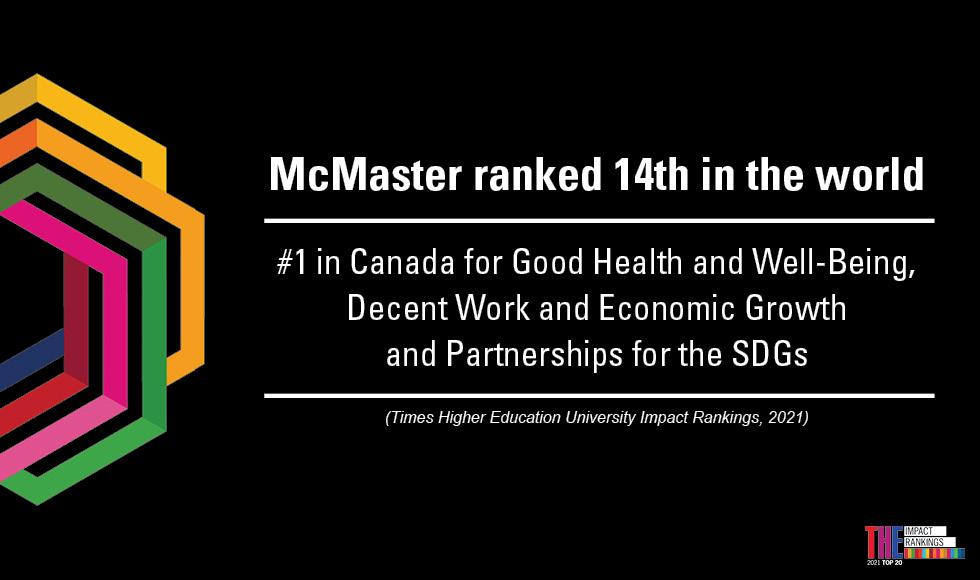 The university moved up three positions in the international rankings and placed first in Canada for impact on good health and well-being.
---
April 21, 2021
Good health and well-being. Reduced inequalities. Clean water. Partnerships. Decent work and economic growth.
McMaster's  commitment to these values, which underpin much of its research, teaching and community engagement, has earned the university the rank of 14th in the world in The Times Higher Education (THE) 2021 Impact Rankings.
This is the third year for the impact rankings, which recognize the contributions of universities as they work to make the world a safer, more sustainable place and are based on the United Nations' Sustainable Development Goals (SDGs). The goals are a call to action to end poverty and hunger, protect the planet, and enable everyone to live healthy lives in peace and prosperity by the year 2030.
McMaster moved up three positions to rank 14th globally, and third within Canada. More than 1,200 universities from 98 countries submitted data for the 2021 rankings, compared to approximately 850 participants last year.
The university has been recognized for its commitment to advancing nearly every SDG, and for creating an ambitious online toolkit to better equip other researchers and institutions to align their work with the SDGs. McMaster's SDG-focused website also showcases the cross-disciplinary breadth and commitment to meet the goals, in research as well as shaping a new generation of innovative thinkers who prioritize sustainability. 
McMaster placed first in Canada in three categories that recognize the tremendous impact of its research and community work: Good health and well-being; partnerships for the goals; and decent work and economic growth.
"The impact of our work comes from addressing the most pressing challenges facing our communities and our planet — the same challenges that shape the UN's Sustainable Development Goals," says McMaster President David Farrar.
"Our researchers have a long history of working across disciplines to share and amplify their expertise — with one another, with industry partners and with members of our communities — with the goal of saving lives, supporting and sustaining our planet, and improving the lives of people around the world."
McMaster placed 14th overall, and performed especially well in specific rankings in the following SDGs:
SDG 3 (Good Health and Well-Being) – 4th globally, 1st in Canada
SDG 8 (Decent Work and Economic Growth) — 18th globally, 1st in Canada
SDG 10 (Reduced Inequalities) — 12th globally, 2nd in Canada
SDG 6 (Clean Water and Sanitation) — 14th globally, 2nd in Canada
SDG 17 (Partnerships for the Goals) — 14th globally, 1st in Canada