A look inside McMaster's Centre for Advanced Research in Experimental and Applied Linguistics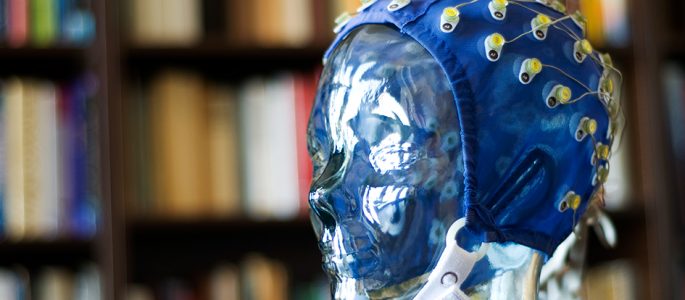 February 20, 2018
McMaster's Centre for Advanced Research in Experimental and Applied Linguistics – casually known as ARiEAL – is a "dry lab:" no one's mixing chemicals, no one's dissecting anything and no one is carefully pipetting samples onto a petri dish.
Instead, there are rooms of computers – some furnished with EEG systems to evaluate the electrical activity in the brain, some equipped with eye-tracking devices to gauge how people read, some with software that assesses word recognition and second-language learning, some that simply analyze reams and reams of data.
Of course, that's not counting the hair washing room.
"When they do an EEG, they use a gel to improve conductivity between a person's head and each electrode," explains Chia-Yu Lin, the Centre's manager of development and research. She's holding up an electroencephalography (EEG) cap, which looks like a swimming cap covered in small, flat metal discs. "The gel gets injected under each electrode, and it gets all over people's hair. So we have a place where they can wash up – we've got shampoo, conditioner, hair dryers, and hair products."
ARiEAL is one of McMaster's newest research centres, started in 2016 under the direction of John Connolly, the Senator William McMaster Chair of Cognitive Neuroscience and a professor in the department of Linguistics and Languages. The Centre, which moved into a new facility in L.R. Wilson Hall in September 2017 and houses five different labs, brings together researchers from a variety of disciplines to investigate topics around language, cognition and brain function.
"Here, we've got different people in different fields all in one place," says Connolly. "We give them the opportunity to get chatting and that leads to 'we should work together' moments. After all, we're working on a 'platform organ:' the brain. It does everything – so even though our research areas may seem unrelated, they're actually not."
ARiEAL's members and collaborators include partners from the faculties of Humanities, Engineering and Health Sciences, as well as research partners from the University of Western Ontario and HELP University in Kuala Lumpur, Malaysia. The Centre also has Memoranda of Understanding (MOUs) with the Haskins Laboratories at Yale University and the University of Turku's department of Psychology and Speech-Language Pathology in Turku, Finland, which help facilitate research collaboration and cross-pollination between the institutions.
ARiEAL also recently formalized another significant partnership with Words in the World (WoW), a partnership grant emphasizing a research training initiative funded by the Social Sciences and Humanities Research Council of Canada (SSHRC). This formal partnership solidifies ARiEAL's collaboration with WoW in advancing the next generation of research leaders.
Specific research areas include word recognition and speech comprehension, bilingualism, first- and second-language acquisition, coma, concussion and other brain injuries – among many other topics. Those types of far-ranging projects, as well as the interdisciplinary approach to research, are key to the work that ARiEAL does.
"At some point I realized that if you're going to go after really big problems that are useful to humanity in general, you have to be interdisciplinary – you can't just look at things from a single perspective," says James Reilly, one of ARiEAL's members and an electrical engineering professor who specializes in signal analysis. "Working together, we've been able to solve some problems that we never would be able to solve on our own, with a much bigger impact."
Students also benefit from ARiEAL's focus on interdisciplinary work. Rober Boshra, who is working on a PhD in biomedical engineering jointly supervised by Connolly and Reilly, says that he's learned things through ARiEAL that never would have come up in a traditional research setting. Boshra was one of three McMaster trainees recently named to the Vector Institute for Artificial Intelligence's postgraduate affiliate program.
"From theoretical syntacticians to eye-tracking experts to socio- and psycholinguists – I've learned a lot from being able to bounce ideas off so many people with so many different approaches," he says. "I've actually audited classes in linguistics, which has turned out to be surprisingly useful for someone with a background in computer science. When you work with the brain, there's so much to answer – but it's enabled me to think about things differently."