A public intellectual in a time of tyranny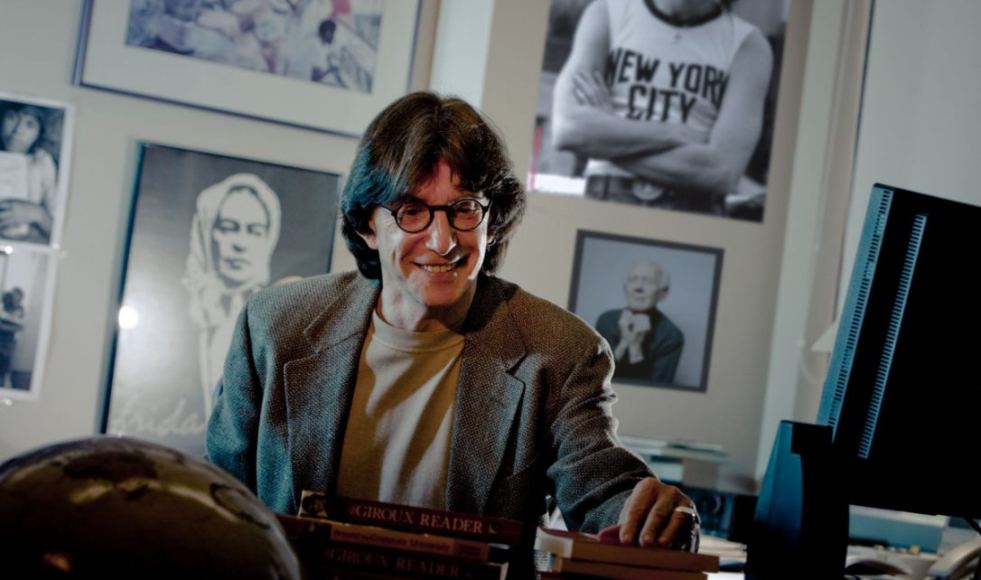 BY Sara Laux
March 12, 2019
Henry Giroux, McMaster's Chair for Scholarship in the Public Interest, has published more than 65 books on critical pedagogy, cultural criticism and educational theory. (His newest, A Terror of the Unforeseen, comes out this summer.) His work has been translated into 20 languages.
He's delivered more than 250 public lectures. He's one of the most cited Canadian academics in the humanities. In 2002, he was named one of the top 50 educational thinkers of the modern period.
And if he hadn't been a decent basketball player, he wouldn't have gone to college at all.
"I grew up in Providence, Rhode Island, in a working-class neighbourhood," Giroux laughs. "The choices you had in your life were to become a priest, become a firefighter or go into the service. There were three choices. That was it."
As a working class kid, I grew up in the age of musical giants. Etta James was one of them and had an indelible impact on me as a kid trying to negotiate the often taut terrains of race and class. Here is my tribute to her: https://t.co/YpmvUbIvNr

— Henry A. Giroux (@HenryGiroux) March 12, 2019
Fortunately, he did play basketball – and after a brief stint at a junior college and a couple of years working as a bank teller, a basketball scholarship to the University of Southern Maine started him down the road to becoming one of North America's most prolific and outspoken public intellectuals.
Eventually.
(Never mind that he originally wanted to be a vet, only switching into social science after his science teacher – mad that he'd quit the basketball team – gave him a poor grade.)
"This is in the early 60s, so along with studying history, I'm getting radicalized at the same time," he says. "I started reading a lot – Marx, a lot of social criticism, a lot of I.F. Stone. It was a tumultuous time, to say the least."
From there, he headed to a master's degree in history at Appalachian State, followed by seven years as a history teacher at an "enormously liberal" high school in Barrington, Rhode Island.
Giroux's career in the sociology of education really started when he went to a talk by historian (Edwin) Ted Fenton, whose books he'd been reading.
"I asked four or five questions during the meeting, and afterwards, he came up to me and said, 'How'd you like to get a PhD? Why don't you come to Carnegie Mellon on a scholarship?'" Giroux remembers.
After his PhD, Giroux taught at Boston University, where he wrote a number of books, including Theory and Resistance in Education, considered one of the most influential books in critical education theory ever published.
After the school's right-leaning president, John Silber – who had repeatedly raised the ire of left-leaning academics on staff, including prominent historian Howard Zinn – refused to give him tenure, Giroux started looking for a new job.
To the memory of my great friend, Howard Zinn whose work is more important today than ever before: https://t.co/rh6g5AShMC https://t.co/rh6g5AShMC

— Henry A. Giroux (@HenryGiroux) June 12, 2018
But after he sent out 50 job applications, the only place willing to hire him was Miami University in Oxford, Ohio.
"I get to Miami University, and I think I'm in hell," he recalls. "There were corn fields all around us – but then I discovered that place was filled with academics who had been fired because they were on the left. The place was an intellectual powerhouse. I'd never been somewhere where there was so much trans-disciplinary research – it was the academic version of heaven. The place was full of engaged scholars who took the notion of collaboration and community seriously."
At Miami, he started the first centre for education and cultural studies in the United States, determined to emphasize a critical approach to the study of education as a cultural phenomenon without reducing it simply to the study of schooling.
Eventually, his perspective shifted from cultural studies, education and pedagogy to youth studies and what he called "the war on youth."
"I spent a long time writing about the war on youth, because I was convinced the left was not paying enough attention to their problems," he explains. "There was work on race, class, gender, but there was too little being written about youth.""
Following a position at Penn State, where he served as director of the Waterbury Forum in Education and Cultural Studies, Giroux came to McMaster in 2004 as the Global Television Network Chair in English and Cultural Studies. Ten years later, he was named to the McMaster University Chair for Scholarship in the Public Interest, and is now the founding director of the McMaster Centre for Scholarship in the Public Interest.
Most recently, Giroux's work has focused on American politics and the relationship between neo-liberalism and the rise of fascist ideologies around the world – including the United States.
My interview on Flirting with Fascism for CBC Ideas is now available:https://t.co/eeQVYi97MW …

— Henry A. Giroux (@HenryGiroux) March 12, 2019
"Neo-liberalism produces enormous amounts of inequality and misery, and creates the conditions for ideologies to be adopted," he explains "that produce echoes of the past in the form of a fascist politics, particularly around a politics of racial purity, nativism, white supremacy and ultra-nationalism. You put those two together, and this isn't just neo-liberalism. Nor does it mimic a fascism of the past. I think it is important to acknowledge that fascism is never entirely restricted to the past and that it can emerge in different historical periods in different forms. We are living in an era in which the conditions that produce a fascist politics are emerging once again.
"This is a new historical conjecture. Trump may not be Hitler, but there is such a thing as fascist politics."
And while his work has never gone unnoticed – quite the contrary – it's now catching the attention of audiences beyond the walls of academia in a big way.
In 2016, Julian Casablancas, lead singer of the Strokes, called Giroux a "living legend" and interviewed him for Rolling Stone magazine. Just recently, he appeared on Russell Brand's podcast and YouTube show, Under the Skin. He regularly appears on mainstream media as a commentator, including regular contributions to Salon.
And that, he says, is entirely the point.
"What's the responsibility of the intellectual in a time of tyranny? It's to make your voice heard, hold power accountable and help people understand what counts as the truth. It's to produce work that is both rigorous and accessible while addressing important public issues crucial to struggling for a more just world. It's to prove to the public that the university is not just an isolated institution removed from the larger society – but so actively involved that it's actually central to the formation of a culture that provides the foundation for enabling both critically engaged citizens and a vibrant democracy."
In my case, I am starting to get some recognition for my work because I think people believe I am too old to be a threat any longer. Sorry, not going to happen…. https://t.co/E9ua2Gtdq4

— Henry A. Giroux (@HenryGiroux) February 15, 2019