Analysis: Did Canada and Ontario pay too much money for Volkswagen's battery plant?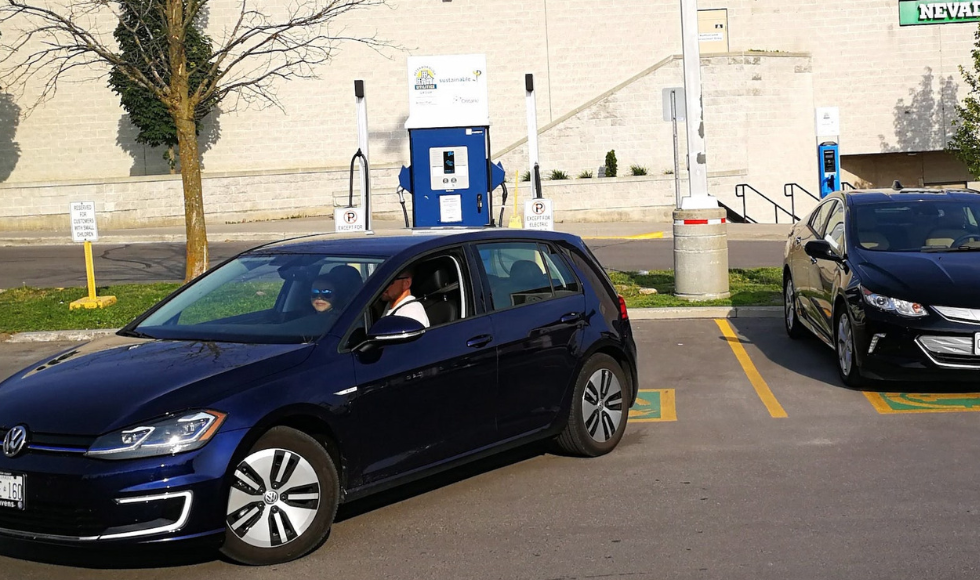 A driver backs a Volkswagen e-Golf into a parking spot in Peterborough, Ont. Volkswagen has announced plans to build an electric vehicle battery plant in St. Thomas, in southwestern Ontario. (The Canadian Press/Doug Ives)
---
BY Greig Mordue
March 27, 2023
Volkswagen recently announced its intention to build a plant in St. Thomas, Ont. for electric vehicle batteries.
While the news is being described as a major victory, until more information emerges, the deal raises lots of questions about what we actually won, why we won it and whether it was worth the price — which I assume is the range between $1 billion and $10 billion.
What does it mean?
Let's start with the good news.
First, Volkswagen chose a Canadian location over jurisdictions across the United States and Mexico, affirming our residual competitiveness for automotive manufacturing. "Residual" because Canadians now make about half as many vehicles as we did just a decade ago.
Second, until now, Volkswagen has not had a manufacturing presence in Canada. Now, in addition to Toyota, Honda, Stellantis, GM and Ford, Canada can add a sixth automaker.
Third, the St. Thomas investment may spur additional investment by current and future suppliers.
Fourth, it's possible that someday Volkswagen will look at its St. Thomas battery plant and the 1,500 acres of industrial land surrounding it and say: "We ought to build a vehicle assembly plant here too."
Finally, the Volkswagen decision confirms the longstanding impact that active industrial policy measures combined with prolonged, visible support at senior levels of government has on investment attraction.
Indeed, much of the foundation of the Canadian automotive manufacturing industry as it exists today is the result of Ed Lumley's work as Pierre Trudeau's industry minister in the 1980s. That's when companies like Honda, Toyota and others established assembly plants here.
While subsequent international obligations and trade agreements have curtailed the industrial policy tools available to our current federal minister, François-Philippe Champagne, and his Ontario counterpart, Vic Fedeli, those ministers' performance on the Volkswagen file demonstrates the enduring relevance of the Lumley approach: persistence and visibility.
Big questions
The Volkswagen announcement engenders more confounding news too. These include doubts about Champagne's and Fedeli's claim that their pitch hinged on Canada's offer of clean energy, critical minerals and a highly skilled workforce. There are even bigger questions about the financial incentives they've offered.
While the clean energy narrative fits nicely with the EV low-carbon storyline, automakers' practice shows that most battery plants in the U.S. are in locations where electricity is generated from sources that include coal, gas and oil.
When it comes to Canada's much-promoted reserves of critical minerals, the reality is those minerals are still in the ground, and in very remote locations. The transition from "known reserve" to "operating mine" takes at least a decade, and Volkswagen plans to open its St. Thomas battery plant in 2027.
On the matter of skilled labour, automakers have long provided better pay than most other employers, assuring access to employees with above-average skills. Therefore, differences in overall worker education among jurisdictions has a limited effect, an outcome of automakers' capacity to hire the cream of the available local crop, regardless of location.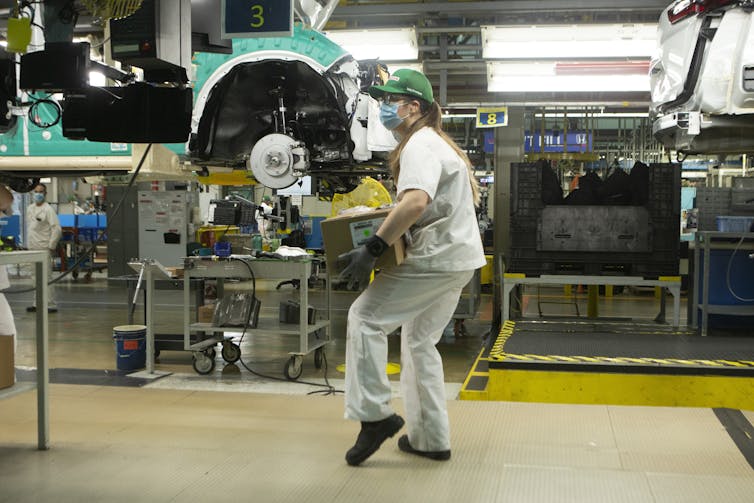 Did Canada overpay?
Finally, let's examine the financial incentives. Because Canada is neither the low-cost North American location for automotive manufacturing (that's Mexico) nor the big North American market (the U.S.), it's quite likely we overpaid.
So far, no one's saying how rich the Volkswagen package is, citing sensitivity about ongoing negotiations with other potential automotive investors.
We can only assume the range is between $1 billion — that's what LG-Stellantis got for its $5 billion battery plant in Windsor last year, then a record for Canada — and at least $10 billion. That amount is what a U.S.-placed battery plant can now expect via a combination of new measures put in place through the Inflation Reduction Act recently passed in the U.S. and individual state-backed support.
Beyond that, the only thing we can be confident of is that the Canada-Ontario package did not mimic the approach of Nuevo Leon, Mexico, the location of a $10 billion Tesla battery factory. When that plant was announced earlier this month, it was confirmed no government incentives had been offered.
If the Canada-Ontario package turns out to be near the top of the scale, it was too expensive.
The all-in payroll for a 3,000-person battery plant in Canada over 30 years is about $10 billion, an amount that would effectively eliminate the payroll gap with Mexico. Matching Mexico's labour costs is not a sustainable approach to industrial policy.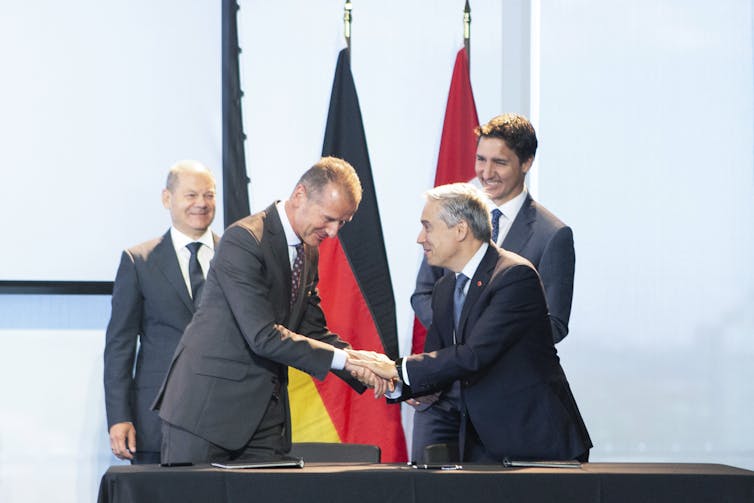 How else could $10 billion have been spent?
For $10 billion, Canada could have launched its own EV maker. Instead of making batteries in a single plant in Ontario using technology developed in Europe for vehicles designed in Germany and assembled in the U.S. and Mexico, Canadians could have been steering their own creation, directing the most knowledge-intensive, highest-value aspects of the automotive value chain to Canadians.
That's the approach planned or pursued by Turkey, Poland and Saudi Arabia.
Saudi Arabia wants to produce 500,000 EVs a year by 2030https://t.co/7YI5EkRsyB

— Financial Times (@FinancialTimes) February 13, 2023
That said, the likelihood of a Turkish, Saudi, Polish or Canadian-inspired start-up becoming an enduring industrial policy-driven triumph is highly uncertain.
As it is, within a few years, the contractual production, employment and investment commitments that Volkswagen has agreed to in return for our governments' largesse will lift, loosening Volkswagen's ties to Canada. The point: throwing billions of dollars at an automotive enterprise, whether to build a single battery plant or to launch a brand-new automaker, is risky.
The devil's in the details
Until we see details, we can only hope the Volkswagen package lies at the lower end of the scale: closer to the amount extended to LG-Stellantis for its Windsor battery plant last year.
While an offer in the $1 billion range does not say "we'll build you your plant" or "we'll use government money to eliminate a labour cost gap with Mexico," it does telegraph: "We're serious; we want you here; we want to help you succeed." And if Volkswagen accepted an amount closer to $1 billion than $10 billion, it would suggest a similar commitment by the automaker.
In the end, the Volkswagen investment represents an important victory for St. Thomas and the southwestern Ontario automotive industry. Right now, it's also a win for the economic development ministers in Ottawa and Queen's Park.
What we don't know yet is if the St. Thomas plant was "facilitated" with an incentive in the $1 billion range, or "bought" with a $10 billion cheque. When we learn that, we'll know if the Volkswagen plant is truly a victory for Canada, Ontario and the people who paid for it.

Greig Mordue, Associate Professor, ArcelorMittal Dofasco Chair in Advanced Manufacturing Policy, Faculty of Engineering, McMaster University. This article is republished from The Conversation under a Creative Commons license. Read the original article.