Analysis: Ron DeSantis shows how 'ugly freedoms' are being used to fuel authoritarianism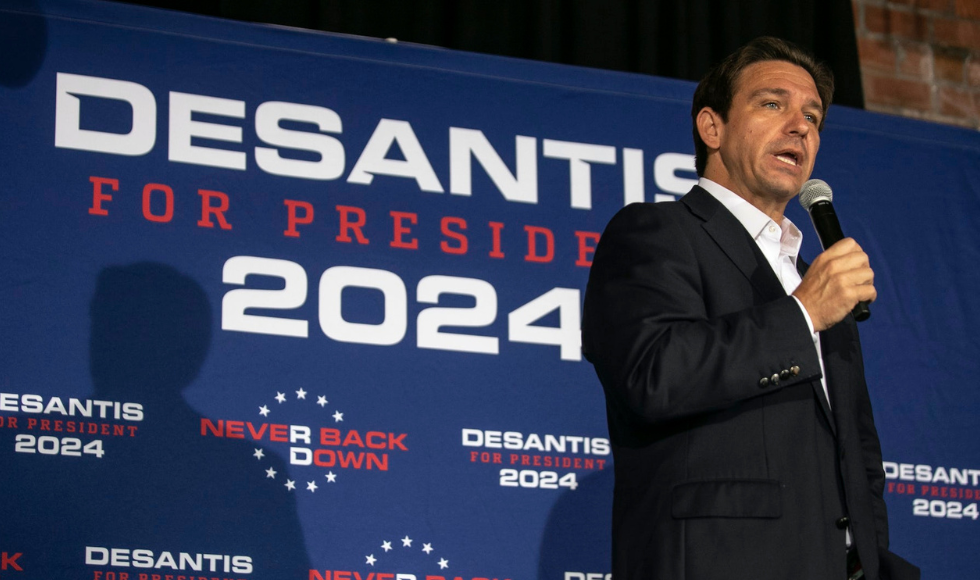 Republican presidential candidate Florida Gov. Ron DeSantis delivers a speech in Iowa City, Iowa, on Aug. 10, 2023. (Geoff Stellfox/The Gazette via AP)
---
BY Henry Giroux
August 23, 2023

At a time when conspiracy theories and far-right nationalist groups are gaining strength, it's crucial to understand how authoritarians are using the rhetoric of freedom to undermine crucial notions of justice and liberty.
In the United States, under the banner of right-wing demagoguery, "freedom" is being touted as an excuse to ban books by people of colour, Indigenous people and members of the LGBTQ community.
For example, Florida Gov. Ron DeSantis has signed into law the Individual Freedom bill, which bans educators from teaching topics relating mostly to race.
This regressive notion of freedom is used to advance a right-wing education agenda in the name of what DeSantis calls the "war on woke," which is code for attacking educators and others who refuse to whitewash history and address a range of systemic injustices.
In Canada, the "universal" concept of freedom has failed to include the inherent rights of Indigenous Peoples and has often served as a cloak for maintaining illegitimate relations of power.
In Canada as well as in the U.S., freedom has historically been shaped by what American historian Tyler Stovall has called "white freedom" — the belief and practice "that freedom is central to white identity, and that only white people can or should be free."
Freedom in this context has given Canada and the U.S. the right to dominate, colonize and exploit.
'Ugly' freedoms
The presence of what U.S. academic Elisabeth Anker calls "ugly freedoms" is not new. Its history is repeating itself with a politics that is as cruel as it is dangerous and widespread.
Central to this history has been a struggle over the meaning of freedom and which vision of freedom society should adopt. Those holding up the importance of freedom are no longer just advocates of social justice but also emerging authoritarians.
The appeal to these "ugly" freedoms is being used to legitimize and promote censorship, systemic racism and naked forms of political opportunism. Nowhere is this more apparent than in the state of Florida.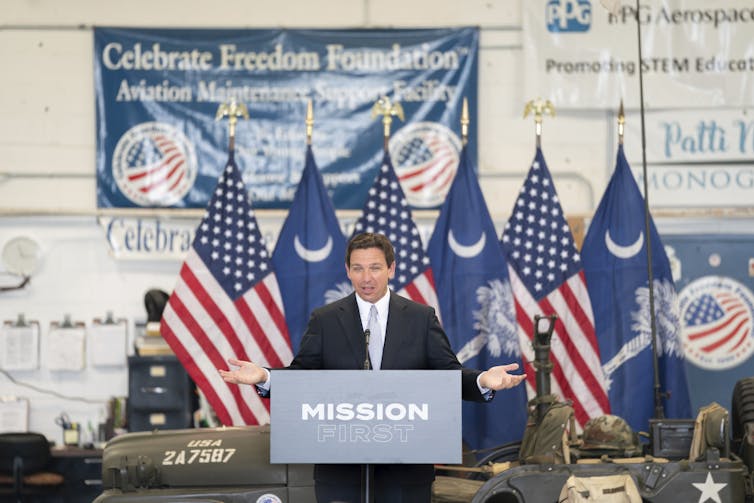 DeSantis's 'freedom' fixation
DeSantis has hijacked the notion of freedom.
His political career is marked by an obsessive appropriation and relentless defence of freedoms that are false and illusory. He defines himself as "governor of the free state of Florida" and fills his public appearances with self-congratulatory references to freedom.
As a member of U.S. Congress before he became governor, he was one of the founders of the far-right Freedom Caucus.
He launched his presidential campaign with a tour promoting his book titled Courage to Be Free. In naming Florida as the freest state in the nation, DeSantis claims he is engaged in a movement for freedom.
BREAKING: Ron Desantis' new book is called "The Courage to be Free"  In it he discusses all of the following:

– How to stop teachers from teaching about our history in a way that Republicans find offensive
– How to penalize companies for investing in green technology, human…

— Brian Krassenstein (@krassenstein) March 1, 2023
In doing so, he states repeatedly that in Florida: "We're No. 1 in economic freedom, No. 1 in education freedom, No. 1 for parental involvement in education … and we're No. 1 for public higher education. So we lead in Florida, not merely with words."
Ironically, DeSantis has become the sneering face for the suppression of freedom while proclaiming to be its foremost advocate.
Authoritarian values
Freedom for DeSantis is divorced from civic culture and isolated in the regressive discourse of authoritarian values, manufactured ignorance and nefarious power relations.
In the name of individual freedom, he bans books from classrooms and libraries. He also passes legislation forbidding teachers from teaching about slavery and racial injustice while defending his attacks on diverse and inclusive forms of education with the spurious notion of protecting young people from feeling uncomfortable.
"Using [Frederick] Douglass in any way to soften slavery is a desecration. And, that is DeSantis's educational legacy in the state." #FrederickDouglass #RonDesantis #Florida #Slavery. https://t.co/N7zfRyMJt5

— Charles M. Blow (@CharlesMBlow) August 17, 2023
Echoing the rise of past and emerging forms of authoritarianism, he bans teachers from addressing Black history, critical ideas and issues related to gender, sexuality and systemic racism.
Amid the wave of repressive policies that make up DeSantis's so-called anti-woke agenda, his anti-democratic model of governance is in direct contradiction of his claim that Florida is the freest state in the union.
He has used state power to punish both his critics and individuals and groups he suggests are unworthy of citizenship. He has waged a vicious attack against the civil rights of women, gay, transgender and queer youth.
He's also signed a six-week abortion ban, restricted transgender bathroom access, banned gender-affirming care for minors, signed bills that target drag shows and attacked businesses like Disney that disagree with his policies.
He's also waged a vicious assault on public and higher education, creating a culture that requires teachers to function as agents of state indoctrination.
Remembering what freedom really is
What can be done to preserve freedom as a crucial element in the struggle for democracy in Florida and around the world?
Educators, parents, young people and other stakeholders need to rediscover freedom as an emancipatory force. This requires language that enables people to fight against the ideological and economic conditions that strip them of their liberties and rights.
It's also essential for the public to develop strategies capable of organizing a mass multicultural struggle in support of a fundamentally democratic conception of freedom — one that enables people to reject "ugly" freedoms that reinforce the scourge of domination and prevents them from living meaningful and just lives.
Genuine freedom must be used in the fight for justice and equality. It should address staggering, ongoing levels of inequality in wealth and power, the poisonous legacy of systemic racism and an anti-intellectual culture that rejects reason.
The hijacking of freedom by far-right politicians like DeSantis not only raises crucial questions about whose freedom is at stake in a time of tyranny, but also how to fight for a version of freedom that is expansive and just.
True freedom furthers rather than destroys the promise of democracy. In an era of rising authoritarianism, a return to a concept of truly democratic freedom is urgently needed, as is collective resistance that makes it possible.

Henry Giroux, is the Chaired professor for Scholarship in the Public Interest in the Department of English and Cultural Studies, McMaster University. This article is republished from The Conversation under a Creative Commons license. Read the original article.