Art imitating life: Climate change fieldwork comes to life on canvas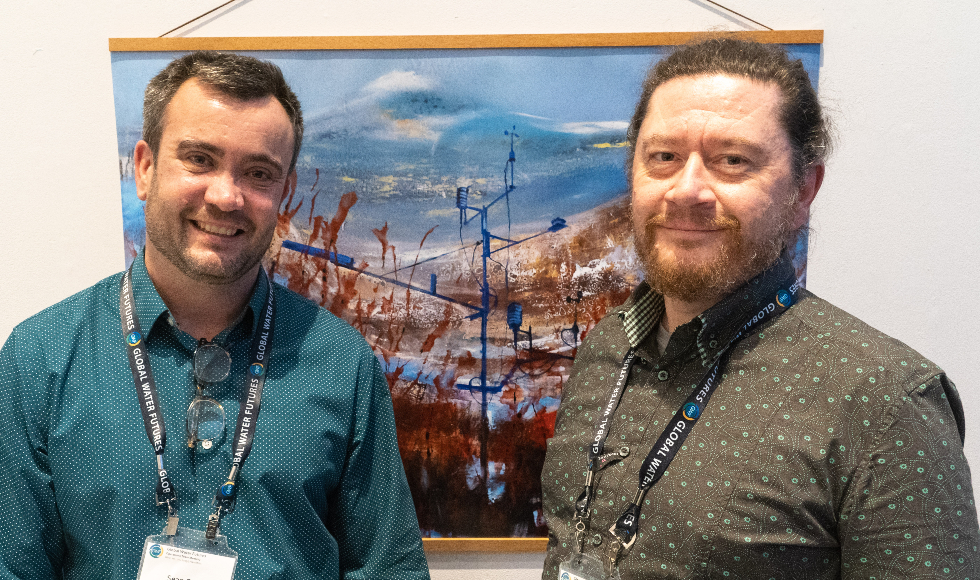 Sean Carey (left) with artist Gennadiy Ivanov. Photo courtesy of Mark Ferguson, Global Water Futures.
---
BY Lori Dillon
November 26, 2019
When McMaster researchers hosted their Global Water Futures colleagues for the team's annual operations meeting last week, they were joined by an unlikely guest – UK-based artist, Gennadiy Ivanov.
Ivanov has been chronicling the work of GWF researchers over the past year, accompanying several to remote regions in Northern Canada. He previously collaborated with scientists from his alma mater Norwich University, but wanted to capture some of the impacts of climate change in Canada where warming rates are extremely high, so he joined forces with GWF.
McMaster water scientist and principal investigator of GWF's Mountain Water Futures program, Sean Carey, says Ivanov's involvement with GWF researchers opens up their work to a segment of the public who may otherwise not be exposed to it.
"As scientists, it's so important that we identify opportunities to share our knowledge with the broader public," he says. "Geddadiy has increased our capacity to share our lived experiences of seeing the effects of climate change with diverse audiences.  He's telling our story through art and will continue to draw attention to this critically important work through his exhibits."
Last April, Ivanov joined members of Carey's team at their research site, Wolf Creek, Yukon Territory, where they have been conducting environmental research for the last 25 years. He was struck by the vegetation that had grown around the site, which has made the station defunct.  While a new station has been built, it was this original site that caught the imagination of Ivanov for his painting "The Red Invasion at Wolf Creek."
Ivanov says he was struck by what he saw and immediately likened the colour, the leaves and the shrubs, to fire.
"The red bushes are represented as flickering flames consuming the instrumentation, heating the surroundings and carrying the black seeds of the continuing invasion," explains Ivanov of the site, adding the painting is a good example of iterative collaboration between the artist and scientists.
Carey says that the original station was installed on near bare ground in the late 1990s, and within 10 years the equipment – designed to gather weather and water data – was becoming less meaningful, as their measurements were being skewed by vegetation growth.
"We simply couldn't get reliable measurements," says Carey. "The growth was incredibly rapid and so extensive that it appeared as cloud cover when the shrubs towered over instruments meant to measure solar radiation. Our data was no longer trustworthy."
Carey says that while the station is no longer useful for science, it's a poignant reminder of the immediate and on-going need to address the rapid consequences of climate change and work to develop adaptation strategies.
GWF is now accepting proposals for transformational research projects in: Pillar1 – Diagnosing and Predicting Change in Cold Regions, and Pillar 2 – Developing Big Data and Decision Support Systems.  The deadline for submission is February 28, 2020.