Ask a McMaster expert: Net zero carbon campus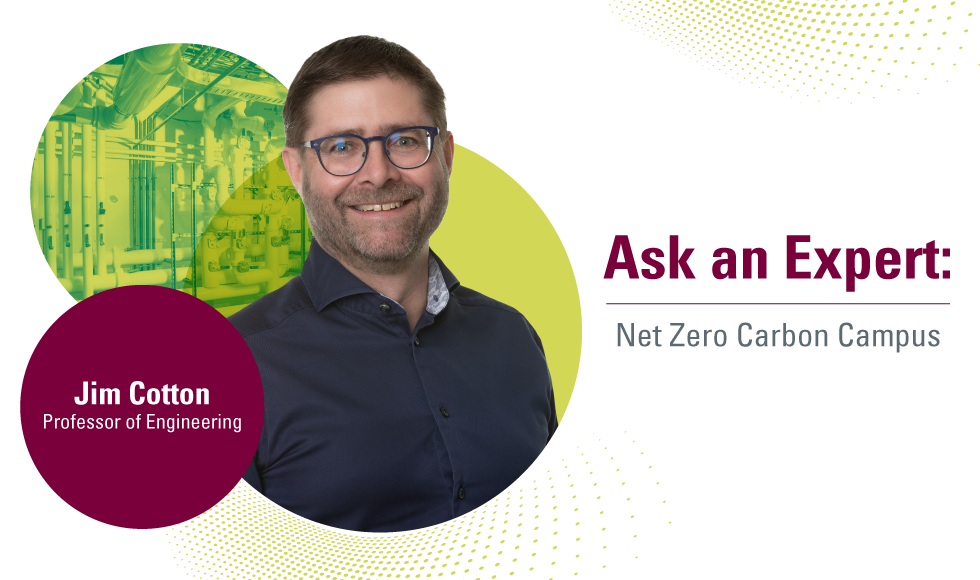 Engineering professor Jim Cotton, an expert on sustainable energy, answers questions about McMaster's plans to achieve net zero carbon emissions on campus
---
February 24, 2023
McMaster's experts are at the forefront of sustainable energy research and advocacy, advising governments on ways to reduce emissions and researching the latest clean energy technology.
Jim Cotton is a professor in the Department of Mechanical Engineering and a clean energy expert. Here, he answers questions about how McMaster plans to reduce carbon emissions on campus outlined in McMaster's Net Zero Carbon Roadmap and explores the trade-offs of having net zero carbon emissions as a goal.
---
What does achieving net zero carbon emissions on campus look like?
To have net zero carbon emissions on campus, the equivalent amount of carbon released into the atmosphere to create energy used on campus must either be captured and repurposed or stored in the ground or captured in our trees.
At the site level, use minus capture equals net zero.
We are currently in the phase of carbon reduction, which requires changes to how we generate and use energy on campus, and this has to be balanced with respect to how the province operates our electrical  grid.
Today, Ontario's grid is mostly powered by nuclear facilities. When demand is high, the province also operates centralized gas plants that emit carbon and are not very efficient, as most of the energy in the gas is exhausted as waste heat.
It's easy to measure your own campus emissions. It is much harder to think of emissions as a society, or a province. When you take the whole of society into consideration, we need to know when those gas generators are being operated to truly know whether McMaster is reducing its carbon.
How does the university's plan to install gas-powered generators fit within McMaster's Net Zero Carbon Roadmap?
It is important to think about emissions from McMaster's campus as part of the wider province.
The province's energy regulator is encouraging organizations like McMaster to generate their own electricity during peak demand in exchange for lower electricity bills. The government is offering this incentive so they do not have to build more centralized gas plants to service the grid during high demand.
The money McMaster will save on electricity by using the peak shaver generators is going towards paying for campus carbon-reduction projects. An example of an upcoming project in this area are the two new electric boilers that will heat and cool campus with carbon-free electricity during low demand periods, rather than the currently used natural gas boilers which emit carbon.
The peak shavers will only provide power for campus during short peak demand periods, representing around 2 per cent of carbon emissions on site.
If you zoom out to the provincial level, these generators have a net zero carbon effect; this example challenges our normal way of thinking. To power campus during the high demand for electricity, the carbon emitted by the peak shaver generators would be similar to the carbon that would otherwise be emitted by the province's centralized gas plant to power campus.
There needs to be a shift in thinking, less insular, and more regional. It is not just what is happening on campus, but it is also what is happening in the province.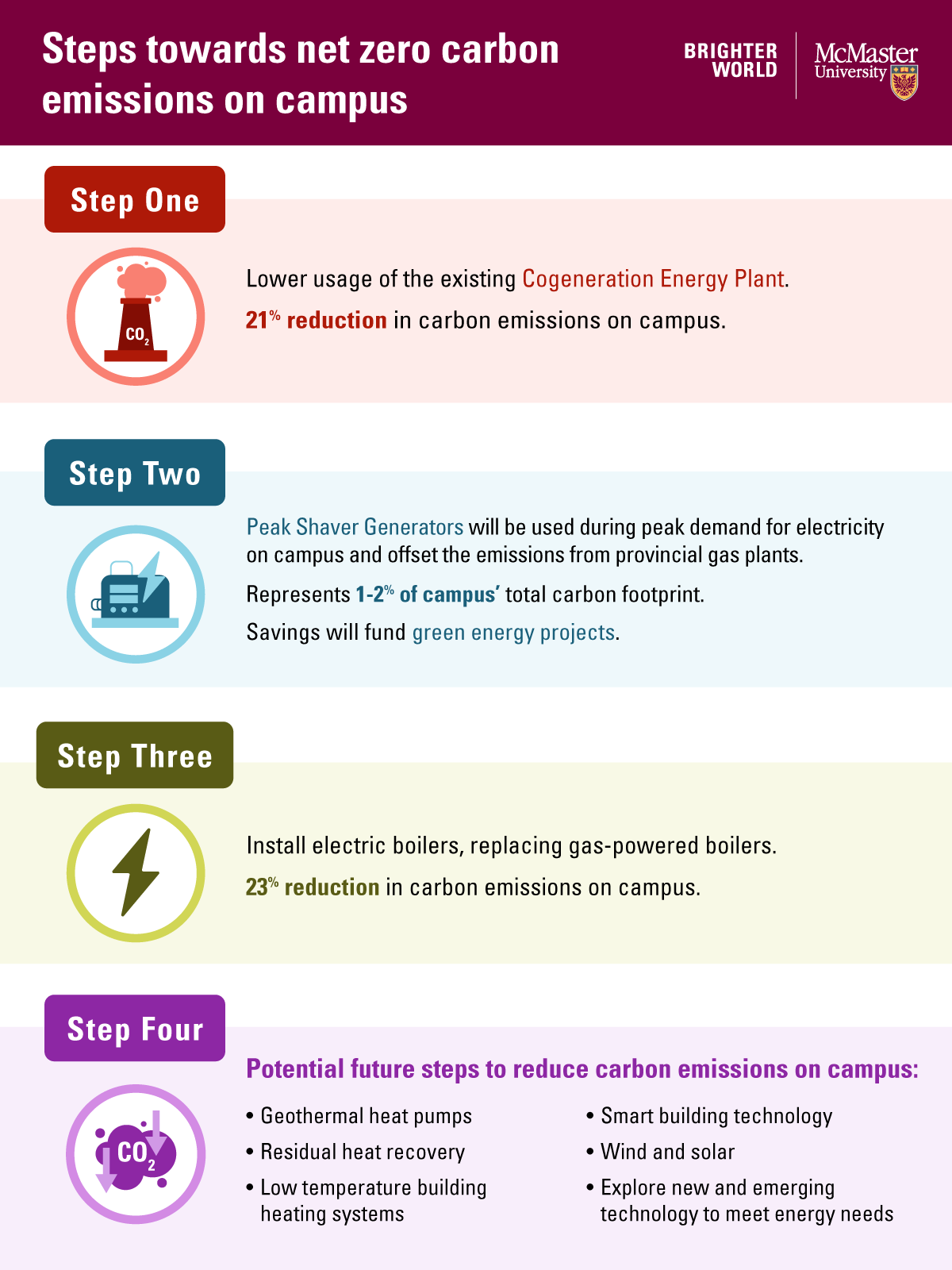 The roadmap involves reducing the use of an existing cogeneration power plant on campus, cutting carbon emissions by 21 per cent this year. What is a cogeneration power plant and why does McMaster have one?  
McMaster's cogeneration energy plant generates electricity for campus using natural gas. While this is not ideal, it is much more efficient to do so on campus versus taking power from the provincial grid when it is powered by centralized gas plants.
McMaster's cogeneration system makes the most out of every unit of fuel because it both generates electricity and captures heat to keep campus buildings warm. Local generation allows us to capture the heat, which is not possible in most centralized gas plants and this energy is just wasted into the atmosphere.
The campus cogeneration power plant reduces the amount carbon emissions by displacing the need to heat the campus with gas boilers.
As McMaster reduces use of the cogeneration system to power campus, carbon emissions on site will decrease. However, there is a trade-off, because the energy to power campus must then come from the provincial grid, who need to burn fossil fuels when demand is high.
To address this trade-off, McMaster is installing those gas-powered generators to generate its own electricity during peak demand.
Electrical grids are also vulnerable to the impacts of climate change, such as wind and hailstorms causing electricity outages. From a climate adaptation perspective, there are benefits to having a local option to generate power and heat, which the peak shaver generators and cogeneration plant on campus can provide.
McMaster is installing two new electric boilers, reducing carbon emissions on campus by 23 per cent. Do you think the electrification of campus infrastructure is the right way to decrease emissions?
Yes. This is a big investment and a good way to reduce carbon emissions on campus. I've talked about how there are two sides of the story when it comes to electrification of infrastructure. We are all connected, which is why a wider lens for emissions is crucial.
The new electric boilers will be operated as demand responsive electrification of heating, which beneficially electrifies heating with carbon-free electricity during low demand, but avoids adding to grid-wide peak demand, keeping electricity costs lower for both campus and all provincial ratepayers.
The province has said recently that it plans to consider restoring more of its nuclear plant fleet that power the grid, and this would make electrification a lower carbon option overall.
What can individuals do to reduce emissions where they live? What new technologies could be incorporated on McMaster's campus to reduce emissions?
Everyone can learn about and start thinking holistically about emission reductions where they live. Everyone can start thinking about how to stop wasting energy, including changes like LED lightbulbs and properly insulating living spaces.
There is no silver bullet here. As a society, we will need a combination of strategies to reduce energy use and carbon emissions where we live, learn and work, and we should be planning 25 years out.
We need to be thinking about the costs of implementing sustainable energy systems and for making energy efficient retrofits to buildings, which will be significant, and the benefits for everyone.
McMaster will need to think about incorporating more new technologies, such as transitioning to a lower temperature thermal network, giving the university the ability to recover carbon-free heat from the nuclear reactor or the many computer servers on campus.
Ground source heat pumps are another option McMaster has started using.
Our researchers are at the forefront of sustainable nuclear energy, and that is very exciting.