Averting disaster: Manish Verma awarded $245K to further rail safety research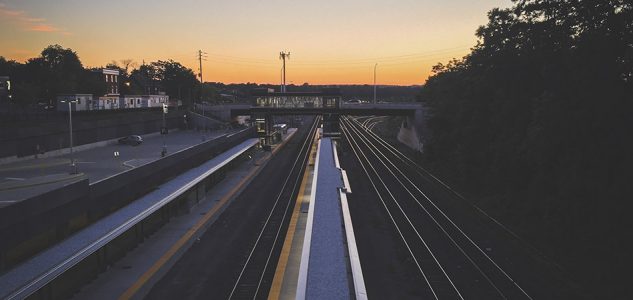 BY Andrew Baulcomb, Advancement Officer, DeGroote School of Business
July 12, 2016
Manish Verma wants to make rail transportation as safe as possible, and the Government of Canada thinks he's the right conductor for this objective.
Verma, an Associate Professor at the DeGroote School of Business, was among several dozen researchers, graduate students and postdoctoral fellows to receive funding from the Natural Sciences and Engineering Research Council (NSERC) last week.
The $15.7 million funding announcement was delivered at McMaster by Minister of Science Kristy Duncan.
Verma was awarded a Discovery Grant of $125,000 over five years to further his research involving rail safety and the overland movement of dangerous goods. He also earned a coveted Discovery Accelerator Supplement of $120,000 over three years, bringing his total to $245,000.
His proposed research program is entitled, "Disruption and recovery/resilience, and safety issues in freight transportation." The program is divided into two distinct themes:
Theme I will examine the resiliency of a given transportation system and how it copes with both intentional and random disruptions. Verma's goal here is to propose new frameworks and strategies to cope with such disruptions, including everything from freak weather occurrences to targeted terrorist attacks.
Theme II will focus on the railroad transportation of hazardous materials, also known as "hazmat." Think crude oil or radioactive waste, for example – both of which are transported via rail in Canada. This theme will complement a similar research program of Verma's already funded through a 2015 SSHRC Insight Grant.
"Though I have been fortunate to have held a NSERC Discovery Grant since 2005, this renewal is especially satisfying," says Verma. "This funding will enable me to provide the requisite equipment and support for the research team, and to contribute to my longer term objectives of reducing risk and preventing catastrophic accidents."
The latter is of particular importance for Verma, who fielded multiple calls from national media following the 2013 rail disaster in Lac-Mégantic, Québec that killed 47 people and shattered a community of 5,900.
Freight transportation is crucial to the lifeline of modern society because it connects the producers to geographically dispersed consumers…
In that instance, an unattended freight train loaded with crude oil rolled down a nearby hill and derailed in the centre of town just after 1 a.m., triggering a series of devastating explosions. It was revealed earlier this year that a 10-second safety procedure involving a secondary air brake may have prevented the train from moving.
Following the accident, Verma told Global News that the process of altering rail routes to avoid populated areas such as Lac-Mégantic would be expensive, but said it should be a collaborative effort between rail operators, governments and regulators.
Still, the notion of dismantling or re-routing traditional rail lines is tricky business, he offers.
"Freight transportation is crucial to the lifeline of modern society because it connects the producers to geographically dispersed consumers," Verma explains.
"In North America, this connection is facilitated by an extensive freight transportation system comprised of surface, marine and air transportation. However, investment in transportation infrastructure has not kept pace with the increased volume of goods, which in turn has resulted in at or near capacity operation for the freight transport sector."
Manish Verma joined DeGroote in 2013, following nine years as a faculty member with Memorial University's Faculty of Business Administration. He is an expert in the multimodal transportation of dangerous goods, and is also well-versed in risk assessment and management; network design and planning issues in transportation; global logistics; and green supply chain management.