Bone loan: Significant collection of skeletons arrives at McMaster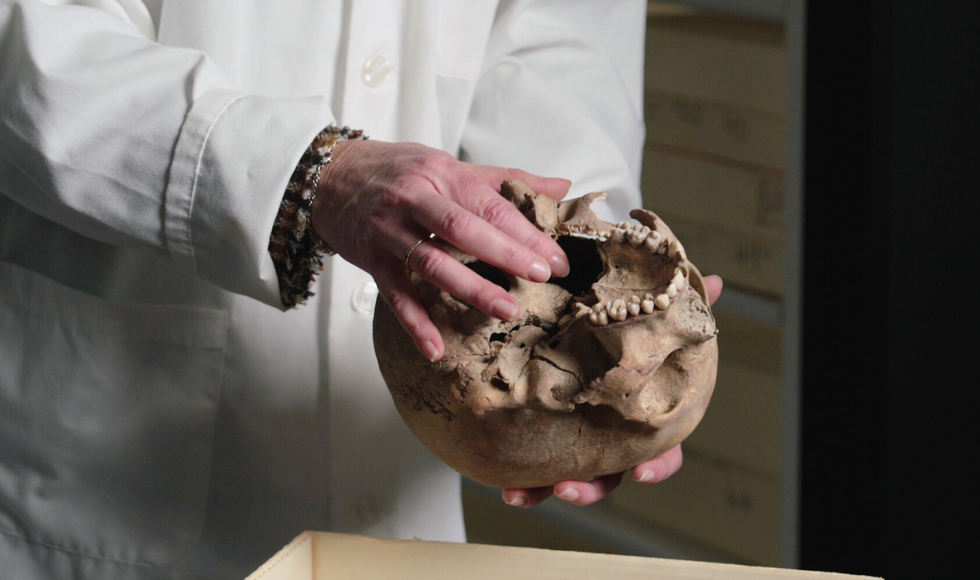 115 human skeletons are on loan to McMaster, where researcher Megan Brickley expects the collection will reveal much about early colonists' life and death.
---
BY Wade Hemsworth
October 20, 2023
To some it might seem spooky, but to McMaster's Megan Brickley, it's a collection to be valued, respected and studied.
Brickley, a paleopathologist who uses human remains to study illnesses and injuries of the past, recently received 115 human skeletons recovered during the redevelopment of a parking lot in Guelph. The skeletons are on loan to McMaster for research.
The loose bones, having long since lost their connective tissue to decomposition, are carefully catalogued and stored in boxes in a room on campus.
The collection features skeletons of people who died between 1827 and 1853 and is believed to be the largest Canadian collection currently available for research.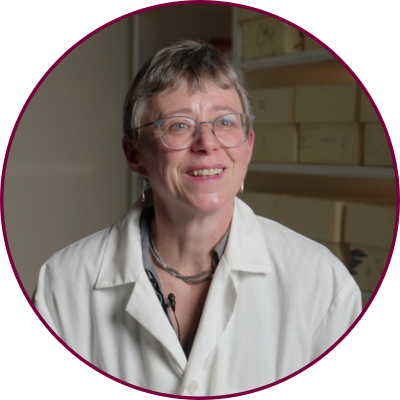 Brickley and her colleagues in the department of Anthropology, who often travel internationally for access to such collections, plan to make the most of it.
"To actually have a Canadian collection and have it here at McMaster, for me, is a really fantastic opportunity," says Brickley, who holds a Tier I Canada Research Chair in the Bioarcheology of Human Disease.
"I'm very enthusiastic about the research and what I can learn from these people and communicate to the wider community over the next few years."
The remains come from what had been an all-faith public burial ground. Many of those buried at the site would likely have been poorer community members. Families with the means to do so later had their loved ones re-buried at what is now known as Woodlawn Cemetery, when it opened in 1854.
Because the skeletons are more likely to have come from poor and marginalized people, they are likely to yield particularly interesting and valuable evidence about early colonists' living and working conditions in Upper Canada.
Collections of this size are much more common in Europe, but almost unheard of in Canada, where human remains are less frequently disturbed because the country is more sparsely populated, Brickley explains.
She plans to analyze the bones and teeth to study such conditions as anemia, scurvy and other illnesses and injuries that were more common in the pre-Confederation period, and to compare the findings to those from other locations in Canada and abroad.
Though many sets of remains in the collections belong to people under 18, she hesitates to call them children, since people of the time frequently took on adult responsibilities at a much earlier age.
A rich source of information
Even before putting the bones under powerful scanning equipment in her laboratory and in the Canadian Centre for Electron Microscopy across campus, Brickley can see that the teeth of these individuals are in worse condition than typically seen before sugar become more readily available or after modern dentistry became available.
Carefully taking the skull of a young woman from its numbered box, she points to an apparent cavity in one tooth and a likely dental abscess along the upper jaw, both immediately visible to her trained eye.
Having a group of skeletons of people who died over such a compressed period — compared to church cemeteries that may contain remains buried over the course of two centuries — makes the Guelph collection especially valuable for research, Brickley says.
The bones were recovered in ideal condition, thanks to the conscientious work of the heritage consulting firm Archaeological Research Associates, which removed the remains and contacted her about taking them.
Typically, smaller bones from the hands and feet — which can be rich with information about joint conditions, for example — are lost during excavations, but the recovery of such bones during this excavation was excellent, Brickley says.
She and her team are still cataloguing the remains and matching them with photos from the excavation. She plans to consult with the City of Guelph and local groups as she sets out her course of research.
The anthropologist said her team will treat the remains with the same degree of care and respect she'd want others to use with her own skeleton. Her promise is more than hypothetical, since she plans to leave her own remains for research.