Building resilience in the face of COVID-19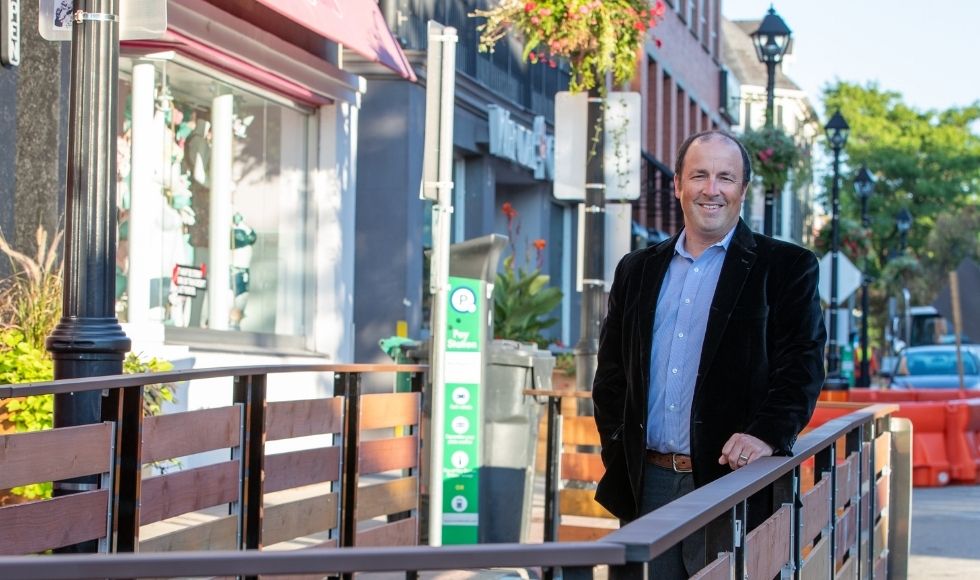 Brent McKnight is studying how non-profit organizations and local businesses can adapt, endure and bounce back from the pandemic. (Photo by Georgia Kirkos/McMaster University)
---
BY Sonia Verma
August 31, 2021
"Passion is what sustained most non-profits through this pandemic, and that's not a sustainable resource."
COVID-19 has stressed small businesses and non-profit organizations in immeasurable ways, forcing already struggling sectors to pivot and adapt again and again as the situation — and the virus itself — changed.
For some, there is no recovering from the disruption of the pandemic. Others will find a way to revert to old ways of doing things. And still others will adopt new approaches and practices.
Brent McKnight is examining how both those sectors — main street and non-profit — are navigating the pandemic and its eventual aftermath: How do they build a new normal? What does that look like, and who shapes it? He hopes to use his research to inform the post-pandemic recovery and build resilience in both sectors.
The associate professor at the DeGroote School of Business has long studied resilience — primarily in the face of climate change and natural disasters. "A lot of my prior research has looked in the rearview mirror at disasters, hurricanes and fires, that have come and gone," he says.
When COVID-19 struck, he switched focus, talking to business owners from five Business Improvement Areas (BIAs) from cities around Ontario, as well as a number of non-profit organizations, all adapting to a rapidly evolving situation in real time.
Both sectors were already in tenuous situations even before the shock wave of COVID, McKnight says. "Non-profit organizations are often underfunded, even though they employ so many people and are such a critical part of social fabric," he says.
"And main streets, even though they are where commerce and culture and community come together, were under assault from online and retail giants."
"COVID is the shock of all shocks, and it's going to have a long tail — it's effects will be felt for a long time," McKnight says. "We want to understand its impact on everyone."
Non-profits
For non-profit organizations, one of the things he's studying is how different traditions played a role in whether they moved toward a new normal or were hoping to go back to how things once were.
For example, with museums, zoos, galleries, traditions were tied to space and how that space was used. These organizations, who found themselves pushing beyond their physical boundaries, might stick with some of the changes they adopted. Others, like religious organizations, have traditions that are pulling them toward the old normal.
Either way, he notes study participants found it reassuring when his team walked them through some early findings. "They saw that they weren't alone," he says. "They knew other organizations were feeling the same things and facing the same kinds of stress and that brought a measure of comfort."
Many non-profits faced the double stressor of laying off workers while seeing their programming dry up even as demand for their services went through the roof.
"There are so many constraints on resilience," McKnight says. "Non-profit organizations need capability to deliver services. When there's a big shock, and no resources, the organization and those who need it suffer."
Non-profits are also affected by a huge shift in focus toward equity, diversity and inclusion, driven by the Black Lives Matter movement and push for Truth and Reconciliation.
"When you think of the non-profit sector being more sensitive to those issues and dealing with people who are disadvantaged, these are motivators that are shaping the new normal," he says.
Just as individuals struggle for balance, non-profits feel a need to always be meeting the immediate need in front of them, but then they struggle to build capacity for the future, McKnight says.
On Main Street
Meanwhile on Main Street, retailers have begun shifting how they engage customers, McKnight says. "One surprising early finding was that retailers reported that they were getting to know their customers better than before.  This was counterintuitive since COVID-19 had forced us to isolate. But retailers were responding to emails, engaging in phone calls and in some cases delivering products directly to customer's homes."
He cautions that this has been a tale of two pandemics when it comes to the local business landscape. For some retailers, like garden centres and kitchen stores, business is way up reflecting customer's changing habits. For others, like bridal boutiques, the past year has been almost untenable, fraught with uncertainty over supply chains, inventory and customer demand.
Even for restaurants, repeated regulatory shuffles have created wide disparities in how they weather the changes. "Everyone is trying to find a way that works for them," he says.
The pandemic even changed the role of the BIA, he notes. Members are more engaged, and the BIAs have taken on a larger advocacy and communications role, helping local businesses stay up to date on a rapidly changing situation.
Ultimately, McKnight wants to use his findings and learnings to benefit businesses, organizations and communities. "These people have trusted us with their time and their data, and as academics we have a responsibility to do something that will be of use," he says. "This research has to be about giving back, and putting those practitioners first."
Managing those relationships calls for a tremendous amount of communication, sometimes at the cost of his other commitments, but McKnight is determined to stay the course.
"I want to focus on work that has impact and meaning, to be part of solutions. That's what it's all about for me."
—
McKnight is working with a team of scholars on this research. In the non-profit context, he is working with Dr. Julie Gouweloos with support from Lynn Fergusson, partner at Social Impact Advisors.  In the main street context, McKnight has key research partners at Ryerson University including Hong Yu, Janice Rudkowski, Frances Gunn, Andrea Romero, and Zachary Robichaud as well as Amr El-Kebbi at McMaster. The main street research is being conducted with the support of the Burlington Downtown Business Association and the Ontario Business Improvement Area Association.