Canadian recommendations for MDs call for reduced use of opioids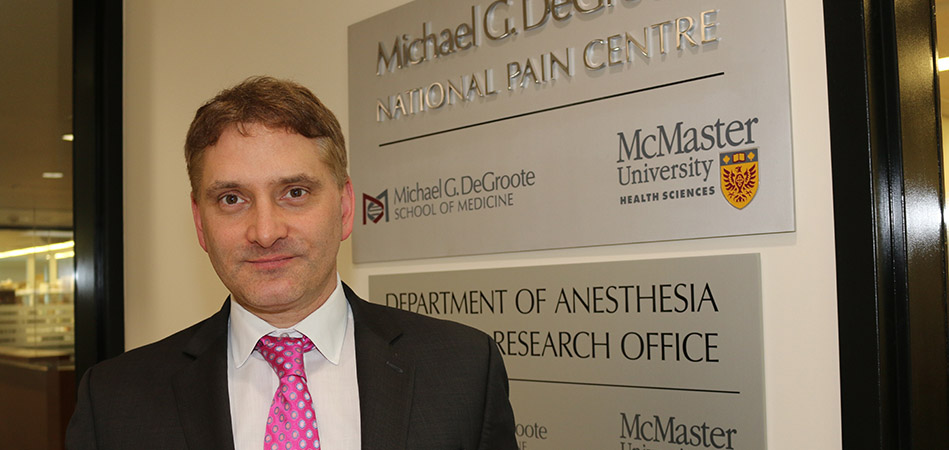 Jason Busse, principal investigator for the guidelines development and an associate professor of anesthesia of McMaster's Michael G. DeGroote School of Medicine
---
January 31, 2017
Draft recommendations for Canadian physicians, which call for more cautious prescribing of opioids to patients with chronic pain, have been issued for public comment.
The recommendations are part of a guideline being developed in response to concerns that Canadians are the second highest users per capita of opioids in the world, and the rates of opioid addiction and overdose have been increasing rapidly.
There is a strong recommendation that patients with chronic non-cancer pain first try non-opioid options to manage pain before considering a trial of opioid therapy.
If opioids are prescribed, clinicians should aim to keep the dose below 50mg morphine equivalents a day, and avoid going above 90mg morphine equivalents a day except in rare circumstances.
Prescribing opioids for chronic pain to patients with an active substance use disorder is strongly discouraged, as they are particularly vulnerable to developing an opioid use disorder.
Chronic pain patients currently using more than 90mg morphine equivalents a day should try to gradually reduce their dose; however, some patients will find tapering difficult and clinicians should work with patients to achieve the lowest dose they can manage.
The guideline team is seeking response to the recommendations from the public as well as the Canadian health care community. The proposed guideline recommendations and related material may be found at http://nationalpaincentre.mcmaster.ca/guidelines.html
"Opioids are powerful medications that must be used appropriately and only when necessary," said the Honourable Jane Philpott, Minister of Health. "If we are going to solve the crisis we are currently facing with respect to opioids, healthcare professionals must be part of the solution. I encourage all healthcare stakeholders, including patients, to participate in the online consultations on McMaster's website."
The guideline recommendations were developed over the past two years by a team that included a four-member steering committee; a 15-member guideline panel of clinicians, research methodologists and patients; a 13-member multi-disciplinary advisory group of experts in the treatment of pain and use of opioids, and a 16-person patient advisory panel.
"Our recommendations are evidence-based, and guided by patients' values and preferences," said Jason Busse, principal investigator for the guidelines development and an associate professor of anesthesia of McMaster's Michael G. DeGroote School of Medicine. "Our guideline panel members who voted on the recommendations were free of significant financial or intellectual conflicts of interest."
The proposed recommendations do not support aggressive dose reduction or cessation of opioid use without careful monitoring, as excessively aggressive tapering causes suffering, and may drive patients to obtain opioids from illicit sources, increasing the potential for overdose, said Dr. Gordon Guyatt, chair of the steering committee, an internist and a professor of the Department of Health Research Methods, Evidence and Impact at McMaster.
"If you just put out an edict and don't think about the outcomes, you can make things worse," Guyatt said. "Patients taking high doses of opioids didn't get that way overnight. It's often not realistic to think these doses can be reduced quickly."
Public comment to the proposed guideline recommendations is welcome until the end of February. The guideline team will consider all feedback and issue a definitive guideline to Health Canada by the end of March.
Dr. Norman Buckley, a member of the guidelines' steering committee, professor and chair of anesthesia at McMaster and a pain specialist for Hamilton Health Sciences, said the new guideline provides much-needed direction for both clinicians and patients.
"There are patients who benefit from use of opioids as part of a broader strategy to manage their chronic pain," Buckley said.  "The challenge is to balance potential benefits of opioids with the possible harms in order to optimize a patient's care. At the same time we need to minimize the risks of addiction and overdose."