New research centre zeros in on treatment-resistant cancers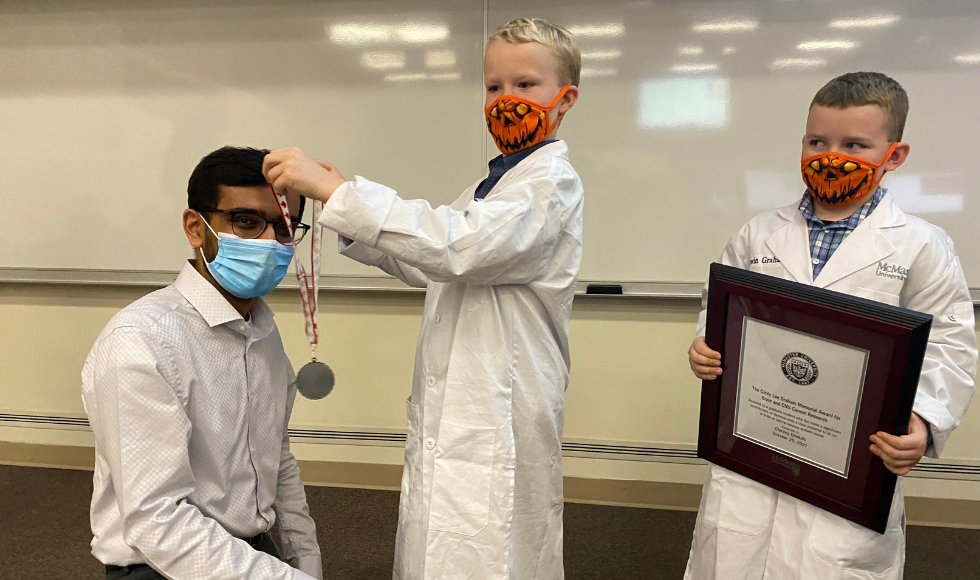 McMaster PhD student Chirayu Chokshi receives the Cindy Lee Graham Memorial Award from Graham's eight-year-old sons Dean and Darwin. (Photo by Fram Dinshaw/McMaster University)
---
BY Fram Dinshaw
October 25, 2021
McMaster University's new Centre for Discovery in Cancer Research (CDCR) will draw together clinicians and scientists from across Hamilton, focusing their research on treatment-resistant cancers with high death rates, such as glioblastoma (GBM), triple-negative breast cancer and pancreatic cancer, among others.
The CDCR formally launched Oct. 25 with its inaugural annual lecture and the presentation of the new Cindy Lee Graham Memorial Award.
The award is named for the Guelph native who donated her brain and spinal cord to McMaster researchers after she died earlier this year from glioblastoma.
Her eight-year-old sons Dean and Darwin presented the first award to McMaster PhD student Chirayu Chokshi. A member of the new centre, his research on glioblastoma cancers is advancing the technical analysis available, and he is also an active advocate for the brain tumour patient community.
Since the story of Graham's gift became known, the GBM research program has received more than $400,000. The funds have come from 217 donations pledged towards student researcher awards, and 67 donations totalling more than $125,000 for the centre's GBM research program.
In addition, the volunteer charity Brain Cancer Canada has offered $100,000 in support of the new centre.
Graham was the first donor accepted after a shutdown of the McMaster Education Program in Anatomy due to the COVID-19 pandemic. Others with the disease have since followed her example.
"Cancer has been dubbed the 'Emperor of all Maladies' and represents the leading cause of death in Canada. Nearly one in two Canadians will develop cancer in their lifetime and about one in four will die from it," said Sheila Singh, the inaugural director of the new research centre and professor of surgery at McMaster's Michael G. DeGroote School of Medicine.
"The centre aims to uncover the biology of cancer recurrence and develop a better biological and genetic understanding of why cancer treatments fail, and how best to target the biological drivers of the recurrence," said Singh.
"As every patient's cancer has a unique biology and responds to treatments differently, we aim to personalize and predict the therapies that could work best for each patient."
In announcing the new centre, Paul O'Byrne, dean and vice-president of the Faculty of Health Sciences (FHS), praised the initiative.
"The McMaster Centre for Discovery in Cancer Research will be a key component in the fight against hard-to-treat cancers, as it will specialize in cross-disciplinary research and train a new generation of scientists in developing new tests and therapies that will save thousands of lives worldwide," said O'Byrne.
"This new centre will also ensure that McMaster University remains a global hub in cutting-edge cancer research for decades to come."
Jonathan Bramson, vice-dean of research for the FHS, added, "this new centre will allow McMaster to build on a solid foundation of scientific research and international partnerships that are the university's forte. The research conducted here will also enhance our commitment to advancing human and societal well-being, a key goal under our strategic plan."
The centre will incorporate a 'bedside to bench' or 'reverse translational' research mandate. This means doctors taking samples, or other observations from cancer patients, will collaborate with basic scientists who will model the observation in their research labs. Those results would then be delivered back to physicians who can use them to devise and improve new tests and therapies.
Lab-based models will test samples using patient models and algorithms driven by artificial intelligence informed by data science. Insights gleaned from testing can benefit the patient, for example, a new therapy could be tested in people volunteering for clinical trials.
The CDCR's clinicians also aim to empower patients by helping them understand the biology of their cancers, help make informed decisions if it recurs, and make patients aware of possible treatment trials.
Singh said educating patients about their condition will allow them to use the best data and evidence to make an informed choice about signing up for trials, instead of it feeling like a gamble.
"As a surgeon-scientist, I have always had a foot in both worlds: basic science and clinical care of patients. I am happy to bridge the gap between patients, doctors and basic scientists," said Singh.
"Basic science research is the discovery engine of all cancer treatments that have saved millions of lives globally. Understanding the biological drivers of cancer and its recurrence is the crucial first step."
Singh said the research team will be made up of McMaster faculty members and three new faculty who will be recruited over the next three years. The CDCR will work closely with the Department of Oncology, the Escarpment Cancer Research Institute and the Ontario Clinical Oncology Group.
The centre will also partner with the McMaster Immunology Research Centre, the McMaster Centre for Obesity, Metabolism and Diabetes and the Centre for Probe Development and Commercialization (which is based at McMaster), to develop new tests and treatments.
This includes developing new immunotherapies, building molecular probes for nuclear imaging in diagnostic tests and researching population health and genomics for clinical trials.
"Complex cancers call for complex therapeutic strategies that are data-driven and rationally designed, based on experimental interrogation and new scientific discovery," said Singh, who is also a pediatric neurosurgeon for Hamilton Health Sciences.
She hopes that new discoveries will reduce the burden cancer places on both individual patients, and society as a whole.
For patients, the toll often includes long-term side effects of chemotherapy, loss of income and healthcare expenses. Singh said it also means $40 billion from combined losses of wages, taxes, corporate profits and direct health care costs for Canada as a whole.
"Developing new and improved ways to diagnose, treat and manage patients suffering from cancer will have significant impacts at all levels of Canadian society," said Singh.
Information regarding donations to the McMaster Centre for Discovery in Cancer Research can be found here.
An earlier story about Cindy Lee Graham's gift can be found here.