Chair will focus on Indigenous women's heart health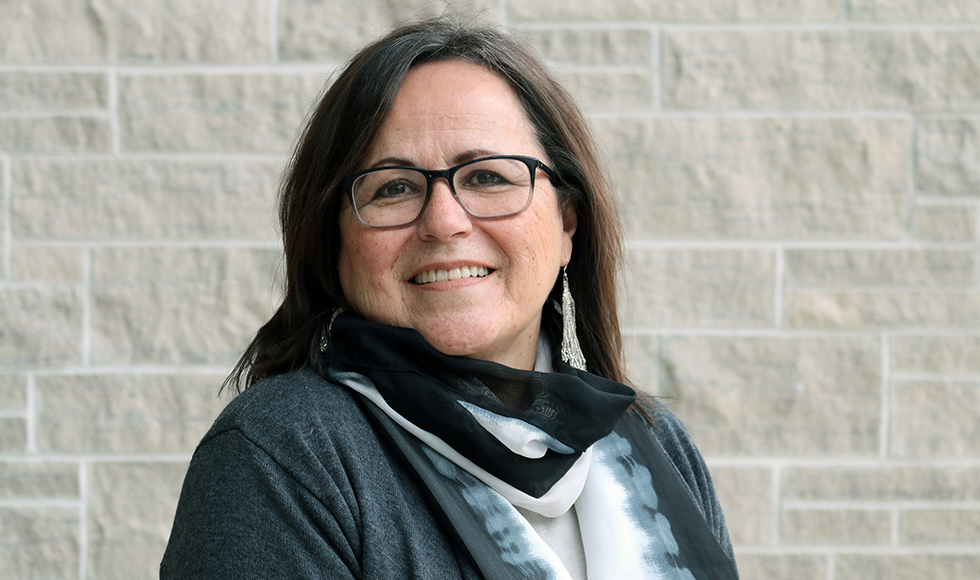 Bernice Downey recipient of the Indigenous Early Career Women's Heart and Brain Health Chair Award.
---
December 6, 2018
Training health professionals to treat Indigenous women with heart disease in a culturally relevant way is the goal of a new research chair at McMaster University.
Assistant professor Bernice Downey has received the Indigenous Early Career Women's Heart and Brain Health Chair Award for the new project.
"The goal of this project is to deepen our understanding about how Indigenous knowledge about well-being can help Indigenous women to understand and manage their heart illness," said Downey, who is the Indigenous health lead for the Faculty of Health Sciences and a medical anthropologist of Ojibwe and Celtic heritage.
"This study will give voice to Indigenous women that will, in turn, inform our work to educate health practitioners so that they become more culturally competent when working with Indigenous women with cardiovascular disease and stroke."
Downey is cross appointed to the School of Nursing and the Department of Psychiatry and Behavioural Neurosciences.
The chair is one of four Women's Heart and Brain Health Chair Awards announced by the Canadian Institutes of Health Research (CIHR) and the Heart and Stroke Foundation of Canada.
The national initiative aims to improve awareness, prevention and understanding of biology and socio-economic factors impacting women's heart and brain health. It also fosters innovative, sex- and gender-sensitive approaches to the diagnosis, access to high quality care and treatment of heart disease and stroke in women, especially within Indigenous communities.
Downey's project is exploring the culture-related factors that have led to gaps in health promotion, diagnosis, treatment and research which impact Indigenous women. She is taking a deep look into how to improve the training that health-care professionals receive about working with Indigenous women in a culturally safe way in order to develop trusting relationships.
Downey and her team will tap into both Indigenous and Western knowledge to help Indigenous women to self-manage their heart disease and/or risk factors. They will also test a new model of care delivery to assess if it increases Indigenous women's motivation and ability to better manage their health.
The five-year project is funded for more than $1 million.
"I'm proud of the partnership between the Government of Canada, McMaster University, and Heart & Stroke, which will enable Dr. Downey and her team to continue their outstanding contributions that improve our understanding of health inequities, and will lead to knowledge that will ultimately benefit all Canadians," said Canada's Minister of Health Ginette Petitpas Taylor.
"We know that the cardiovascular health of women, and particularly Indigenous women, has been ignored far too long, and Dr. Downey's project will be both practical and motivating," said Paul O'Byrne, dean and vice-president of the Faculty of Health Sciences at McMaster.
"We appreciate the commitment of both the Government of Canada and Heart & Stroke Foundation of Canada to this extremely important area of research."
Anne Simard, Heart & Stroke Chief Mission and Research Officer, added: "For decades, women have been under-represented in heart and stroke research, and the tragic result is that we've lost too many women from these diseases.
"We are so pleased to work with the Government of Canada and McMaster University to support Dr. Downey's innovative research. Together we are taking another step towards closing the gap on the health of Indigenous women."
Read the Brighter World profile on Bernice Downey here.