Mac team tackling 'unacceptable' water issues in First Nations communities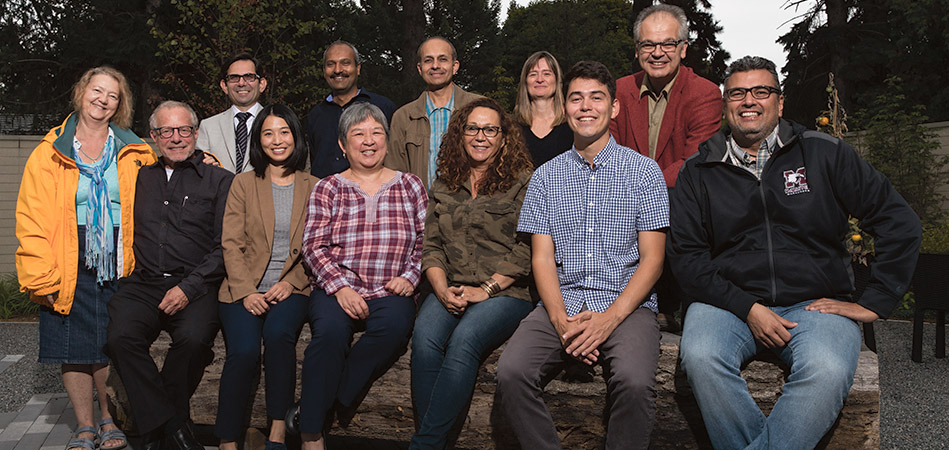 October 24, 2017
The McMaster Water Network is hosting McMaster Water Week from Nov. 20-23, 2018. The free annual event is a celebration of water and water-related research taking place at McMaster. Faculty, students, community partners and the public are invited to attend and learn more about water science, technology and policy to deliver global and local impacts. You can see a full list of activities here.
This week, we'll highlight some of the water research that's happening at Mac.
The numbers are staggering. An analysis of water security and climate change in Indigenous communities shows that up to 72,000 people may have been affected by drinking water advisories (DWAs) in First Nations at the start of 2017. In 2016 alone, 133 boil water advisories in 90 Indigenous communities were issued that affected over 50,000 people across the country.
"To say it's unacceptable, would be a serious understatement," says Dawn Martin-Hill, associate professor of anthropology, and holder of the Paul R. MacPherson Chair in Indigenous Studies.
To help solve the problem, Professor Martin-Hill is leading a Global Water Futures project called Co-Creation of Indigenous Water Quality Tools that brings together members of two distinct Indigenous communities, and an interdisciplinary team of McMaster researchers. The three-year project was recently awarded $950,000 to identify sources of contaminants in drinking water sources and local aquatic ecosystems within the two communities, and to secure additional funding to address the problem in subsequent years.
The communities include the Six Nations of the Grand River in Ontario – the largest Canadian reserve with more than 25,000 members and located within a 30-minute drive of Hamilton, and the Lubicon Cree Nation of Little Buffalo in Northern Alberta, a remote hamlet of some 500, located northeast of Peace River, and within the tar sands productions.
While Martin-Hill is the Principal Investigator, the three other McMaster team leads include Dr. M. Constantine Samaan, associate professor of pediatrics; Patricia Chow-Fraser, professor of biology; and Ravi Selvaganapathy, Canada Research Chair in Biomicrofluidics, and professor of mechanical engineering – looking at everything from Indigenous Knowledge to human and ecosystem health to sensor development technologies.
"Despite the differences in geography and environmental influences of the communities, both share a frightening similarity, with some health outcomes suspected to be the result of contaminated drinking water supplies," says Dr. Samaan, the health component project lead. The partnership with the communities will include a study on the impact of water pollutants, such as endocrine disrupting chemicals, on health outcomes with focus on diabetes, cardiovascular disease, and cancer.
The team will also merge western science with Indigenous approaches to assess ecosystem health, by incorporating cutting-edge technology in remote sensing and unmanned aerial vehicles to map critical habitat of ecological and cultural significance to the First Nations, according to Chow-Fraser, who is leading the project's biology component.
"Collectively, we need to understand and address every aspect of water quality in these communities, and this project allows us to take a holistic approach by integrating contemporary science with Indigenous and Local knowledge," she says, referencing the diverse capabilities of the entire team.
For example, the team will work with hunters, community members and Elders to develop sensors that are low cost, can be manufactured in the community itself and can provide immediate information on water quality indicators to the community. One particularly novel feature of the sensors being designed is that data being generated will be made accessible by a mobile app, and in Indigenous languages – both Cree and Mohawk.
Selvaganapathy, the sensor team lead, says the language tool will allow community members to monitor their water quality, long after the research team has left the site.
"We are committed to providing both the tools and the means to manufacture and maintain those tools in the community so that this effort is sustainable and useful to our partners over the long term," he says.
One of the most exciting aspects of the project for Martin-Hill is the opportunity to engage youth in both communities. Building on the Ohero:kon Intervention Research Project – an initiative from a previous Canadian Institutes for Health Research-Institute for Aboriginal Peoples' Health grant – the team will co-develop a training program designed to build capacity with youth by assisting them in maintaining their connection to the land and culture.
In partnership with Ohero:kon, Indigenous Elders and Youth Council, and Indigenous Studies students, youth will be trained by each lead – Biology, Health, Engineering and Indigenous Knowledge – to be certified to assemble and collect data using the sensing technologies.
Once trained, they will travel to assist the Lubicon youth, serving as role models and sharing their knowledge and experience, while learning, first-hand, about one another's cultural and traditional knowledge of water. Ideally, the youth working with the team will gain an ease with – and an interest in – continued learning of the sciences.
The team will respond directly to unique concerns of each community, provide the appropriate tools, and build the capacity necessary to manage water quality sustainably over the long term. Their hope is that this innovative community-based approach will become a blueprint for other Indigenous communities across Canada.
"I love this team," says Martin-Hill. "They are all so passionate about their work and their communities. Together, we will make a difference in water quality management, governance, and policy development in these communities, while many other Indigenous communities across the country will benefit from the knowledge, experience, and expertise we gain."
About Global Water Futures
GWF is led by the Global Institute for Water Security at the University of Saskatchewan in partnership with McMaster University, the University of Waterloo and Wilfrid Laurier University.
Funded in part by a $77.8-million grant from the Canada First Research Excellence Fund, the $143-million program aims to transform the way communities, governments and industries in Canada and other cold regions of the world prepare for and manage increasing water-related threats.