Computing and Software professor awarded $4 million to develop mobile health solutions and expertise in Ontario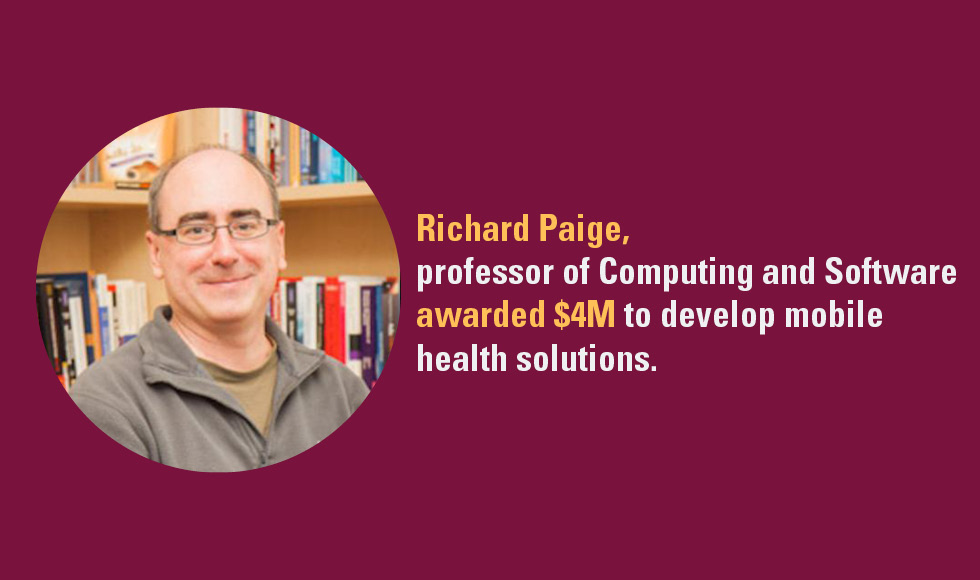 BY Kim Arnott
August 9, 2021
There was no disputing the growing importance of mobile technologies in the world of health care. And then came the pandemic.
Back in 2019, Richard Paige, professor of Computing and Software and director of the McMaster Centre for Software Certification (McSCert), applied for funding for an ambitious five-year project to advance mobile health in Ontario.
Word that he was awarded $4 million from the Ontario Research Fund – Research Excellence Program came out earlier this month.
Pandemic restrictions may have highlighted the need for digital and virtual access to health care, but Paige says innovation is essential for improving services to the province's diverse and remote populations.
"If you're in northern Ontario, it might be two or three hours to your nearest clinic or nearest GP," he says. "It may be that the weather conditions simply prohibit you from traveling, in which case having mobile digital means to engage with health care is extremely important."
Mobile health technologies promise to improve how people can monitor their health, communicate with providers, provide lab samples and get test results. Machine learning offers even greater possible benefits to patients and the industry.
Paige's project will team up researchers with industry partners looking to create and improve mobile health technologies. He says the partners range from larger hardware and infrastructure companies to smaller organizations wanting to develop specific mobile solutions, such as processing x-rays or sharing lab results.
One aim of the project is to find ways to lower the entry costs and barriers to building safe and secure mobile health applications, to allow local startups and small companies to work in the growing and lucrative space.
The project will also expand the province's pool of skilled researchers and engineers.
"To my mind, producing highly trained personnel that can work in this space is the biggest measure of success," says Paige. "We want to have a whole spectrum of people working on this from undergraduate all the way up to postdoctoral and research engineer levels and really grow expertise and capability in Ontario in this discipline."
A collaboration with Sheridan College's Centre for Mobile Innovation, led by its director, Dr Ed Sykes, the project has recently launched with about a half-dozen summer interns working on projects including initial experiments, technology assessments and initial literature reviews.
Several PhD and master's students have been recruited and a postdoctoral student will join the team this fall, as the project ramps up.
"I expect the first year will be building on things that exist already and use those to develop our tools, our infrastructure and our knowledge," said Paige. "In the second and third year we'll move to newer things, pie-in-the-sky grand ideas that the companies have that perhaps they haven't been able to tackle before because it didn't have all of the knowledge and expertise in-house, but we'll now be able to help with that."