Conquering chlamydia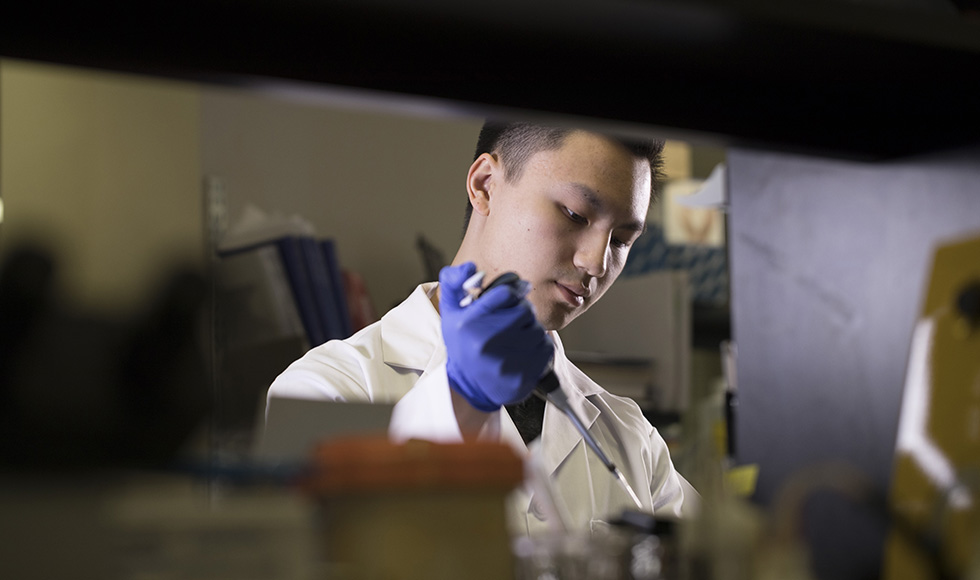 BY Tina Depko
January 16, 2018
McMaster PhD student Steven Liang can be found on both weekdays and weekends in a laboratory tucked away in the Charlton Avenue hospital of St. Joseph's Healthcare Hamilton.
While many people who come through the major hospital are unaware of this modest lab, the research being done here could make a difference for millions of people.
Liang is a Vanier scholar in his first year of the medical sciences PhD program, and he is part of team dedicated to producing the first widely protective vaccine against chlamydia.
"Scientific research is our best way of knowing the truth of something," he says. "It is an endeavour for knowledge."
Liang came to McMaster in 2010 for its Bachelor of Health Sciences program. A summer research placement in his third year in professor James Mahony's lab shifted the course of his academic career. It was here he had the chance to work on a novel therapeutic protein that inhibited influenza.
"This is when I experienced first-hand what it is actually like to do science," Liang says.
"Up until then, it was all theory. You can believe what people tell you should happen, but I applied and it worked. That was a big moment in my career at McMaster."
While in Mahony's lab, Liang met a team of students working on a chlamydial vaccine.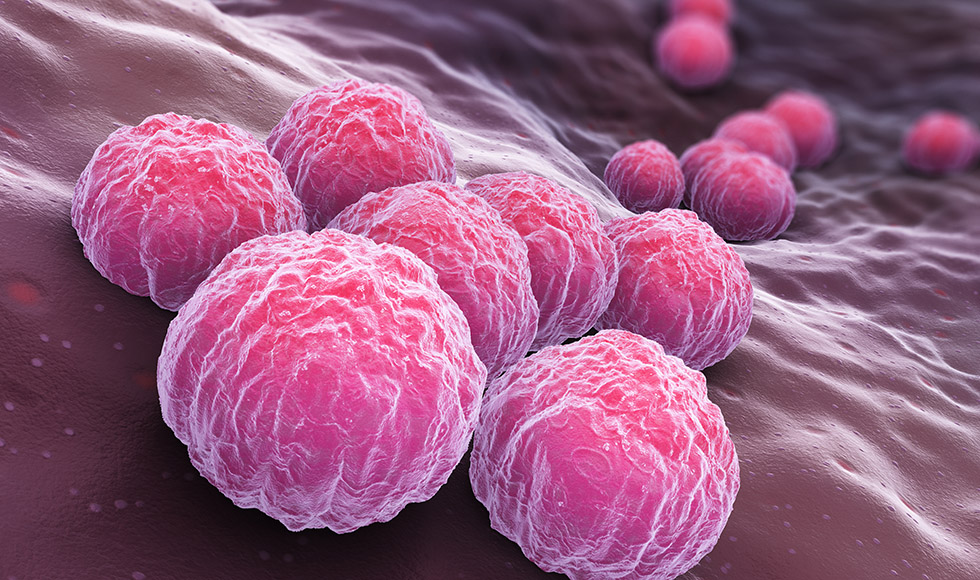 Chlamydia is a common sexually transmitted infection that impacts approximately 113 million people around the world each year.
As most C. trachomatis infections are asymptomatic, chlamydia can often go untreated and lead to upper genital tract infections, pelvic inflammatory disease and infertility.
Liang was intrigued by the project and enrolled in the medical sciences master's program to be part of the research after completing his BHSc.
In a study by Liang and PhD graduate David Bulir published last year in the journal Vaccine, the researchers showed a novel chlamydial antigen known as BD584 is a potential vaccine candidate for C. trachomatis, which is the most common species of chlamydia.
The team found BD584 immunization was able to reduce chlamydial shedding – a sign of C. trachomatis infection – by 95 per cent. Immunization with the antigen also decreased hydrosalpinx, a strong predictor of infertility, by 87.5 per cent.
"Having a vaccine is the best way to solve this persistent public health problem," says Liang.
"You can go into a clinic and get antibiotics, but the danger is if you don't have symptoms, you are less likely to go get tested and treated, and you can develop complications as a result of the untreated infection."
Mahony, who has focused on chlamydia research for close to 40 years, says he is excited about the progress made on this vaccine. He noted Liang, in partnership with Bulir, is leading the breakthrough, making the PhD student among the top graduate students he has supervised.
"He's a very smart kid, a hard worker and he's set up the methodologies mostly on his own by reading the literature, so he's self-directed," says Mahony, professor emeritus of pathology and molecular medicine at McMaster's Michael G. DeGroote School of Medicine.
"I believe that this ability to understand and synthesize new concepts and then to put this knowledge into use and move science forward is a critical pillar in academic excellence."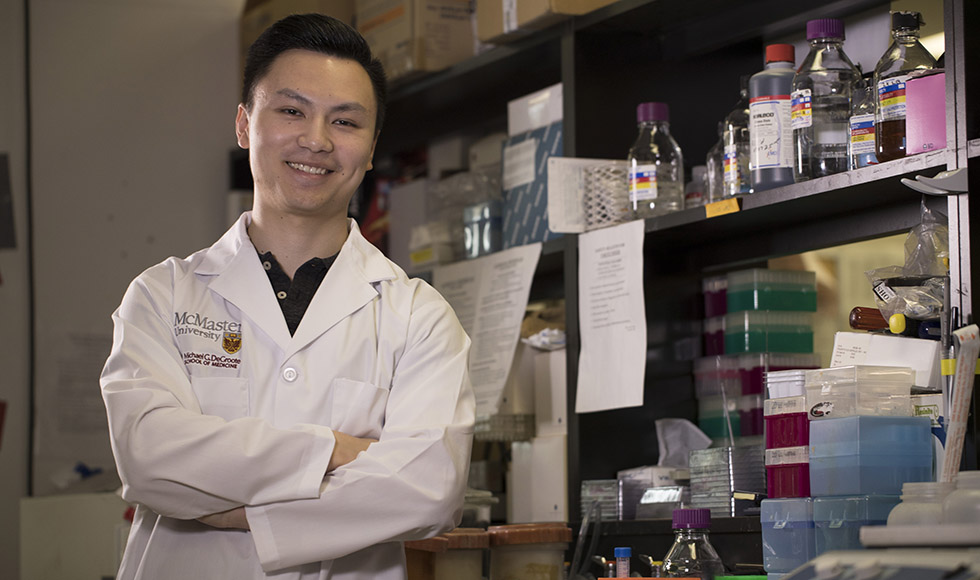 Liang says Mahony has played an important role fostering his interest in immunology research.
"Dr. Mahony is a great mentor who has shown me the value of curiosity," he says."The lab is part of his life, he enjoys it, he's always here and he works really hard at it, and that's what inspires me."
Liang spends eight to 10 hours a day in the lab, including on most weekends. Every hour furthers his hope that the vaccine becomes widely available to the public.
"I want to do enough by the end of my PhD to get the vaccine to be at a stage where a pharmaceutical company decides they want to invest their time and efforts on it," he says.
"I would like to have enough data, enough evidence to make my argument for this." Liang has his sights set on medical school after his PhD, anticipating he will specialize in clinical
immunology and allergy.
"I would like to be a physician scientist," he says. "With the skills I'll have developed in graduate and medical school, I'll be better able to identify clinically important questions and work on them in a way that's scientifically sound. There's a lot of potential in the coming decades for immunology to have a great impact on people's lives."
When it comes to advice for aspiring researchers, the decorated student recommends setting the right
goals.
"You have to have an objective and be goal-oriented," he says. "Devise a strategy, and make your goal following and perfecting that strategy instead of reaching that initial objective that you set for yourself."
He also says researchers should have an effective mix of open mindedness and healthy skepticism whenever they are confronted with new information.
"Be open minded and more importantly, be critical of everything," he says.
"Don't just take something someone says, no matter who they are, at face value. Be critical of everything, including this advice."