Cultivating biomedical discovery and commercialization in students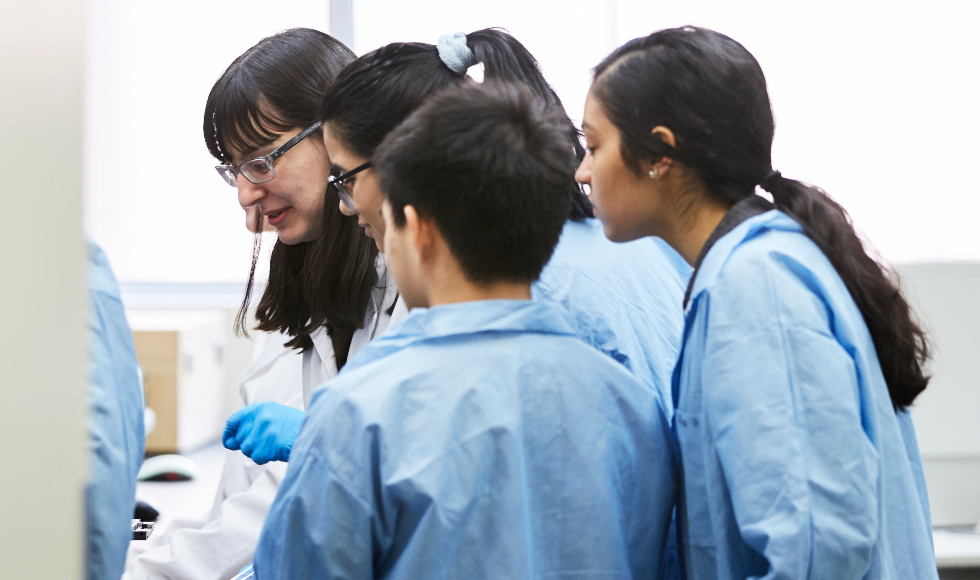 Biomedical Discovery and Commercialization program students in the lab with Felicia Vulcu, left, assistant professor of biochemistry and biomedical sciences.
---
BY Tina Depko, Health Sciences
December 12, 2019
The Biomedical Discovery and Commercialization (BDC) program at McMaster University is only five years old, but the initiative is already considered to be a success.
The groundbreaking bachelor-master degree program unites passions for discovery research and the desire to understand its role in commerce.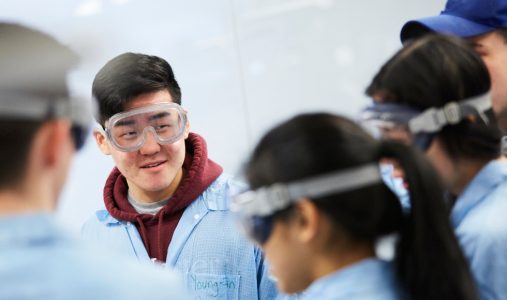 Offered by the Department of Biochemistry and Biomedical Sciences with key contributions from the DeGroote School of Business, the program has students complete the third and fourth year of undergraduate studies as well as a 12-month course-based master's degree. The latter includes a four- to eight-month internship in health sciences related sectors.
"Our biochemistry department has been in place at McMaster since the dawn of the medical school, but we hadn't done enough to connect with the local biomedical discovery and commercialization community," said Eric Brown, founding program director and a professor of the Department of Biochemistry and Biomedical Sciences.
"We wanted to better serve our students by exposing them to this community, both through internships and through in-class visits, and help them understand the career opportunities that come with a degree in this field. This is what the program set out to do, and I believe it is what we are accomplishing."
Since its start in January 2015, 161 bachelors' and 43 masters' students have graduated from the program.
A point of pride for Brown is the fact that every master's student has been placed as an intern in industry, and that this invaluable hands-on experience translates into jobs for many of the graduates.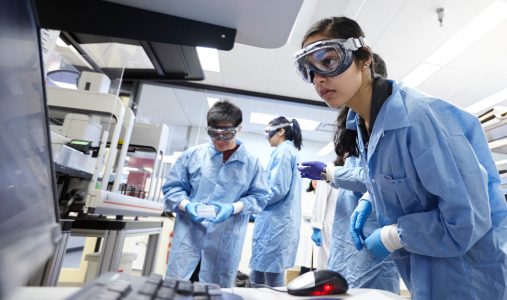 "We've seen some really fabulous outcomes in terms of our students," he said. "They are getting jobs in the local pharmaceutical community after graduating. It's great fun to see where this program is taking them."
Areeba Athar, who hails from Mississauga, graduated from McMaster with a master of biomedical discovery and commercialization in 2017, following her bachelor of health sciences in 2016.
"The most valuable aspect of the program is the focus on experiential learning," Athar said. "From working closely with entrepreneurs to solve real business challenges to designing innovative approaches to address challenges in health care, the program pushes students to think outside the box."
Today, Athar is an account supervisor at INVIVO Communications. She said the BDC program gave her real-world skills that have proven to be transferrable to life after university.
"The BDC program provided me with the intensive training to welcome challenges, adapt to diverse environments and understand the value of working with and learning from my peers," she said. "Once I transitioned from an academic to professional environment, I found myself constantly relying on the tools I learned from the program to approach tasks and problems critically."
There has been a recent leadership change to the program nurtured by Brown and Nancy McKenzie, who is the BDC program manager. Brown is still actively involved and currently runs the master's BDC team project which is the precursor to internship placements. Andrew McArthur, associate professor of the Department of Biochemistry and Biomedical Sciences, became director of the program in July 2019.
"Having worked in both industry and academia, with an emphasis on data sciences and biomedical research, I am very excited to be involved in this multidisciplinary program as I have seen first-hand the success of our graduates and the increasingly high esteem with which they are regarded by industry," said McArthur.
"I look forward to the continued growth of our program and students and invite anyone interested in an impactful career at the intersection of biomedical research and commerce to join us."
To learn more about the Biomedical Discovery and Commercialization program at McMaster, visit https://bdcprogram-mcmaster.ca.