New chair will bolster patient-centred nutrition research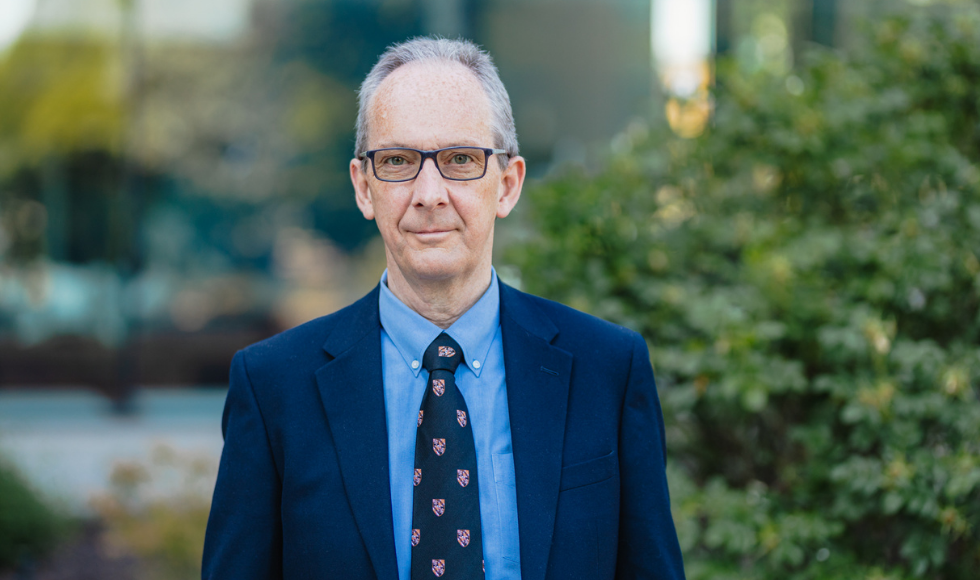 David Armstrong has been named the inaugural holder of the Douglas Family Chair in Nutrition Research. The chair was established thanks to a generous $2-million gift from McMaster graduates Paul and Susan Douglas.
---
December 10, 2021
Throughout his career as a doctor and researcher, David Armstrong has seen first-hand the difference nutrition therapy can make in a patient's life.
The McMaster University professor of medicine and practising gastroenterologist will have a unique opportunity to make an even greater impact as the inaugural holder of the Douglas Family Chair in Nutrition Research. This position was established thanks to a generous $2-million gift from McMaster graduates, Paul Douglas, BCom '76, MBA '78 and Susan Douglas, BScN '76.
"Patients face many and varied challenges in adhering to nutrition therapies. My goal is to identify patients' barriers to adopting new diets and empower them to manage their symptoms and live a life free of pain and discomfort," said Armstrong.
"This chair will allow me to address some of the fundamental challenges that health care providers face when trying to improve digestive and overall health for patients. We're grateful to the Douglas family for the tremendous impact they will have on patient care, bench-to-bedside research, and education."
Armstrong is a renowned leader in gastrointestinal (GI) nutrition. He is recognized internationally for his work in the prevention and treatment of digestive disorders such as celiac disease, inflammatory bowel disease (IBD), intestinal failure, irritable bowel syndrome (IBS), non-alcoholic fatty liver disease (NAFLD) and food sensitivities.
With more than 220 peer-reviewed publications to his name, Armstrong has made it his personal mission to advance the state of nutrition sciences and education. He is the founder and medical director of the Hamilton Health Sciences specialized nutrition program and chair of the hospital's Nutrition Best Practices Committee. He also led annual nutrition workshops for nurses, dietitians and community practitioners between 1996 and 2012.
McMaster President David Farrar applauded the Douglas family for their leadership in supporting evidence-based research and care.
"The generosity of donors such as Paul and Susan Douglas is inspiring," said Farrar. "On behalf of the McMaster community, thank you for supporting our researchers as they work to develop new innovations and treatments."
Stephen Collins, director of the Farncombe Family Digestive Health Research Institute, said the Douglas family's generosity is allowing Armstrong to focus on life-altering initiatives that study the role of diet in the maintenance of health and in the expression of chronic disease.
"Under Dr. Armstrong's leadership, we can now translate our growing understanding of the interaction between gut bacteria, diet and overall health into clinical practice," he said. "Thank you, Paul and Susan, for your continued support of the Institute's endeavours and for enhancing care for patients living with chronic diseases."
Patient-focused research
As the chairholder, Armstrong will establish and maintain a world-class, patient-focused research program that integrates gastroenterology and nutrition sciences. He will also contribute significantly to the body of nutrition scholarship through research, clinical practice and mentoring the next generation of nutrition-trained gastroenterologists.
Investigating the link between proper nutrition and overall GI health for patients will be a crucial undertaking for Armstrong and his team. He will explore the effectiveness of wearable monitoring technologies, which will enable caregivers and patients to better understand the relationship between diet, symptoms and disease activity.
"This is an exciting time for nutrition sciences as new tools and technologies are allowing for more accurate monitoring of food intake, physical activity, sleep patterns and physiological measures in relation to patients' symptoms," said Armstrong.
"The use of these tools, in conjunction with big data analytics and artificial intelligence, will lead to a better understanding of diet, overall health and barriers to proper nutrition."
Numerous barriers, such as financial constraints and food insecurity, prevent many patients from adopting commonly prescribed diet plans. This is leading to malnutrition and resulting in patients developing chronic conditions like heart disease and diabetes. Armstrong's research, combined with advances in endoscopic imaging and microbiome research, could help caregivers around the world develop targeted, personalized and barrier-free diet plans tailored to the unique cultural and socio-economic needs of patients.
Bench-to-bedside philosophy
The Farncombe Family Digestive Health Research Institute and researchers within the GI Division at McMaster University are unique in the country and renowned internationally for the breadth and depth of their expertise and collaborations. Work conducted in the Institute embodies the bench-to-bedside research philosophy.
"Nutrition plays a pivotal role in the genesis of gastrointestinal and other systemic illnesses, and we must translate our research knowledge to develop relevant, personalized nutritional therapy for our patients," said Elena Verdu, associate director of the Farncombe Family Digestive Health Research Institute.
"I am confident that Dr. Armstrong will successfully establish new patient-centred approaches to delivering care."
At the Institute, fundamental scientists work together with clinician-scientists to educate students across a range of levels, disciplines and experiences – from undergraduate and graduate training to medical residents and graduate fellows.
Collectively, they contribute to basic science in areas such as the gut microbiome and interactions with the intestinal barrier, nervous system and immune system, as well as clinical research in areas like celiac disease, IBD and IBS. The Institute's team is also celebrated for its work in evidence-based medicine, informatics, quality assurance and establishing national and international guidelines.
In addition to the generosity of the Douglas family, the Institute received significant philanthropic funding in 2021 that will enable Verdu and Armstrong to lead a series of new nutrition initiatives, such as establishing a GI nutrition fellowship program, developing community education programs for patients and health care providers, and working directly with patients in focus group settings to assess their unique needs.
"Philanthropic funding is providing us with unprecedented opportunities to expand research and discoveries into the causes and solutions for GI conditions," said Paul O'Byrne, dean and vice-president of McMaster's Faculty of Health Sciences. "We are excited to launch these new and ambitious initiatives that could transform treatment for patients living with GI diseases and food sensitivities.