David Braley Centre for Antibiotic Discovery gives researchers a fighting chance against antimicrobial resistance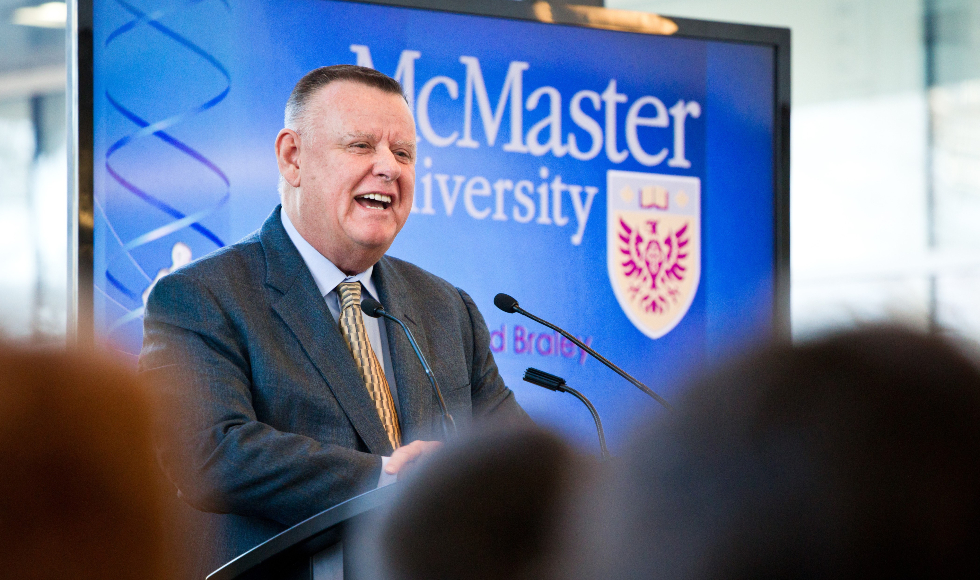 David Braley speaks at McMaster.
---
BY Wade Hemsworth
June 24, 2019
A forward-looking McMaster donor is investing $7 million in a new research centre dedicated specifically to tackling the growing global threat of antimicrobial resistance.
David Braley, whose gifts to the university include a $50-million investment in McMaster teaching, learning and health-care research and delivery, has allocated $7 million from that 2007 gift towards the new David Braley Centre for Antibiotic Discovery.
The centre will operate from the Michael G. DeGroote Institute for Infectious Disease Research, whose labs and offices are located on campus in the Michael G. DeGroote Centre for Learning and Discovery.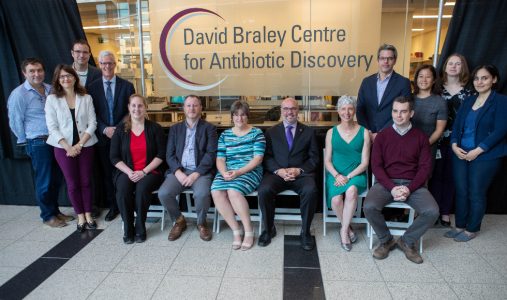 "This is a very timely investment," says Paul O'Byrne, dean and vice- president, Faculty of Health Sciences. "This provides fresh resources to a team of researchers who are among the world's leaders in their field. Creating this centre gives them the chance to do their best work at a time in history when it's needed most."
The funding comes from a portion of Braley's 2007 gift that had been designated for emerging health-care research priorities.
The David Braley Centre for Antibiotic Discovery will be home to McMaster's leading researchers in the field of antimicrobial resistance, or AMR. The new resources will allow the team to concentrate more specific effort on that problem.
"Antimicrobial resistance is a slow-moving catastrophe, but make no mistake: within the next 30 years, it will kill millions, strangle our health-care systems and significantly alter life as we know it unless we develop new ways to attack the problem," says Gerry Wright, who heads both the David Braley Centre for Antibiotic Discovery and the Institute for Infectious Disease Research.  "The opportunity to open this centre is a hopeful sign, and we are grateful for Mr. Braley's vision and his vote of confidence. This problem must be solved, and it can be solved."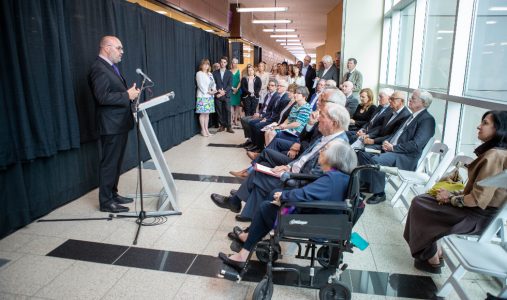 The waning effectiveness of traditional antibiotics gives urgency to the search for new forms of antibiotics and other ways to boost the effectiveness of existing drugs.
Widespread use of antibiotics in agriculture and medicine has accelerated resistance to penicillin and its related medicines, as bacteria evolve to meet the threat.
Infection control and treatment without antibiotics could cast the world back to the early 1900s, when infectious diseases routinely killed people, Wright says.
Today, at least 700,000 people around the world – including 2,000 in Canada ­­– die each year as a result of drug-resistant diseases. The global total is expected to rise to 10 million deaths per year by 2050 if no new solutions are found.
The medical costs associated with AMR are predicted to reach $100 trillion within that same time frame.
This year, the United Nations published a report projecting that without immediate global action, AMR could force up to 24 million people into extreme poverty by the year 2030.