The right vaccine at the right time protects older adults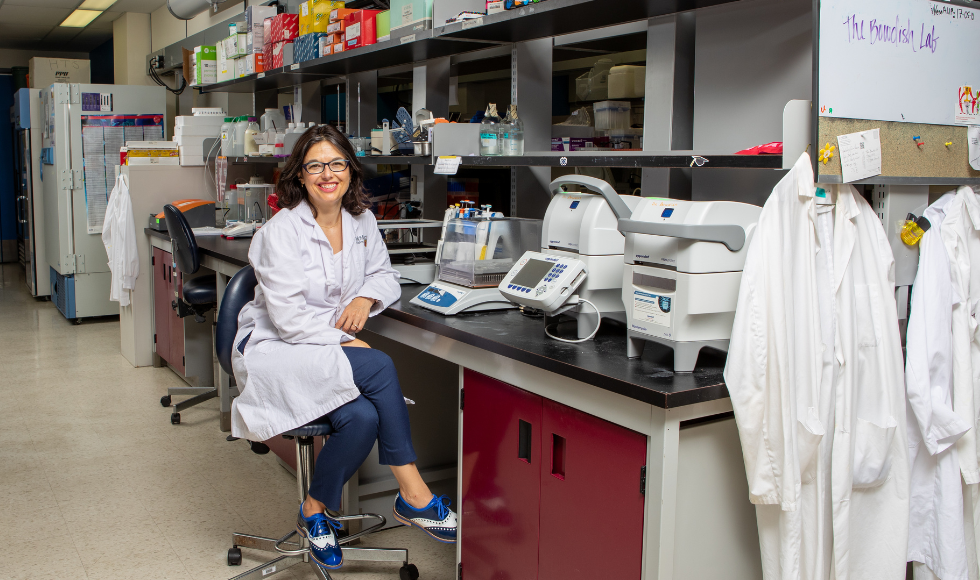 Dawn Bowdish, the Canada Research Chair in Aging and Immunity, is co-lead of one of the largest research programs on COVID in Canadian long-term care homes.
---
BY Beth Gallagher, the Global Nexus School for Pandemic Prevention and Response
May 26, 2023
As masking policies ease and vaccine mandates drop, McMaster scientists are leading research to understand ways to protect older Canadians, who still make up the vast majority of people dying and being hospitalized for COVID.
A recently published McMaster study found that the Moderna vaccine protected older adults better than Pfizer, lowering the risk of Omicron infection by 47 per cent. A fourth dose of any mRNA vaccine dropped the risk by 81 per cent.
The research also showed that hybrid immunity — vaccination plus infection three months prior to the beginning of the Omicron wave — lowered the risk by 48 per cent.
"Timing the vaccine to when waves are starting makes the biggest impact," said study co-lead Dawn Bowdish, professor of medicine and Canada Research Chair in Aging and Immunity.
One of Canada's largest COVID studies on long-term care
The recent findings are part of one of the largest research programs focusing on COVID in long-term care homes in Canada. Led by Bowdish and Andrew Costa, an associate professor of health research methods, evidence, and impact, the McMaster team studied residents across 25 homes with a goal of helping to keep Canada's most vulnerable population in the pandemic safe and healthy.
The research supports McMaster's Global Nexus School for Pandemic Prevention & Response, a hub for research and innovation, education, and community engagement.
The team's most recent study builds on its earlier findings: A 2022 paper, found residents of long-term care homes mounted a robust immune response to a third vaccination and had a greater capacity to fight infection compared to those who only had two doses.
An earlier study found that one in five vaccinated long-term care residents was at risk of COVID because of low antibody levels. Those early findings prompted a policy change in Ontario in 2021 that resulted in residents getting a booster shot, a move that saved lives.
Bowdish continues to advocate for evidence-based public health measures because, while death rates are dropping, COVID is the number one reason older Canadians are being hospitalized. The rates of hospitalization are higher than during the early days of the pandemic and about 70 per cent of Canadians hospitalized for COVID-19 are 60 and older.
"I think one of the reasons we focus so much on deaths and not hospitalizations is we haven't really listened to the needs of older adults, perhaps because of ageism," said Bowdish.
"For older adults, sometimes being disabled or perceiving they are a burden on their family or community is scary. This is why we need to work hard to reduce the amount of COVID hospitalizations in older adults."
Hospitalization increases risk of heart disease and dementia
Hospitalization for older adults can have catastrophic consequences, says Bowdish. Research has shown that when older adults are hospitalized for a respiratory infection their risk of heart disease, heart attacks, dementia and other health issues increases.
The chances of returning to their normal life after being hospitalized for a serious infection like COVID, are slim, said Bowdish, with many older people being forced to leave their homes and move into long-term care facilities.
"I've been blessed to work with a lot of older adults during this pandemic … people who've been hospitalized for COVID who weren't able to get back to work. People who were hospitalized, which triggered another health issue, then another one.
"A number of people shared with me stories about how it just felt like one thing after another after their hospitalization."
In addition to the catastrophic consequences for many of our elders, Bowdish points out that hospitalizations increase frailty and medical care in older people at a time when our health care system is already overwhelmed.
How to reduce COVID hospitalizations?
 Fewer COVID infections in our communities mean less hospitalizations and healthier older adults, said Bowdish, who urges society to follow the research to protect older adults by:
Keeping up-to-date on vaccines
Masking when appropriate
Testing to better understand the movement of the virus
"My dream is that every Canadian grandchild will have as many years with their grandparents as they possibly can," said Bowdish. "And my hope is that by preventing COVID hospitalizations we will have more of those good years."