"A living lab in a living room"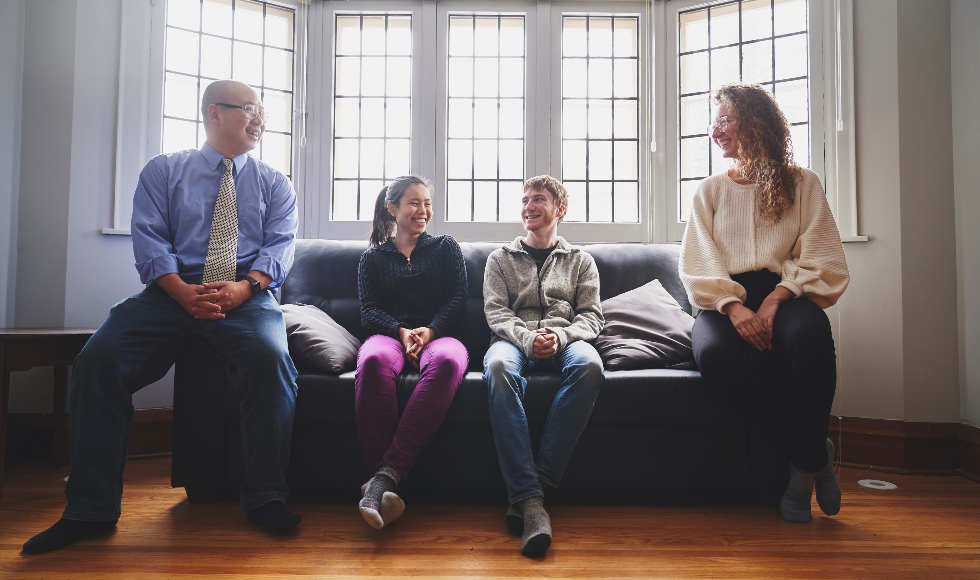 Engineering researcher Qiyin Fang (far left) and graduate students Colleen Chau, Eric Mahoney and Jessica Kun. (Photo by Jin Lee)
---
BY Sara Laux
February 22, 2019
When Ernest Kay '47  '49 died in 2016, he left McMaster his library, a scholarship fund he'd established in 1999, and a house.
His house. The one he moved to with his parents in 1936 and stayed in for the rest of his life.
According to the terms of Kay's bequest, the house was to be used for research — and fortunately, there was a researcher ready to use it.
The main focus of Qiyin Fang's research is sensing and imaging technology for biomedical applications. What he's working on most often these days is technology to help seniors and their caregivers: ways to monitor older adults' health and physical activity with a variety of sensors, cameras and other devices. The research team includes a number of research groups at McMaster (including Engineering colleagues Jamal Deen and Ravi Selvaganapathy) and clinicians at Hamilton Health Sciences. It is also an open platform for industry partners.
So why a house? Why not simply develop technology in a lab?
"We're trying to build a platform to develop and evaluate technology that allows not just engineers but clinicians to monitor the physical activity and physiologic state of older adults," Fang explains. "With this setup, we can see how they live their daily life while coping with disease, how they adapt to their mobility changes and how they might respond to therapy."
For instance, motion sensors can monitor whether someone's mobility is changing by tracking how much they move within the house, or how long they take to climb stairs. They can track whether someone moves back and forth between two rooms multiple times, which can be an indication of memory problems. Sensors in toilets can help detect urinary tract infections, or how someone is metabolizing their medications.
Fang's PhD student, Eric Mahoney, explains that using an actual house to develop these technologies means that they're more likely to be effective.
"A lot of systems that have been developed haven't been successful, not because they don't work, but because the user isn't comfortable with how they function," he explains. "By building systems in an actual home, it's as realistic as it gets. In a system like this, we can involve older adults in the development process right from the beginning and use their feedback to make changes that will ensure the system will be successful."
It's taken three years to get the "sensor house," as it's known, up and running and ready for research. While its appearance hasn't changed much ‑ it's a standard Westdale mock Tudor detached home a couple of blocks from campus – there were some changes needed to make it research ready.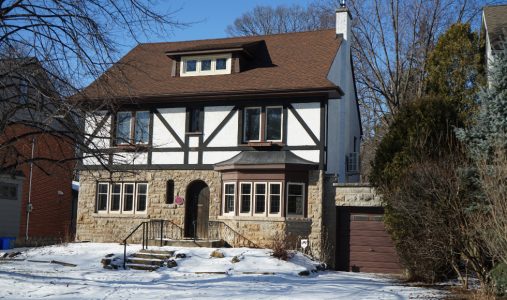 For one thing, it needed to be completely rewired, partly because it's an old house, and partly because the researchers needed ways to install sensors in many places. The result: "raceways" – channels through which electrical cables can run – on all the walls, and a track lighting system that will allow sensors to be mounted at different locations on the ceiling.
The team also wanted the plumbing redone to accommodate a smart toilet – one that could analyze waste for a variety of things, including bacteria (to detect UTIs) and medicine metabolites (to track whether someone is taking their medication appropriately).
The house's HVAC system was also tweaked, to give researchers the ability to dramatically change the heat and humidity of different zones within the house to see how environmental changes affect the sensors.
Fang says the renovations on the house are now complete, and both researchers and industry partners are both ready to start working.
One upcoming industry project involves a company that is working on developing a monitoring system for gait analysis to measure changes in someone's movement through their house – providing important  clues about declining mobility or cognitive abilities.
Ultimately, Mahoney points out, the sensor house will allow researchers to develop technology that allows older adults to stay in their homes and remain longer, before potentially moving into a long-term care facility.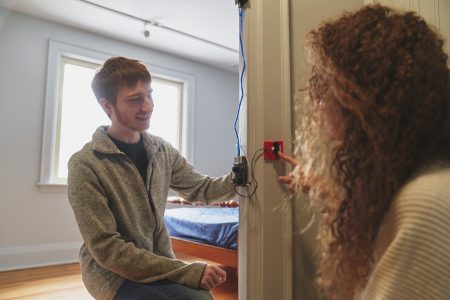 "In the current system, when people's physical abilities or cognitive health changes, they often have to move to a different home," he explains. "By developing these types of monitoring systems within a real house, we may be able to make aging in place easier – older adults may not need to move. They can continue living at home – which is usually what they would prefer to do."