Digital storytelling projects aim to improve Black students' experiences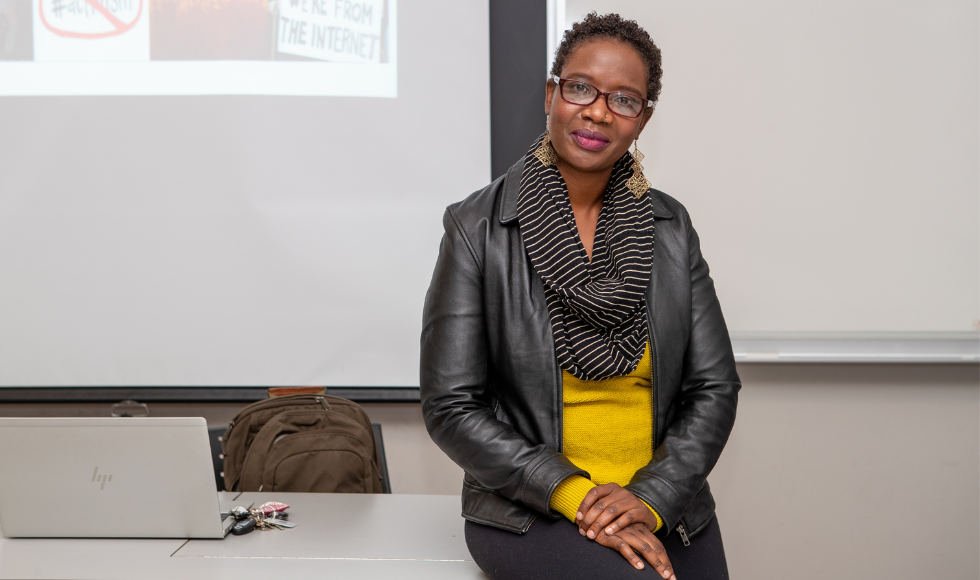 Communication studies and media arts professor Selina Mudavanhu is using digital storytelling techniques to help train and mentor a new generation of scholars in Africa, as well as to support Black undergraduate students here in Hamilton. (Photo by Georgia Kirkos, McMaster University)
---
BY Kaleigh Wisman, Faculty of Humanities
August 12, 2022
Selina Mudavanhu knows there is power in storytelling.
As an assistant professor in the department of communication studies and media arts, Mudavanhu teaches digital storytelling and draws on its power in research and service.
In two recently funded projects that Mudavanhu is convening, the focus is on participants sharing experiences through digital tools.
The Black academic experience in South Africa
One project, funded by the Carnegie African Diaspora Fellowship Program this summer, took Mudavanhu back to her home continent of Africa.
With a cost-share agreement with the host African institution, the African Diaspora Program provides funding to African-born scholars living in North America, allowing them the opportunity to collaborate with African institutions.
"The program is a way for African-born scholars like me to contribute to training and mentoring the next generation of scholars on the continent," Mudavanhu says.
Mudavanhu is working with Kezia Batisai, an associate professor in the sociology department at the University of Johannesburg in South Africa, on a collaborative interdisciplinary research and student mentorship project titled, Narratives by Doctoral Graduates from Africa of Surviving and Thriving in the Post-Apartheid Academy and the Afrophobic Environment.
When shared with new doctoral students from Africa, insights from the project have the potential to help them navigate a South Africa that is still grappling with relics from apartheid and recurrent Afrophobic violence largely directed at Black Africans.
Further, recommendations from participants can help South African postsecondary institutions provide additional tailored supports for their international students from Africa.
"Most universities orient their international students in generic ways that frame them as a homogeneous group who are likely to face uniform challenges," Mudavanhu explains. "The reality is that while all students may contend with crime in South Africa, African students will potentially deal with racism, xenophobia and Afrophobia — something that I experienced first-hand as a Black Zimbabwean during the time I worked and lived in the country while pursuing my doctoral degree."
"There was always this constant reminder that I was foreign. I was the Other. Reminders that I didn't belong in the country, and that I had to go back to where I came from."
With the help of graduate research assistants at the University of Johannesburg, Mudavanhu and her colleague interviewed 15 African graduates who completed their PhDs in South Africa.
Their data will be published in academic journals and presented at conferences. Some of the material from the interviews will be used to co-create podcasts that can be used for knowledge mobilization.
"This project is not only focusing on challenges, which I think have been well documented in literature, but we are also highlighting strategies for coping in the aforementioned environment," says Mudavanhu.
"Doing a doctoral degree can be stressful and lonely. Layer that with experiences of racism and Afrophobia, and it may result in some students battling mental-health issues. This project contributes to thinking through ways of supporting African students. At the end of the day the idea is for graduate students from Africa to survive and thrive in the South African context to the point of graduating," she states.
As part of the African Diaspora Fellowship Program, Batisai and Mudavanhu hosted a capacity-building workshop for graduate students at the University of Johannesburg. The focus was on qualitative research and digital storytelling.
The student mentorship part of the project will continue on e-spaces. "I have discussed with my colleague at UJ ways we can continue the training and mentorship of students online," adds Mudavanhu.
Asking Black McMaster students 'What advice would you give your younger self?'
Mudavanhu's drive to use storytelling as a method is at the core of another project she is engaged with here at McMaster.
As the recipient of the 2022 Petro-Canada-McMaster University Young Innovator award, Mudavanhu is working on a project that will engage Black senior undergraduate students — recruited via the Black Student Success Centre — to reflect on and video record their intersectional experiences of studying at McMaster and of living in Canada in bodies racialized as Black.
The project provides senior students with opportunities to reflect on their own experiences. These reflections and narratives are meant to contribute to supporting and mentoring Black students who are starting out their undergraduate journeys at McMaster and in Hamilton.
"In addition to providing useful information to new students, the project will provide the senior students with the opportunity to speak about and process their own experiences using autoethnography," she explains.
The project borrows elements — such as critical race theory, intersectionality, autoethnography, qualitative data analysis, and academic writing — from a second-year course that Mudavanhu teaches in the communication studies and media arts department. Students who participate will be invited to share their experiences of doing autoethnography in the class. There will also be a screening of video recordings from the project at McMaster at the beginning of 2023.