Don't waste your energy. Harvest it.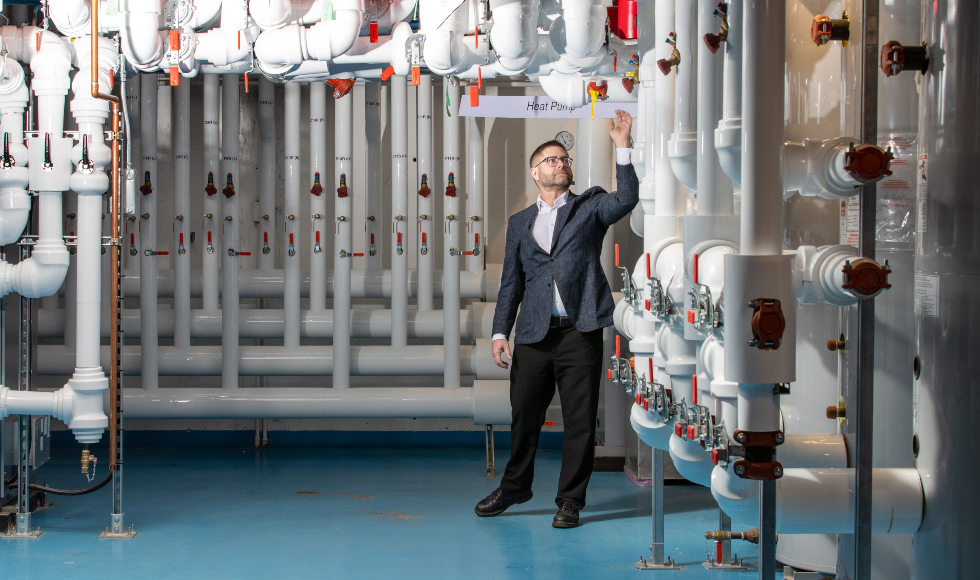 BY Ruth Adair
December 10, 2020
"We can use existing technologies and integrate them elegantly into our communities while creating a pathway to low carbon."  
 Jim Cotton
The issue |

The world wastes more energy than it actually uses

Jim Cotton isn't a fan of the word "waste," particularly when he's talking about energy. As a self-confessed optimist, he prefers terms like "share" and "harvest." As a mechanical engineer, he's been working to develop thermal and electrical systems that allow harvesting and sharing of energy that would otherwise be wasted.

All while benefiting communities and economies.

Cotton puts it like this: "It's winter, and there's an arena a few blocks away, and it's just dumping the thermal energy it's not using. What if you could use that energy to heat the homes in your community – would you do it?"

Cotton's Integrated Community Energy and Harvesting (ICE-Harvest) systems embed integrated thermal and electrical generation, as well as storage, within communities, so they can be powered, heated and cooled in a way that's cost effective and carbon-reduced.

His work targets Sustainable Development Goal 12, which calls for sustainable consumption and production patterns, and reduced waste generation by 2030.
---
More: Jim Cotton's work exemplifies McMaster's commitment to advancing the United Nations' Sustainable Development Goals (SDGs).
---
The research |

A holistic, innovative energy system

While Ontario has done well in transforming its electricity sector to carbon-free, Cotton says there's more work to do in terms of breaking down traditional silos between electricity, gas, and fuel sectors.

So that's what he's doing – with support from 19 industry partners and  more than 30 municipalities.

ICE-Harvest captures waste heat from various parts of the community, like sports arenas, grocery stores, and big box centres, and transfers this energy to other buildings. The process uses a combination of technologies, coupled with thermal and electrical storage.

"An arena cooling its rink, for example, would take lost heat out of the ice pad and inject it into the thermal loop, sharing its thermal energy, so it gets redistributed to another building to use," explains Cotton.

"The approach is resilient, holistic, and designed to increase energy use," he says. And the result is reduced natural gas consumption and associated greenhouse gas emissions.
The impact |

The potential for tonnes of benefits

"The demand for heat in Ontario produces about 4 times the CO2 emissions of electricity," explains Cotton. ICE-Harvest offers an opportunity to significantly reduce fossil fuel consumption and potentially reduce our carbon footprint by 5.6 million tonnes of CO2 per year.

The ICE-Harvest project supports the federal government's agenda on climate change, as well as the vision of Canada's Economic Strategy Table on Clean Technology.

To date, Cotton and his team have identified 1500 nodes – areas with energy that can be harvested and redistributed where it's needed. And to prove it will work, he's built a test site at McMaster's Gerald Hatch Centre, a globally unique research facility where he's been developing the tools to design and commercialize the system.
Lessons learned |

Take a systematic approach and communicate well

Cotton calls for a systematic approach to research and effective ways to translate that research.

"We have to think about the system we're dealing with on a larger scale," he says. "It means instead of thinking of the pieces, like heat transfer and thermodynamics – because they mean very little to anyone, really – we think about how to solve this problem of wasted energy."

In the engineering field, he says it's important to prioritize communication that cuts through the jargon to appeal to people's values and belief systems.

"To solve the development goals, we need to act fast, be holistic in our approach, and communicate well."

Jim Cotton's work exemplifies McMaster's commitment to advancing the United Nations' Sustainable Development Goals (SDGs).  Learn more about the best ways to align research with the UN's SDGs.