Empowering communities to shape sustainable water solutions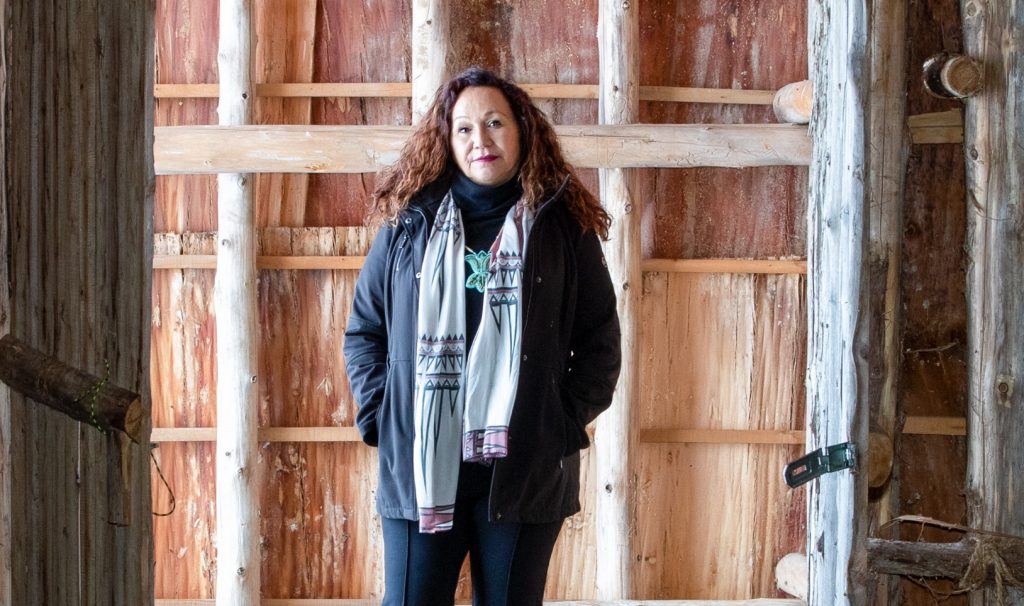 Dawn Martin-Hill leads two interdisciplinary and community-driven research projects that are co-creating sustainable water solutions for Indigenous communities. (Photo by Georgia Kirkos/McMaster University)
---
BY Sonia Verma
December 10, 2020
"I think science needs to change. It needs to take the initiative and incorporate Indigenous knowledge. I hope our research allows others to see how these two ways of knowing coming together can solve problems."
—Dawn Martin-Hill, Anthropologist;
Lead investigator, Ohneganos;
Co-lead of Co-Creation of Indigenous Water Quality Tools
The issue | 

Generations have grown up without safe or clean water

For generations, Indigenous communities across Canada have endured limited access to clean water and contamination of the source waters and ecosystems that are not only essential for daily life, but are an integral part of their culture and identity.

At Six Nations of the Grand River, about 30 minutes from Hamilton, researchers have found high levels of mercury in the water supply, downstream from several urban centres. This is the largest First Nations reserve in Canada, home to more than 25,000 members, and only 12 per cent of homes here are able to use clean, safe water from an on-site, state-of-the-art water purification plant.

"Even if we had funding to operate and maintain the plant — and we don't — most people can't afford to pay for the water hookup to use it," says anthropologist and water researcher Dawn Martin Hill, who lives on Six Nations and has been working for years on sustainable water solutions.
"I lived with my kids in a home that had no running water and I can tell you: When your water runs out, everything stops."
Although contamination is the greatest water-related health concern, especially in communities that haven't had safe drinking or washing water in decades, the problems go far beyond water-borne illness.
"There's no safe water at the schools, or in our homes. It's taking a toll on our young people," Martin-Hill says. "You have to wonder how much it feeds into high rates of depression and suicide."
---
More: Dawn Martin-Hill's work exemplifies McMaster's commitment to advancing the United Nations' Sustainable Development Goals (SDGs).
---
The research | 

A holistic approach, shaped by the community

Martin-Hill leads two interdisciplinary and community-driven research projects supported by Global Water Futures in alignment with the United Nations Declaration on the Rights of Indigenous Peoples. Co-creating solutions with Indigenous communities is at the heart of both.

She co-leads the first of these: Co-Creation of Indigenous Water Quality Tools, which brings together members of two Indigenous communities, as well as an interdisciplinary team of McMaster researchers — engineers, biologists, social scientists, geographers, physicians, nurses and others — working to identify sources of contaminants in drinking water sources and local aquatic ecosystems, and to address the problem.

The team merges western science with Indigenous approaches to assess ecosystem health, using cutting-edge remote sensing technology to map critical habitat of ecological and cultural significance to the First Nations.

"There's a wealth of Indigenous Knowledge accumulated  over thousands of years of observation and experimentation, passed on from one generation to the next," Martin-Hill says. "We have expertise and data showing how we interact with water and with the earth."

One of the most exciting aspects of the project for Martin-Hill has been the opportunity to engage youth in Indigenous communities, building capacity by assisting them in maintaining their connection to the land and culture.
"This land and the water is everything to our people. Our identity comes from this landscape. So we feel strongly about protecting our ways of knowing and our land and our water for future generations."
The second project, Ohneganos — Indigenous Ecological Knowledge, Training and Co-creation of Mixed Method Tools, builds on the findings of the first project.
Ohneganos focuses on co-creating bilingual educational resources to build communities' capacity to manage environmental challenges, strengthening youth mental health and resilience as it relates to water security, and training youth in water rights and governance strategies that are inclusive of Indigenous laws.
"I try to get out of the way and let young people step forward," Martin-Hill says.
"We need to support them, because they are the ones that can get out there and change perceptions, not just of Indigenous peoples, but of how to behave and respect other living entities."
The outcome | 

Empowered communities drive results

The Co-Creation of Indigenous Water Quality Tools project has seen considerable success, fostering leadership of Indigenous women and youth. Martin-Hill has spoken about the need to do more community-driven interdisciplinary projects at the UN's Permanent Forum on Indigenous Issues.

Cutting-edge tech has certainly revealed a number of unexpected contaminants in the water, but even more of a revelation has been the insights that western scientists received from traditional knowledge holders.

After Elders suggested testing Six Nations turtles for mercury, a leading biologist found the turtles are, in fact, a reliable metric for assessing contamination levels.

Researchers have applied Traditional Ecological Knowledge in creating solutions as well, such as cleaning up waterways. As well, research on home births at Six Nations has shaped further action relating to maternal and newborn health.

Along with training youth through a combination of multimedia and traditional knowledge, Ohneganos is on its third season of Let's Talk Water, a live broadcast series that showcases the research of both  faculty and community and supports Indigenous youth activism by providing a platform to share their concerns.
Lessons to share |

 Co-created and community-driven research is the only way

"When you begin a collaborative, respectful relationship, it explodes with possibility, and new opportunities emerge from that," Martin-Hill says. Co-creation empowers communities, who have first-hand experience and generations of expertise, to use their knowledge and tools to manage water futures.

"We're doing really well addressing sustainable development goals because our priorities are coming from the communities, just as the UN went to the communities — that's where they got their SDGs: By listening."

Dawn Martin-Hill's work exemplifies McMaster's commitment to advancing the United Nations' Sustainable Development Goals (SDGs).  Learn more about the best ways to align research with the UN's SDGs.