Empowering women and advancing reproductive health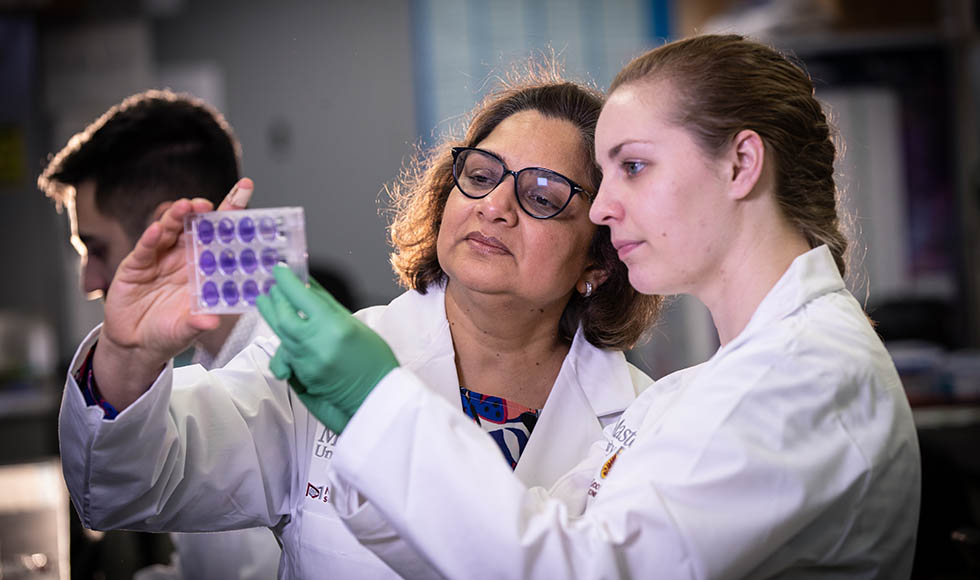 BY Tina Depko, Health Sciences
May 3, 2018
Charu Kaushic knows there are not enough women working as independent researchers in the field of immunology and infectious disease, and in health sciences research, in general.
She is hoping to inspire more women to enter the fields of science, technology, engineering and mathematics by blazing a trail for others to follow.
In May 2018, the renowned researcher was named scientific director of the Canadian Institutes of Health Research (CIHR) Institute of Infection and Immunity. She's the first woman to hold the title.
"One of my goals in this role is to promote STEM careers and leadership roles to young women," she says. "By being in this position, and through my work, I want to show women they should not let other people define them. I want them to know they can achieve anything and be anyone they want to be."
Kaushic is a professor of pathology and molecular medicine in the Michael G. DeGroote School of Medicine at McMaster University, as well as an associate member of obstetrics and gynecology, and biochemistry and biomedical sciences.
She is also the director of the university's Biosafety Level 3 Lab, which supports researchers working on highly infectious human pathogens.
Her research makes her a valued and well-respected member of both the McMaster Immunology Research Centre (MIRC) and the Michael G. DeGroote Institute of Infectious Disease Research (IIDR).
She is a mucosal immunologist by training and her program of research is focused on women's susceptibility and immune response to HIV and the herpes virus, with the goal of developing new ways to protect women from infections using vaccines and immunotherapies.
Kaushic's training, passion for women's health, and encouragement of her peers led her to HIV-focused research from her early years at McMaster. This helped establish her funding, position and research at McMaster.
"My goal is to do immunology research that allows women to make informed decisions, whether it is contraceptive choices or protecting them from sexually transmitted infections, and to do this at a global level," she says. "When women's reproductive health is improved, they lead longer and healthier lives; have healthy children, as well as choose when to have children and how many, and this empowers them."
Kaushic has published more than 75 peer-reviewed publications in influential journals, including highly-cited papers examining effect of HIV on mucosal barrier functions and the role of sex hormones in regulating the susceptibility and immunity of the female genital tract to HIV and herpes.
She is the past recipient of a CIHR New Investigator Award, and is currently the principal investigator on four CIHR grants, including an HIV mucosal team grant and a grant on Innovative biomedical and clinical HIV/AIDS research. She also holds an Applied HIV Research Chair Award from the Ontario HIV Treatment Network.
Kaushic's research program covers a broad spectrum, from basic research to clinical and translational projects. She says an aspect that adds value to her work is her partnership with African-Caribbean-Black community organizations.
Through the HIV Ontario Treatment Network, she is linked with the African and Caribbean Council on HIV/AIDS in Ontario, as well as Women's Health in Women's Hands, which provides primary health care to women of colour and marginalized women in Toronto and surrounding municipalities.
"Although I am a basic researcher and immunologist, I really value my community connections; they keep me grounded," she says. "I have to credit the HIV Ontario Treatment Network for giving me that push through their early researcher grant to find community partners with whom I could work. This helps both with making my research translational and impactful."
Kaushic has debunked cultural and gender expectations throughout her life.
As the youngest of five children growing up in a traditional, middle-class family in New Delhi, India, she says the order of her birth proved to be lucky for her.
Her mother was a homemaker, while her father was an accountant. She says her parents wanted a better life for their children, the societal expectation being that her brothers pursue college educations and successful careers, and that her older sisters get educated, marry well and raise a happy family.
"My parents' views changed quite a bit over the years as I came of age, so I had a lot more freedom to pursue whatever I wanted, compared to my older siblings," she said. "I think that set the ground for having the freedom to be different and explore whatever interested me. Coming to North America was liberating because I could be myself, voice my opinions and because until then, there were expectations of how women should behave and I did not fit well in that stereotype."
Kaushic completed a BSc (Honours) and MSc in zoology at Delhi University. She then finished a PhD at the National Institute of Immunology, also in New Delhi, in the area of reproductive immunology.
It was while at the national institute that she encountered international researchers that opened her mind to career pathways that she hadn't previously considered.
As a result, Kaushic went to Dartmouth Medical School in New Hampshire as a postdoctoral fellow through a Rockefeller Foundation Fellowship, and there in the lab of Charles Wira, she focused on mucosal immunity of the reproductive tract. She subsequently worked her way from research associate to research assistant professor in the Department of Physiology in the medical school before coming to McMaster.
"McMaster had always been on my radar, because it was on the leading edge of mucosal immunology and I was regularly reading research from people like John Bienenstock and Mark McDermott," she says. "They defined the field of musical immunology and this was where it all started."
It was Jack Gauldie, a McMaster Distinguished University Professor and professor emeritus of pathology and molecular medicine, who helped recruit Kaushic for a full-time faculty position at McMaster in 2002.
"It is a pleasure to watch a researcher such as Dr. Kaushic move from success to success from the early stage of her career to the most recent and significant achievement, as the incoming director of the CIHR Institute for Infection and Immunity, a laudable, well-deserved and exciting appointment," says Gauldie, who is currently vice-president research of the St. Joseph's Health System.
"Charu is recognized as an international expert in mucosal immunology, continuing a historical stream of excellence in this important area of immunity, that has kept McMaster on the world stage in this field of human biology.
"She has trained many young scientists and provided the careful mentoring so necessary for successful entry and progress in the competitive research environment of today."
Outside of the lab, Kaushic is busy with her family. Her husband is Denis Snider, also an immunologist and professor emeritus of pathology and molecular medicine at McMaster, who in recent years has been doing science writing. They keep a busy schedule, taking their two teenaged sons to hockey games, music lessons and other extra-curricular activities.
She notes she is tremendously proud of her boys, Arjun and Anuj, and believes she is serving as a good role model so they understand and support the capabilities of women.
"Women are still defined by societal roles, even here in North America," she says. "I still come across people who ask me if I am home enough for my sons because of my career.
"Being able to do science and research helps me to be a good mother because I am a happier person."