Engineering Fresh Faces: Kyla Sask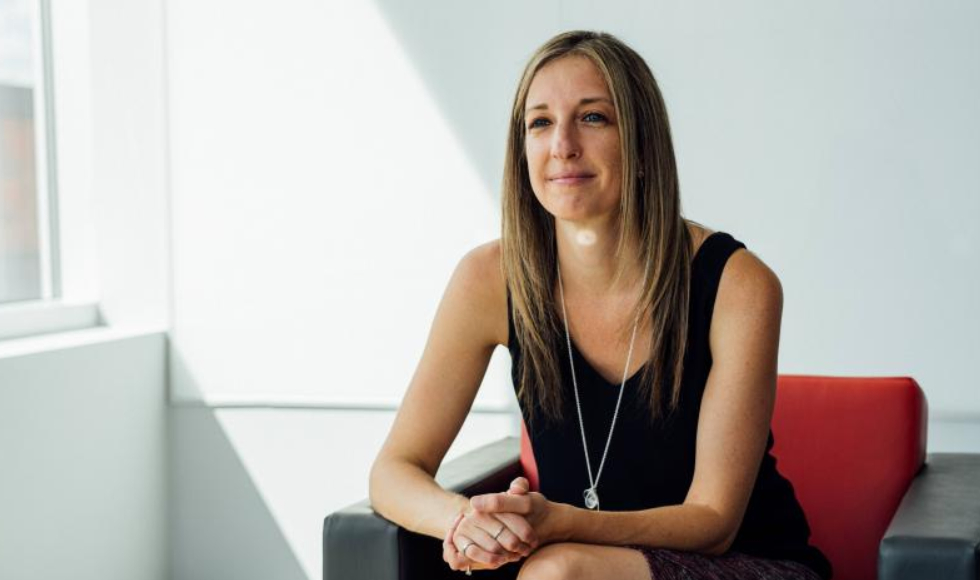 Photo by Dan Kim
---
BY Tracy Huynh
October 11, 2019
Fresh Faces is a series highlighting Engineering faculty members hired in the last five years who are doing interesting and innovative things in the lab and classroom.
Kyla Sask is an assistant professor in the Department of Materials Science and Engineering. In her Fresh Faces spotlight, she talks about her love of teaching and her journey in discovering a career in engineering.
On what she loves about Hamilton
There are many things I love about Hamilton but the biggest thing is the nature that's all around. It's been great to be able to check out the trails and waterfalls, especially with my young family. I also like the community feel that Hamilton has.
On the most fascinating thing about her research
My research involves interactions of biological fluids with materials. By gaining a better understanding of these interactions and manipulating them we can improve medical devices. Recently, we are doing this at the nanoscale which is really exciting that we can now get down to this level with advances in nanotechnology. This allows us to get a better understanding of protein interactions and how they influence cell responses.
On what she would do if she were not an engineer
I would say it would definitely be something to do with math and science; I've always really enjoyed these. If I wasn't an engineer I might have become a teacher, and I'm excited that in my new role I get to combine these.
On her definition of the perfect day
I'd say the perfect day would involve spending time with my kids and husband. I love getting to sit down and have family meals together. I also love reading stories to my boys before bed and then getting to spend the evening with my husband. The perfect day would also include no temper tantrums!
On who has had the greatest impact on her personal and professional life
I would say my husband, Mark, has had the greatest impact on both. We met here at McMaster during grad school and he also has a chemical engineering background. We both understand each other's interests and it's been great that we can share these. And of course, personally, our family now has the biggest impact on my life. On a professional level, his support, help and advice has been instrumental in allowing me to get back into my career and pursue my goals.
On her advice for her younger self
My advice to my younger self and others is to keep in mind the big picture of things and don't worry about the smaller stuff. Keep working hard and stay true to your principles and values and always be rooted in that.
On her definition of success
To me, success is doing something that you really enjoy and making an impact on people at the same time.
On when she knew she wanted to be an engineer
I didn't fully know that I wanted to be an engineer until I got through university. I've always liked math and science and problem solving. My father is an engineer, so I knew a little bit about it, but I actually didn't see myself being an engineer. It wasn't until I started looking at programs that I discovered that this was the best fit for what I enjoyed and also kept my options open.
On what she finds rewarding about working with students
I find it really rewarding working with students and then seeing where they end up in their careers – where they're able to take what they learn and apply it … I really enjoy working with students because I can be teaching them and I can learn from them at the same time.