Engineering students create device for farmers — and museums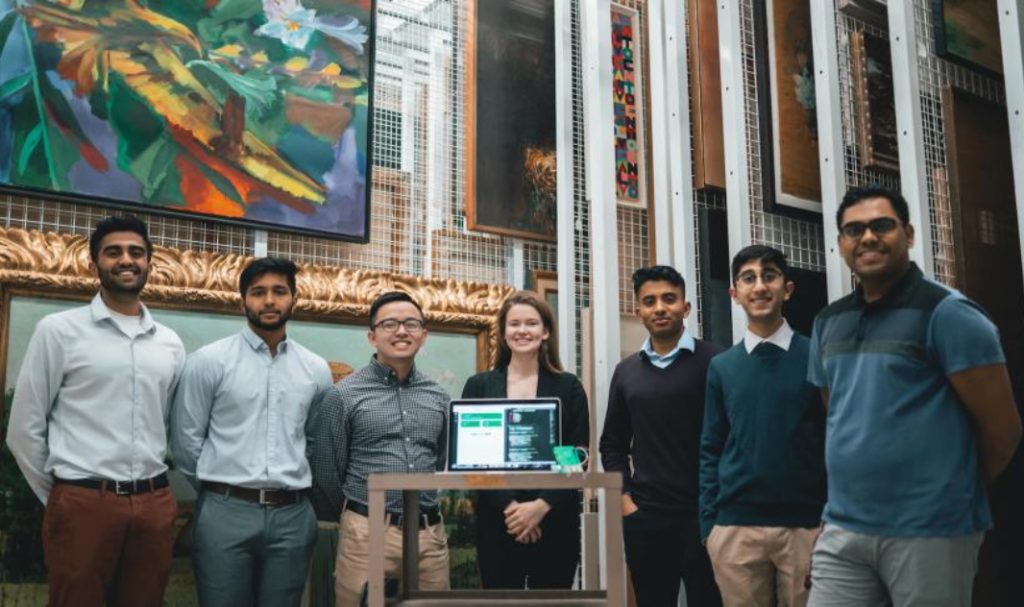 The engineering students of EltroTech originally created the Agriboost device to monitor environmental conditions that affect crops. But they're testing their invention in the tightly controlled environment of the McMaster Museum of Art. (Photo by Dan Kim)
---
BY Michelle Pressé, Faculty of Engineering
April 23, 2019
A device originally conceived as a tool to for farmers has found an unexpected purpose in the world of art.
A team of Software and Mechatronics Engineering students, who dubbed themselves EltroTech, collaborated on the Agriboost project.
The device, which tracks temperature, moisture, wind speed and solar radiation, was originally conceived as a tool to monitor environmental conditions across farm land.
"Everyone depends on food obtained through agriculture," says EltroTech team member and mechatronics engineering student Gino Salayo. "If our system can help farmers increase their crop yields, we would be making a positive difference that would affect a lot of people."
But after a discussion with their faculty advisor, engineering professor Michael Noseworthy, the students realized the McMaster Museum of Art would be the perfect place to test and repurpose their prototype, because of  its highly regulated conditions.
"The museum was not only a great way to test out our sensors," says mechatronics engineering student Christie Condron, "but it also allowed us to identify a new market to target our product."
The museum has tightly regulated environmental systems that are operated and monitored remotely and backed up by hygrothermographs, instruments that measure and record temperature and relative humidity on a paper graph through the movement of a human hair.
AgriBoost would serve as an additional check and balance for the sensor and allow museum workers to remotely monitor areas of concern in real time.
"Originally, we thought we would be developing a product that would be implemented solely in a farmer's field, which in itself was pretty cool," says software engineering student Pavi Pathmarajah. "This gave us the opportunity to actually scale our system back slightly and implement it in ways we never thought imaginable."
EltroTech comprises of students Vishal Bhatia, Gary Barretto, Pareek Ravi, Kunal Shah, Salayo,  Condron and Pathmarajah.
EltroTech will present their device on Friday, April 26 at the Computer and Software Engineering capstone presentation day.