Even in a pandemic, McMaster research and collaboration on aging and mobility continues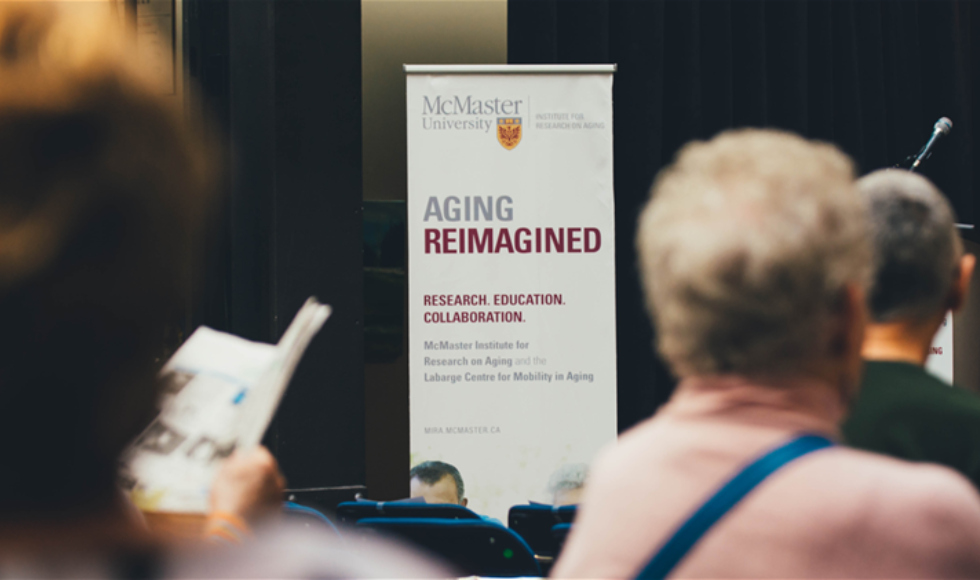 Last year's MIRA and LCMA research showcase
---
BY Kara Aaserud
December 17, 2020
The McMaster Institute for Research on Aging (MIRA) and the Labarge Centre for Mobility in Aging (LCMA) held its annual research showcase last week to celebrate exemplary work from its members and to recognize the generous donations of former Chancellor Suzanne Labarge.
Throughout the day, which was held virtually for the first time, it became clear that McMaster's researchers in aging—140 spanning all six Faculties—​weren't going to let a global pandemic stop them from collaborating, innovating or leveraging their research.
"Older adults are some of the hardest hit by COVID-19, and we know that many were already experiencing social isolation and limited mobility. It was important for us to find ways to continue the work we had started with MIRA and the LCMA," said Parminder Raina, MIRA's scientific director, during his opening address.
Attendees spent the morning visiting virtual poster sessions in real time. Each year, this portion of the event requires trainees and researchers to translate their work into language that is understandable to a general audience. More than 30 researchers presented posters in aging research, and several MIRA Trainee Network members were awarded prizes for their outstanding work.
MIRA used this time to launch its own interactive researcher landscape map as well. Over the past few years, MIRA has been placing its researchers on a map to illustrate their focus and impact of their work and to facilitate interdisciplinary connections across the Faculties. Last year, MIRA partnered with the McMaster Library's Experts platform and McMaster's Research & High-Performance Computing Support (RHPCS) team to transform this map into an interactive tool that allows users to visualize how MIRA researchers are connected to each other and to MIRA's research projects and initiatives.
"Enabling collaboration and breaking down interdisciplinary silos is one of the primary objectives of each and every one of McMaster's research institutes," said Jason Brodeur, associate director, Digital Scholarship Services, about the new tool. "Given this, I think it's incredibly important that we (as an institution) find ways to communicate and highlight the great work being done by research institutes like MIRA to facilitate cross-disciplinary collaboration—both within and beyond McMaster."
Once the poster session closed, attendees headed to the virtual main stage to hear from several researchers about their strategies for pivoting their interdisciplinary work during the COVID-19 pandemic. Speakers included:
Andrew Costa (Health Research Methods, Evidence, and Impact) who discussed COVID-19 in long-term care and retirement homes;
Victor Kuperman (Linguistics and Languages) who talked about story-writing among older adults and their emotional well-being during the pandemic;
Ravi Selvaganapathy (Mechanical and Biomedical Engineering) who shared his research on multi tissue models for studying exercise and its influence on the brain.
Ayse Kuspinar (Rehabilitation Sciences), Marla Beauchamp (Rehabilitation Sciences), Rong Zheng (Computing and Software) and Mike Wilson (Health Research Methods, Evidence and Impact) took to the stage next to share best practices for using MIRA and LCMA funds in uncertain times.
"The emergence of COVID-19 brought with it a cloud of uncertainty, particularly around the continuation and delivery of research on aging as a result of limitations placed on in-person research," said Raina. "I am proud to say that I have witnessed our researchers stand up to these challenges and pivot masterfully, proving that managing the unknown is precisely what we excel at."
"When I look at how far we've come in such a short period of time and the range of activities undertaken, I find it absolutely and utterly amazing," added Suzanne Labarge.
Click here to ​learn more about MIRA's researcher map. To see the breadth of research achieved over the past year and beyond, please view MIRA's annual report.