Explore McMaster's nuclear reactor without leaving home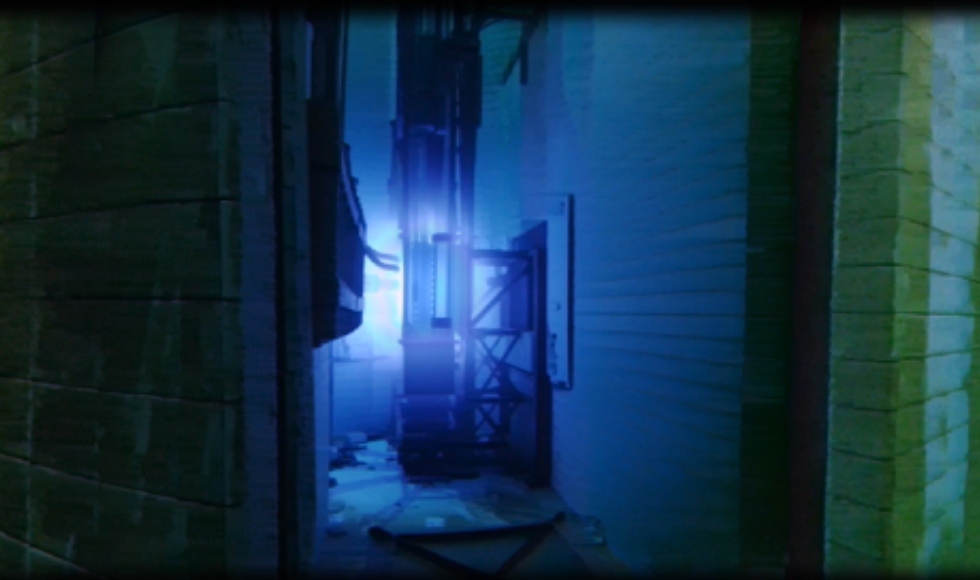 A panoramic shot of the McMaster nuclear reactor's core. Photo courtesy of Josh MItchell.
---
BY Sara Laux
February 10, 2020
A new virtual reality app is offering a rare view into the very core of McMaster's Nuclear Operations and Facilities – literally.
The mobile app, McMasterVR: Nuclear Facilities, takes users right into the reactor's glowing blue core – providing a view that even the technicians who work at the reactor have never seen before.
Drawing on interviews with reactor staff and experts, and a specially designed 3D underwater camera, the app's up-close-and-personal view is designed to demystify nuclear reactors and what they do.
The app uses a Google Cardboard VR headset, along with a smartphone, to provide an immersive, 3D tour of the reactor's key areas, complete with interviews with reactor staff and pop-up factoids about what the reactor does and how it's used.
(One example: The McMaster reactor doesn't generate electricity, like the Pickering or Bruce nuclear power plants. Instead, it produces medical isotopes, including I-125, used to treat prostate cancer, and large quantities of neutrons, which are used for safety testing, material analysis and other services and research.)
"This technology allows us to expand the outreach we're already doing, because you get to see things you can't otherwise see," explains Karin Stephenson, the manager of commercial operations at the reactor.
"This could be an important way to communicate how safe the reactor is, and the wide range of things we do."
This isn't the first time the university has used Google Cardboard and VR to provide an in-depth perspective on a complicated subject.
In 2018, students in Bruce Wainman's undergraduate anatomy and physiology classes were able to use a VR app to study for their final "bell ringer" exam – an often high-stress assessment in which students sit down in front of a real anatomical specimen and identify what they're looking at.
In that case, the app was based on 1962 View-Master stereoscopic slides of cadaveric prosections, which were then digitally photographed and augmented with additional exercises and lab safety images.
A year or so later, the university wanted to expand the technology for a wider audience – so they approached Josh Mitchell, the developer of the original app, to see if he would like to take on a cross-campus pilot project.
Mitchell, who is a graduate of McMaster's software engineering program, faced a few additional challenges in working on the app for the reactor. For one thing, the team really wanted to film inside the core – but the demands of filming in 3D made that challenging.
To overcome those challenges, Mitchell worked closely with ASI Group, a company in Stoney Creek that specializes in underwater imaging, inspection and maintenance. With the help of president Carmelo Sferrazza and engineer Alissa Van Overbeeke, the team was able to design an underwater camera that could capture 3D footage of the core.
Eventually, Mitchell and his team ended up with 360-degree images of the reactor, McMaster's Centre for Advanced Nuclear Systems and the reactor's control room, as well as a series of short interviews with four experts.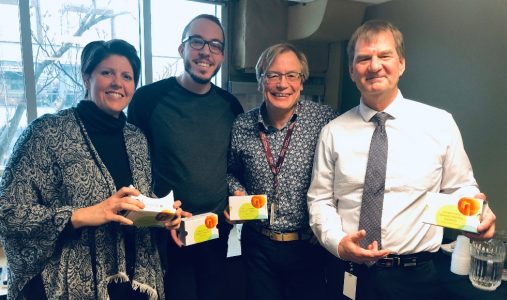 The result? A cost-effective technology that can be used for community outreach, government relations and trade events – and, Stephenson says, an interesting way to gauge how information can change people's perceptions of what nuclear technology can do.
"We can do social research as well, by assessing people's opinions about nuclear energy, letting them use the app, then seeing how their opinions have changed."
Ultimately, both Mitchell and Stephenson agree that VR isn't the only way to communicate about the reactor – but it can be a good adjunct to what's already in place.
"We still encourage everyone to take a reactor tour," she laughs. "But this is something a little extra."
And this project paves the way for future collaborations – a tour of green spaces on campus, for example, or a full VR campus tour.
It's a step in the right direction, says Gayleen Gray, McMaster's assistant vice-president and chief technology officer.
"A key pillar of the McMaster IT Strategic Plan is to introduce delightful and innovative technologies on campus," she says. "This project is a great example of how collaboration across departments allows these transformative technologies to flourish."