Federal government invests $1.37 million in leading-edge facilities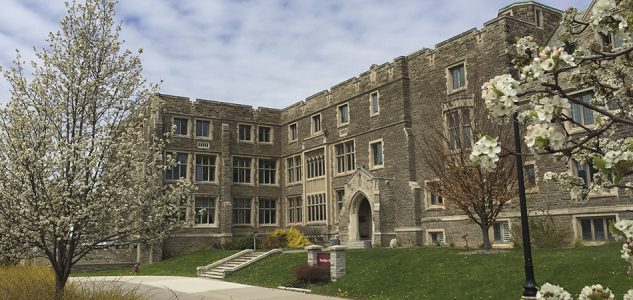 February 28, 2017
Seven McMaster researchers received nearly $1.37 million combined for infrastructure funding from the Canada Foundation for Innovation (CFI).
The projects are funded through CFI's John Evans Leaders Fund (JELF), designated for exceptional researchers to conduct leading-edge research by giving them the requisite tools and equipment to become leaders in their fields. The awards were part of a national funding announcement made today by Minister of Science, the Honourable Kirsty Duncan.
The McMaster projects cover a wide range of research: the digital economy, stem cell therapies telecommunications systems, membrane science, breast cancer diagnostics and treatment, electronic networking and energy infrastructure.
Rob Baker, McMaster's vice-president, research, says the awards acknowledge the diversity of McMaster's research excellence and our strength on the national stage.
"Expanding our infrastructure capacity on such a broad range of initiatives will allow our researchers, from across the disciplines, to contribute to the health, economic and social well-being of Canadians," he said.  "Congratulations to our researchers on their success and a big thanks to CFI for its continued investment and confidence in our work."
Minister Duncan stressed the importance of research infrastructure investments in the nation's future. "They help us to attract and retain the very best scientists and give Canadian researchers the tools they need to perform excellent cutting-edge research, train the scientists of tomorrow and enable innovative new discoveries that improve our environment, economy and communities."
MP for Hamilton West – Ancaster – Dundas, Filomena Tassi, echoed Minister Duncan's comments on the value of strategic investments in research infrastructure both for our country and our city. "The $1.37 million investment in McMaster speaks to the caliber of the University's first-class researchers and goes a long way to ensure we retain these stars in our community and attract the best and brightest students to our region."
McMaster's JELF recipients are listed below. A brief description of each project can be found here.
Milena Head, information systems, received $284,411 for her project: Flexible NeuroIS User Experience Lab.
Yu Lu, biochemistry and biomedical sciences, was awarded $400,000 for his project: Proteomics Laboratory to Investigate Alternative Splicing Regulation in Stem Cell Differentiation
Jonathan Bradley, engineering physics, received $155,000 for his project: Infrastructure for Development of Advanced Silicon Photonic Materials, Devices, and Microsystems
Charles de Lannoy, chemical engineering, was awarded $125,000 for his project: Electro-Functional Membranes: Selective Separations and Catalytic Degradations of Environmental Contaminant
Mick Farqharson, School of Interdisciplinary Science, was awarded $113,553 for his project: The Development of a Clinical Environment Compatible Surgical Oncology Margin Detection System
David Ogborn, communication studies and multimedia, received $188,123 for his project: Networked Imagination: A Laboratory for Network Music and Live Coding
Oleg Rubel, materials science and engineering, was awarded $100,000 for his project: Multiscale Functional Material Modelling for Energy Applications
John R. Evans was the founding dean of McMaster's Faculty of Health Sciences (1965-1972) and the CFI's first Board Chair.