Federal investments focus on building Canada's prosperity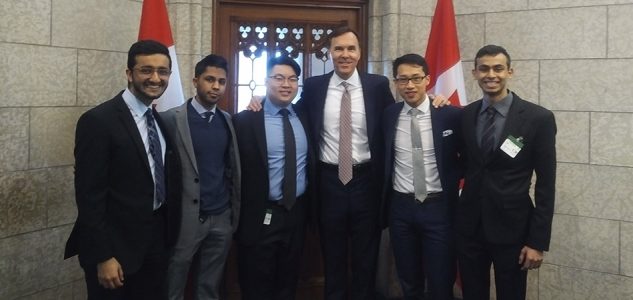 March 23, 2017
Federal Finance Minister Bill Morneau focused on the role innovation and lifelong learning will play in Canada's ongoing prosperity as he unveiled the new budget in Ottawa on Wednesday, March 22.
"Research and inspiring students and faculty to be creative and develop new ideas is what universities do best," said McMaster president Patrick Deane. "The government's plan to create a new Strategic Innovation Fund to focus on industries including automotive align well with McMaster's areas of expertise and leadership in industrial partnerships."
This Fund is in addition to ongoing support for cluster funding to accelerate economic growth in key sectors including advanced manufacturing and health and bio-sciences. The cluster investment of $950-million will launch in 2017. These funds include the $800-million announced in Budget 2016 and a reallocation of $150-million from transit and green infrastructure programs.
According to Universities Canada, "Increased support for higher education and business partnerships and career-boosting opportunities for students highlights the priority government places on universities as leaders in mobilizing talent."
The Finance Minister reinforced the importance of the much-anticipated Fundamental Science Review Panel report which is expected to provide a roadmap for long-term globally competitive reinvestment in discovery research. McMaster participated in the consultation process for the review.
New funding of $221-million over five years for Mitacs was also announced which would increase work-integrated learning placements for postsecondary students and graduates from 3,750 to 10,000 each year.
The government will also review federal programs that support Indigenous students who want to pursue a post-secondary education and are providing increased financial support to the Indspire program which provides bursaries and scholarships. Other investments in Indigenous programs could provide new partnering opportunities for university researchers.
Minister Morneau highlighted a group of McMaster students in the budget documents. Health Sciences students Krish Bilimoria, Ramachandiran Sethuraman, Matthew Yau and Shangmou Wu and Commerce student Raj Jain were in the House of Commons for the budget. They won a Ministry of Finance public policy competition for young Canadians. Their submission on Employment Insurance reform won them a trip to Ottawa for the budget speech.