Finding treatments for bleeding disorders is in his blood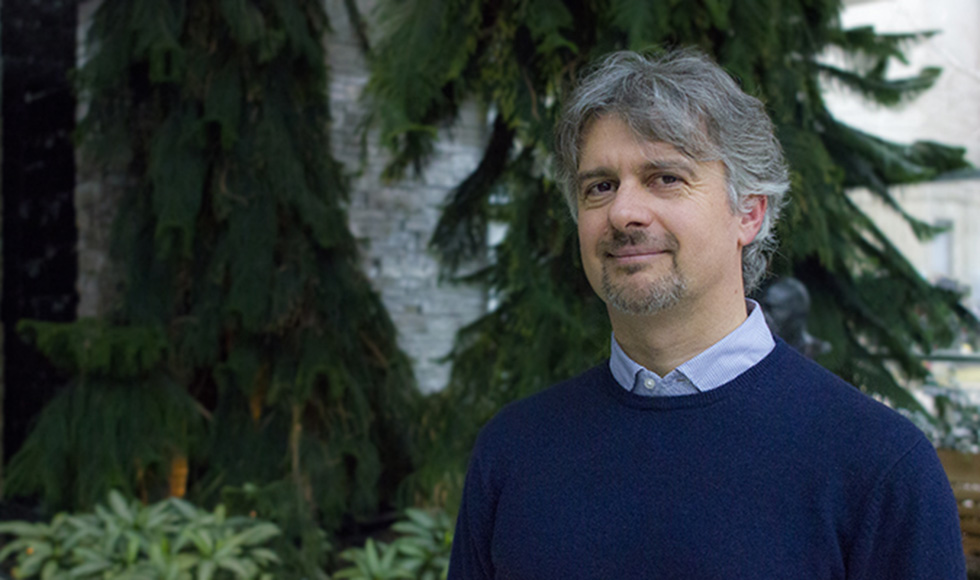 BY Tina Depko
June 1, 2018
Alfonso Iorio's great-grandfather received his medical degree in 1898 when Italy still had a monarchy.
Iorio's grandfather was also a doctor, as was his father. His mother was a lab clinician, so his parents would talk cases over lunch and both loved their careers.
It's not a surprise, then, that he too pursued medicine.
Iorio is now the inaugural Bayer Chair for Epidemiology Research in Bleeding Disorders at McMaster University. This is a feather in the cap for Iorio, whose devotion to research matches his commitment to his hemophilia patients.
"Seeing my hemophilia research grow at McMaster until becoming a chair simply means I'm here to stay," says Iorio, who is a professor in McMaster's Department of Health Research Methods, Evidence, and Impact as well as the Department of Medicine. "There's no other place where I can meld so deeply the two research fields I love."
He was raised in the small city of Rimini on the northeast shore of Italy. He grew up loving the sciences and mathematics, with a keen interest in pursuing either medicine or engineering. He tossed a coin and chose medicine, and attended the University of Perugia, Italy.
"Thirty years after tossing that coin, I am still enjoying working between the worlds of medicine and engineering," he says. "I am a clinician, but my research program involves a lot of medical informatics. Much of what I do involves computers, web interventions and tools. You can't change your fate."
Iorio completed a medical degree and a PhD in Perugia. Early in his internal medicine training, he worked in a hospital unit focused on thrombosis and hemostasis.
"My approach to hemophilia came after working in thrombosis for five or six years," he says. "There was already a lot of evidence about treating thrombosis patients, but there was a need for robust evidence to treat hemophilia."
"What made me stay in hemophilia is that it is a chronic disorder. You are with your patients year after year, and you become a part of their lives and I love that human component of my job."
In the early 1990s, Iorio had an opportunity collaborate on a research project with Jack Hirsh, a world leader in hematology and thromboembolism and a professor at McMaster. Iorio came to Hamilton in what he recalls was a very cold February to work with Hirsh. He returned to Italy, but stayed in touch with McMaster faculty members.
Nearly 20 years later, he saw a job posting at McMaster that drew his interest.
"The position, interestingly enough, had nothing to do with hemophilia," he says. "It was for a knowledge translation position in the Health Information Research Unit. Brian Haynes had been doing important work in the dissemination of translational evidence for years, and I was part of it from abroad; then, I wanted to take on a bigger part of that."
"It was hard to leave Italy, and to help adapt, I told myself I could leave and go back if I became too homesick," he says.
Almost a decade later, he's still here in Hamilton, working as a researcher and clinician.
Iorio is primarily focused on targeting research results to improve patient outcomes, specifically those with hemophilia.
The blood disorder impairs the body's ability to make blood clots. As such, those living with the disorder bleed for longer than normal after an injury, bruise easily and are at increased risk of bleeding in other places in the body, such as in the joints. Patients require treatment several times a week, administered intravenously.
Over the past three years Iorio has focused on leading three projects related to hemophilia.
One is the Canadian Bleeding Disorders Registry, or CBDR, which is a clinical database for all patients in Canada with bleeding disorders.
Another is Patient Reported Outcomes, Burdens and Experiences, also known as PROBE, which measures the impact of hemophilia and hemophilia treatment on the daily life of patients. This is a significant international collaboration with large patient representation among the investigators, and is considered to be an innovative approach to research.
The third initiative, which Iorio says is closest to his heart, is Web Available Population Pharmacokinetics Service for Hemophilia, or WAPPS-Hemo. The web-based solution allows participating hemophilia centres to securely input data that assists in the estimation of individual hemophilia treatment. The service is widely used worldwide, with over 200 centres and almost 4,000 individual studies.
Brian Haynes, professor emeritus in the Department of Health Research Methods, Evidence, and Impact and the Department of Medicine, says McMaster has benefitted enormously from attracting gifted and talented researchers like Iorio from abroad.
"Alfonso Iorio is one of these brilliant researchers who now call McMaster their academic home," says Haynes. "He has diverse accomplishments in health information science and knowledge translation, evidence-based medicine, hematology and hemophilia.
"He is like a key missing piece in a puzzle that connects the surrounding pieces so that a complete picture emerges, except that he is leading the solution of several puzzles. His versatility and productivity are amazing and we can expect new knowledge and knowledge translation to flourish in his areas of expertise."
Iorio and his wife, Clara Sacchini, live in Westdale with their 13-year-old son, Eddy. Sacchini is an assistant professor of obstetrics and gynecology at McMaster and a maternal-fetal medicine specialist at McMaster Children's Hospital.
Iorio says he hasn't quite mastered the sports of golf or tennis, but adds he has been a windsurfer and a decent snowboarder. The family also enjoys hiking in the Hamilton area. Iorio has an older son, Emmanuele, who works in human resources in Italy.
As for Eddy, his future seems predetermined.
"He says he wants to be a doctor," Iorio says with a laugh. "You can't go against your genetics."