Five McMaster projects get $35M in federal funding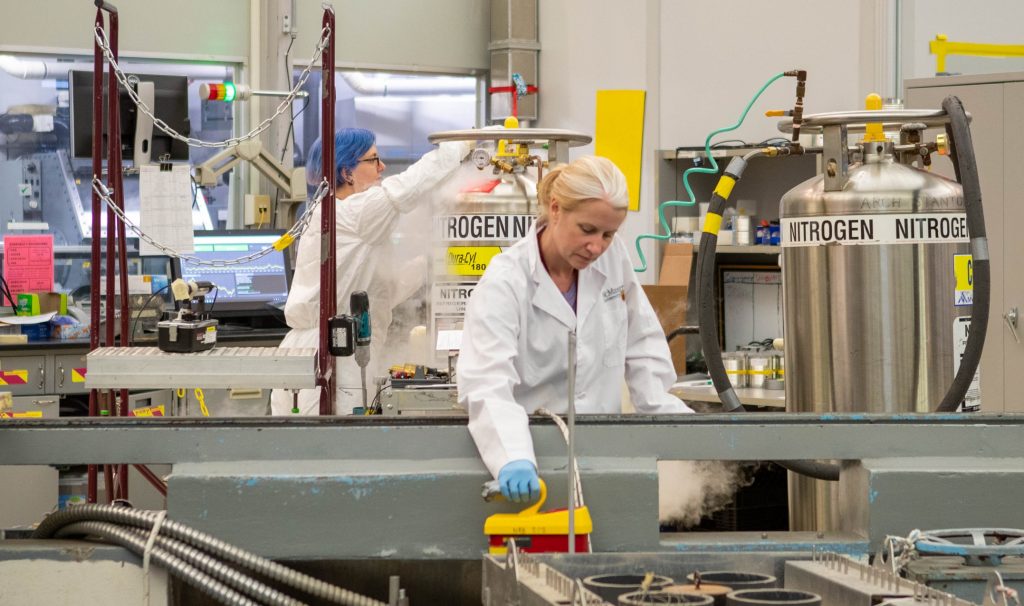 The Canada Foundation for Innovation is investing more than $35 million in McMaster research projects, including $14.25 million to add three neutron beamlines to the McMaster Nuclear Reactor. (Photo by Georgia Kirkos, McMaster University)
---
BY Danelle D'Alvise
March 4, 2021
The Canada Foundation for Innovation (CFI) has awarded more than $35M to five projects that will build and expand the tools that will bolster McMaster's nationally recognized strengths in materials research and healthy aging.
The investment was announced by federal Labour Minister Filomena Tassi, who is MP for Hamilton West–Ancaster– Dundas.
Tassi joined Parminder Raina, principal investigator for the Canadian Longitudinal Study on Aging (CLSA) for a virtual Q & A to discuss the impact of the more than $9.5M in funding awarded to the CLSA to continue its population-based social and health research.
"This investment in the Canadian Longitudinal Study on Aging will help seniors in Canada live longer, healthier lives," Tassi said.
"McMaster University is a top-flight research institution and a huge contributor to our community in Hamilton through research and its engagement with the community on many levels."
Physicist Bruce Gaulin's national project, named Building a Future for Canadian Neutron Scattering, was awarded $14.25 million from the CFI's Innovation Fund to construct three new neutron beamlines.
The McMaster Nuclear Reactor is Canada's only source for neutrons, and a hub for the important work of hundreds of scientists, engineers, and students in more than 40 Canadian institutions.
"Neutron scattering really is a vehicle for the creation of knowledge about materials," Gaulin said. "Once understood, the materials — and therefore the technology they enable — can be optimized and improved to better our quality of lives."
The project will enable research and innovation in areas such as materials for clean energy technology, structural integrity of components of vehicles or nuclear power plants, biomaterials for understanding and combating disease, and materials for information technology.
"On behalf of our many partners, I would like to thank the CFI for recognizing the importance of this project, which is indeed building a future for Canadian neutron scattering," said Karen Mossman, vice-president, research.
"Constructing the additional neutron beamlines at the MNR will sustain Canada's status as a world leader in materials research and technology development and will allow us to train the next generation of scientists and engineers here at home."
McMaster is grateful for CFI'S investment in research, Mossman said.
"These projects so powerfully reflect McMaster's primacy in materials research, and how we are reimagining aging."
"Our researchers are leading stellar scientific teams, all of which include collaborations with other institutions from across Canada to produce the top tier research results that will advance Canadian's societal health and well-being."
These are the five project teams that the CFI's Innovation Fund invested in:
Building a Future for Canadian Neutron Scattering
Bruce Gaulin is the lead on this pan-Canadian project, awarded $14,250,000.
This project will complete the McMaster Nuclear Reactor's neutron beam lab by adding three neutron beamlines. To enable experiments that require high neutron brightness, the project will build partnerships with two world-leading neutron beam facilities in the U.S.
Potential benefits of the research include technologies to reduced greenhouse gas emissions; enhanced reliability and competitiveness of Canadian nuclear power and auto parts manufacturing industries; knowledge to aid the fight against cancer, Alzheimer's, and antibiotic resistance; and knowledge of quantum materials that could enable breakthroughs in information technology devices.
---
Canadian Longitudinal Study on Aging
This project will receive $9,578,643 to support its ongoing operations to create a world-class platform for research in Canada.
Principal investigator Parminder Raina  will lead the team of national and international researchers and multisectoral partners for ongoing collection, storage and analyses of data and biological samples for population-based social and health research. The CLSA Platform for Interdisciplinary Research will be positioned to build tools that will help the identification of early causes of conditions such as mobility impairment, disability, cognitive decline, and other health conditions to inform the development of interventions to increase disability-free healthy life span.
---
Towards Dynamic Materials Characterization with Electrons and Photons in Extreme Environments
Materials Science professors Gianluigi Botton and Nabil Bassim are co-leads of this project, awarded $5,737,458 to build on the work of the world-leading Canadian Centre for Electron Microscopy and the Canadian Light Source. They will study the dynamic characterization of the structure and composition of materials as they evolve under use.
---
3D Multi-scale Correlative and Time-lapsed Microscopy: A Canadian platform for materials acceleration
Andre Phillion and Nabil Bassim, professors in the department of materials science and engineering, were awarded $3,413,793 for this project, which will provide unprecedented multi-scale 3-D imaging of a material's structure as it evolves in time and under conditions that mimic manufacturing and service.
The platform will be used to acquire essential knowledge for bringing new materials to the market: How the structure of a material affects its properties, how manufacturing processes can be modified to change structure thus improving properties, and how these properties relate to a product's performance while used. Collaborations with industry partners in advanced manufacturing, medical device, and construction will translate these findings into commercially viable products.
---
Transformative nano-manufacturing enabled by programmable assembly, self-alignment and direct-write technologies
Engineering physicist Andrew Knights is leading this project, conceived in collaboration with industry, and will then work with the team in delivering manufacturing protocols that are applicable to a wide range of sectors. They have been awarded $2,137,090 to focus on bio-compatible materials engineering, monitoring from farm-to-fork, transformative photovoltaics, and materials and devices for integrated photonics to maximize the economic and social impact of academic research in nanotechnology.