Five McMaster scholars recognized as among Canada's brightest young researchers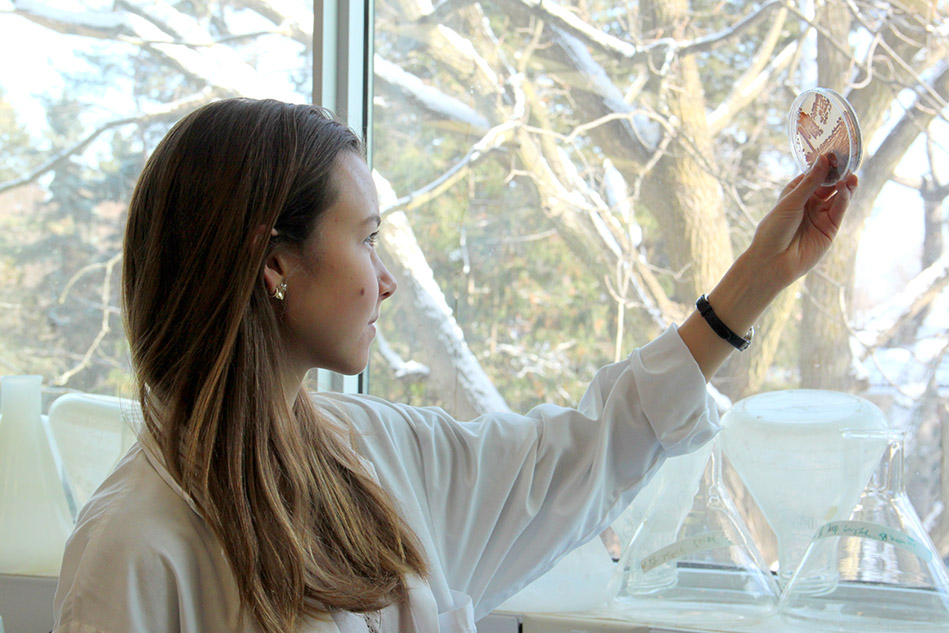 New Vanier Scholar Elizabeth Culp, in Biochemistry and Biomedical Science, looks for antibiotics that target bacterial proteases.
---
June 1, 2017
Five McMaster researchers will take on everything from senior isolation to antimicrobial resistance as Vanier Canada Graduate Scholars and a Banting Fellow.
Rachel Weldrick, Steven Liang, Kaitlin Blanchard and Elizabeth Culp have all been named Vanier Scholars, and Ana Duggan has been named a Banting Postdoctoral Fellow.
The Vanier Canada Graduate Scholarships and Banting Postdoctoral Fellowships are Canada's most prestigious awards for doctoral students and post-doctoral fellows (respectively), working in the health sciences, natural sciences and engineering, and social sciences and humanities.
Vanier Scholars receive $50,000 a year for up to three years of research, while Banting Fellows receive $70,000 a year for up to two years of research.
Vanier Scholars: 
Name: Rachel Weldrick, Health, Aging and Society
Area of study: Senior isolation
Name: Elizabeth Culp, Biochemistry and Biomedical Science
Area of study: Finding new antibiotics
Name: Steven Liang, Pathology and Molecular Medicine
Area of study: Evaluating a new vaccine for chlamydia
Name: Kaitlin Blanchard, English and Cultural Studies
Area of study: Social and environmental decay
Banting Fellow: 
Name: Ana Duggan, Anthropology
Area of study: The history of the aboriginal people of Newfoundland and Labrador