Four McMaster researchers named Canada Research Chairs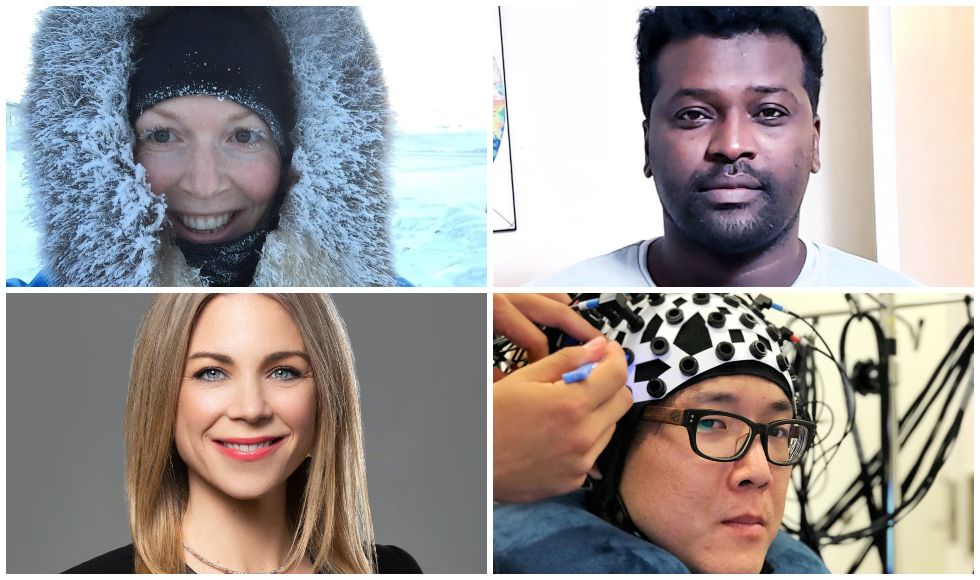 McMaster University's newest Canada Research Chairs. Clockwise from top left: Gita Ljubicic, Alemu Gonsamo, Gabriel Xiao and Jennifer Heisz.
---
BY Jay Robb, Faculty of Science
December 16, 2020
Four McMaster University researchers have been awarded Canada Research Chairs by the Government of Canada.
The new chairholders – all from the Faculty of Science – were announced today by the Honourable Navdeep Bains, Federal Minister of Innovation of Innovation, Science and Industry.
McMaster's newest Tier 2 Canada Research Chairs are:
Alemu Gonsamo, an assistant professor in the School of Earth, Environment & Society, is the new Canada Research Chair in Remote Sensing of Terrestrial Ecosystems (Tier 2). Gonsamo's research program integrates carbon cycle models and emerging satellite technologies to improve insight into photosynthetic processes, which will then reduce uncertainty in global carbon budget estimates
Jennifer Heisz, an associate professor in the Department of Kinesiology, is the new Canada Research Chair in Brain Health and Aging (Tier 2). Heisz's research examines how one session of exercise impacts the brain to improve memory, and will then determine how those temporary changes become permanent with regular exercise training and whether they can be enhanced with brain training games that target memory. This research will inform evidence-based guidelines for exercise interventions to keep older Canadians healthier longer
Gita Ljubicic, an associate professor in the School of Earth, Environment & Society, is the new Canada Research Chair in Community-Engaged Research for Northern Sustainability (Tier 2).  Working with Inuit communities in Nunavut, and learning from Elders and Indigenous leaders across Canada, Ljubicic explores how community-engaged research can contribute to northern sustainability. Her research will provide unique insights into the interconnections between climate resilience, environmental governance and Indigenous self-determination in research.
Gabriel (Naiqi) Xiao, an assistant professor in the Department of Psychology, Neuroscience & Behavior, is the new Canada Research Chair in Perceptual Development (Tier 2). Xiao was also awarded an additional $210,000 from the Canada Foundation for Innovation's John R. Evans Leaders Fund. Xiao's research investigates the early development of perceptual and social capacities in infancy, exploring how newborns and infants can actively change their perception within seconds and how this cognitive capacity is impaired in pre-term infants. Xiao will also examine how social biases emerge as early as infancy. Identification of the origin of social biases offers an opportunity for mitigating the pervasive social biases in our society.
Dr. Karen Mossman, McMaster's vice-president, research, saluted both the new chairholders and the federal government.
"Congratulations to our new chairholders whose pioneering work will advance our knowledge and help to solve complex societal issues," she says. "The Canada Research Chairs program plays an integral role in our ability to attract and retain scholars with diverse backgrounds which is so important to our research enterprise."
Gonsamo, Ljubicic and Xiao joined the Faculty of Science in 2019 while Heisz has been a faculty member since 2013.
"Our Faculty of Science is incredibly proud of Alemu, Jennifer, Gita and Gabriel," says Dean Maureen MacDonald. "Our colleagues have quickly established themselves as outstanding researchers and the Government of Canada's investment will further accelerate the impact of their vitally important work."
Tier 2 Chairs, which are held for five years and renewable once, are for exceptional emerging researchers who have the potential to lead in their field. For each Tier 2 Chair, the University receives $100,000 annually, with an additional $20,000 annual research stipend for first-term Chairs.
The McMaster researchers were part of a $195 million investment by the federal government to support 259 new and renewed Chairs announced across the country. McMaster has been allocated 88 Canada Research Chairs, with 19 Chairs in the Faculty of Science.
The Canada Research Chairs Program invests up to $295 million annually to attract and retain some of the world's most accomplished and promising researchers.