Four McMaster researchers named to Royal Society of Canada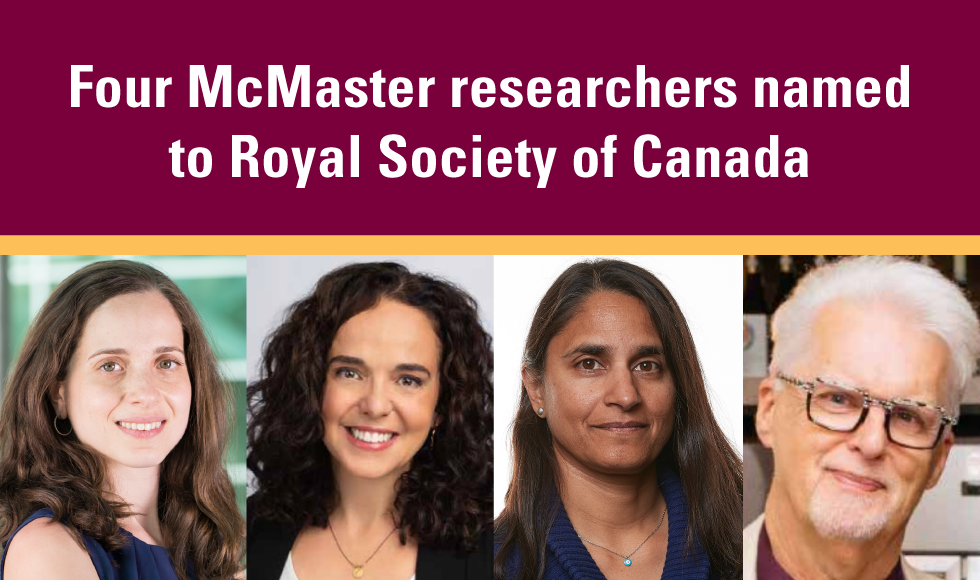 (From left to right) Leyla Soleymani, Andrea Gonzalez, Sonia Anand and Richard Arthur have been recognized by the Royal Society of Canada (RSC) for their contributions to research and scholarship.
---
BY Daniella Fiorentino
September 8, 2022
Four McMaster researchers have been recognized this year by the Royal Society of Canada (RSC) for their contributions to research and scholarship.
Sonia Anand, a professor in the Department of Medicine and senior scientist at the Population Health Research Institute, and Richard Arthur, Professor Emeritus in the Department of Philosophy, have been named Fellows in the RSC's Academy of Science. Fellowship in the RSC represents the highest academic honour in Canada.
Sonia Anand is internationally recognized for her research on the cardiovascular health of women and populations of diverse ancestral origin. Anand has earned a global reputation for prioritizing research in women's health, impacting public policy and clinical practice, and developing new therapies that are benefitting high-risk vascular patients globally.
Richard Arthur is the author of numerous ground-breaking articles and books on the German philosopher Gottfried Wilhelm Leibniz. His innovative work on the history and philosophy of science and mathematics in the 17th century has transformed the study of his field.
Leyla Soleymani, an associate professor in the Department of Engineering Physics, and Andrea Gonzalez, an associate professor in the Department of Psychiatry & Behavioural Neurosciences, have been elected to the RSC's College of New Scholars, Artists and Scientists.
According to the RSC, the College consists of mid-career leaders who provide the RSC with a multi-generational capacity to help Canada and the world address major challenges and seize new opportunities including those identified in emerging fields.
A University Scholar and Tier II Canada Research Chair in Miniaturized Biomedical Devices, Leyla Soleymani's research is focused on developing biomedical technologies for rapid disease diagnostics and health monitoring, as well as solutions for reducing the spread of infectious diseases.
Andrea Gonzalez is the Tier II Canada Research Chair in Family Health and Preventive Interventions. Gonzalez has made major contributions in understanding and developing evidence-based approaches that reduce adversity in childhood, reverse their detrimental impact and enhance the lives of children and families.
"Congratulations to McMaster's newest RSC Fellows and College members on this well-deserved achievement," says Karen Mossman, McMaster's vice-president of research.
"Your membership in the Royal Society is indicative of the incredible contributions you have made to your respective fields and the remarkable impact of your research in Canada and in communities around the world."
The Class of 2022 Fellows and College members will be inducted into the Royal Society on November 25th in Calgary, Alberta.