Four McMaster scholars elected Fellows of the Royal Society of Canada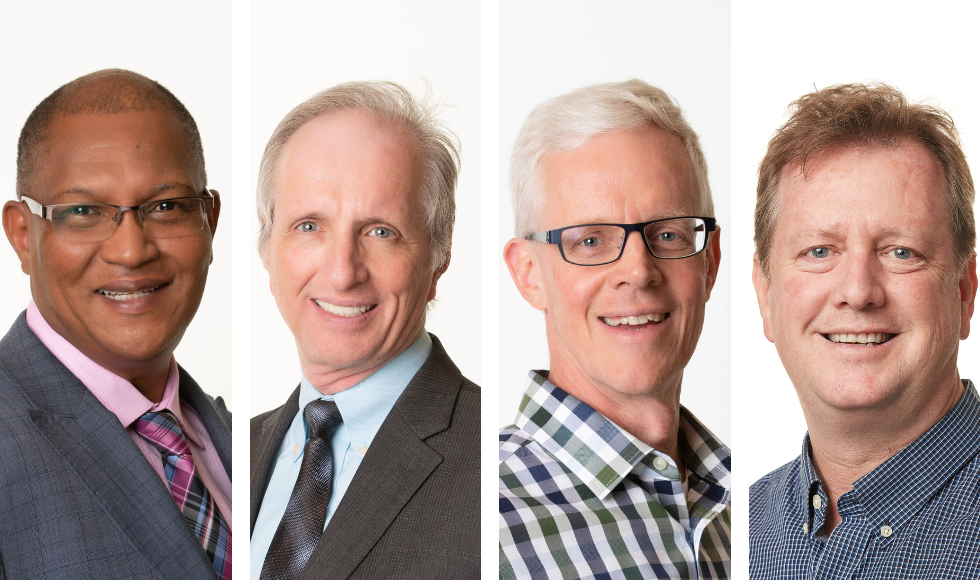 From left: Lehana Thabane, Hertzel Gerstein and Eric Brown from the Faculty of Health Sciences; and Graeme Luke from the Faculty of Science have been recognized for their outstanding scholarly and scientific achievement.
---
September 6, 2023
Four McMaster professors have been named fellows of the Royal Society of Canada.
The new fellows, all appointed to the Society's Academy of Science, are Eric Brown, professor of biochemistry and biomedical sciences; Hertzel Gerstein, professor of medicine; Lehana Thabane, professor of health research methods, evidence and impact; and Graeme Luke, professor of physics and astronomy.
Fellows of the Royal Society of Canada are distinguished Canadian scholars who have made remarkable contributions to the arts, the humanities and the sciences, and to Canadian public life.
Brown is a thought leader on the national and international stage, recognized for his antibiotic drug discovery and resistance expertise, and more broadly in biomedical research. He is especially distinguished for his innovation in the development and application of unconventional technologies that enable antimicrobial discovery, including the use of high-throughput chemical and systems biology. Brown's research accomplishments have identified new directions for novel antibacterial therapeutics.
"It is wonderful to be recognized the Royal Society of Canada for my group's work in chemical and systems biology," Brown says. "It's truly inspiring to our ongoing efforts to develop technologies and make discoveries with promise in creating breakthrough therapies."
Hertzel Gerstein is a trailblazing diabetes researcher who has helped transform diabetes into one of the most evidence-based fields in medicine. His transdisciplinary approach, and patient-informed clinical trials, focus on links between diabetes, cardiovascular, cognitive, and renal outcomes, and have yielded novel insights into the prevention, remission and care of people with diabetes, and in the prevention of diabetes in those at greatest risk.
"A diagnosis of Type 2 diabetes carries a higher mortality than many types of cancer," Gerstein says. "The many large randomized trials in which I have played a major leadership role over the last 25 years have identified several powerful and effective ways to reduce the mortality and related outcomes in these individuals."
Lehana Thabane is a pioneer in health-research and clinical-trials methodology, and an advocate of evidence-based medicine and health care. Renowned for developing highly original and rigorous biostatistical methods for new and innovative clinical-trial designs, his biostatistical leadership in the design and conduct of health studies led to major advances in clinical practice guidelines and helped shape new health policy. Moreover, his passion for mentoring without borders has influenced hundreds worldwide.
I am truly honoured to receive the recognition of a fellow of the RSC. I am eternally grateful to my family, and colleagues and students at McMaster, St. Joe's Hamilton, and beyond, all of whom have contributed to and supported my personal growth as a scientist and mentor," Thabane says. "This honour is a public recognition of the importance of a positive, inclusive, collegial, nurturing, and collaborative research culture that we have built at McMaster and St. Joe's Hamilton."
Graeme Luke is a leading expert in the application of muon spin rotation/relaxation to the study of quantum matter. He has made important contributions to the study of high temperature and other unconventional superconductors and has uncovered new emergent states in geometrically frustrated magnets.
"I feel extremely honoured to have been elected a Fellow of the Royal Society of Canada," Luke says. "I am truly grateful to my family, students and colleagues who have supported me both personally and scientifically. Quantum materials will hold the key to the next generations of technologies and it is exciting to be contributing to their development and understanding."
The Royal Society of Canada, founded in 1882, elects both fellows and members, and presents awards to highlight exceptional achievements. An event will be held in Waterloo Nov. 16 and 17 to celebrate the new members.