Four McMaster University professors named to Canadian Academy of Health Sciences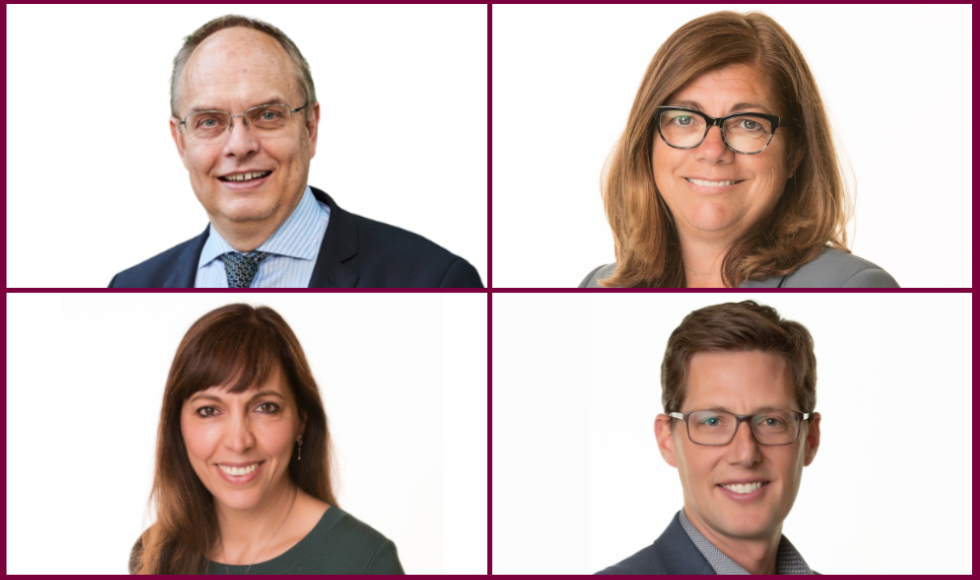 (Clockwise from top left) Mark Crowther, Sharon Kaasalainen, Greg Steinberg and Elena Verdu are joining the Canadian Academy of Health Sciences as fellows. 
---
September 20, 2023
Four professors with McMaster University's Faculty of Health Sciences are joining the Canadian Academy of Health Sciences (CAHS) as fellows. 
The four new fellows are Mark Crowther, Sharon Kaasalainen, Greg Steinberg and Elena Verdu. The induction, announced on Sept. 20, is among the highest recognitions of excellence in Canadian academic health sciences. CAHS is a distinguished and esteemed institution dedicated to advancing health research, knowledge and policy in Canada.  
Crowther, a professor and chair with the Department of Medicine, is an expert in hematology and thromboembolism. He has published nearly 600 peer-reviewed publications and has accumulated 80,000 citations. His research aims to improve anticoagulant drugs, manage complications, and inform management guidelines. 
"The CAHS brings together a remarkable group of individuals who have moved the care of patients and the health-care system forward; it is a great honour to join this highly esteemed group," says Crowther. 
Kaasalainen is a global leader in palliative long-term care. A professor with McMaster's School of Nursing and a Gladys Sharpe Chair in Nursing, Kaasalainen helped create a national framework called Strengthening a Palliative Approach in Long-term Care. Governments across Canada have used this revolutionary approach to assist in the development of long-term care strategies.  
"I feel incredibly honoured to become a member of CAHS and very grateful to all those who helped with my nomination. As a CAHS fellow, I look forward to collaborating with other fellows and working together to improve the quality of living and dying in long-term care homes across the country," says Kaasalainen. 
Steinberg is a Tier 1 Canada Research Chair in Metabolic Diseases, a professor with the Department of Medicine, and co-director of the Centre for Metabolism, Obesity and Diabetes Research. Steinberg has been internationally recognized for advancing research on obesity, diabetes and endocrinology. His research has led to the identification of new classes of medications that mimic a low energy state and that have therapeutic applications for cardiovascular disease, diabetes and cancer. 
"It's an incredible honour to be invited to join such an esteemed list of individuals who have had such a tremendous impact on improving the health and well-being of Canadians," Steinberg says. 
Verdu is an award-winning researcher and a professor with the Department of Medicine. Her work has focused on developing therapeutics and dietary interventions to treat and prevent conditions like celiac disease and inflammatory bowel disease.  
"I am honoured to be elected as a fellow of the Canadian Academy of Health Sciences, but even more than this, I am humbled and excited by the opportunity to collaborate with colleagues to provide scientifically validated evidence and actionable solutions to address major digestive health issues affecting Canadians," Verdu says.