From the burning Boreal to lead poisoning, McMaster 3MT a showcase of grad research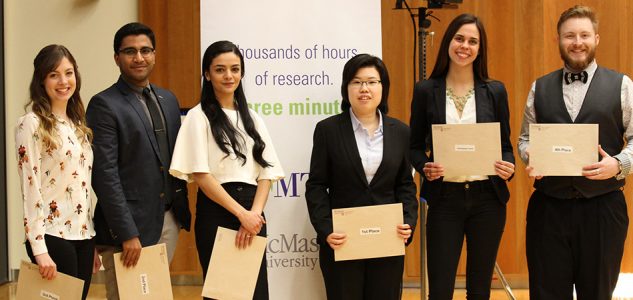 Three Minute Thesis finalists Sophie Wilkinson (left), Gautham Kirshnaraj, Nourhan Shalaby, Tsz Wing Cheung, Michelle Ogrodnik, and Matthew Berry enjoy a moment after the competition.
---
February 27, 2017
Lead Poisoning is Everywhere earned Master's student Tsz Wing Cheung top spot at this year's McMaster Three Minute Thesis (3MT) Competition on February 23.
"I didn't expect to present this year, but then I decided to try," said Cheung.
"This was a good experience; the 3MT really helped me with my public speaking skills."
Her decision – and effort – paid off. She will represent McMaster at the Ontario Provincial Final at the University of Waterloo in April. Twelve students competed in the 3MT Final Heat. Cheung also took home $1,000 and the Dean's Award for Excellence in Communicating Research, which will be given during the Graduate Recognition Awards in September.
Cheung is in the first of a two-year Masters in Radiation Sciences (Medical Physics), working under supervisor Fiona McNeill. She completed her undergraduate degree in Hong Kong.
Competitors who placed in the top five receive cash prizes and the Dean's Award for Excellence in Communicating Research. They include:
Second place: Gautham Krishnaraj, Health Sciences
Third place: Sophie Wilkinson, Science
Fourth place: Matthew Berry, Science
Fifth place: Nourhan Shalaby, Science
Michelle Ogrodnik, Science, was selected by her peers as winner of the Competitor's Choice Award, worth $250.
Final Heat judges included members of the broader Hamilton and McMaster communities:
David Carter, executive director of the Innovation Factory
Grace Diffey, vice-president, community relations at the Hamilton Community Foundation
Peter Dyakowski, named Canada's Smartest Person after competing in the inaugural CBC special, and offensive lineman for the Toronto Argonauts
Chukky Ibe, president-elect for McMaster's Student Union
Allison Sekuler, strategic advisor to McMaster's President and Vice-President on academic issues
More than 50 graduate students registered to participate in this year's full-day event, a number that has steadily climbed since the first University competition in 2013. Competitors took part in four preliminary heats throughout the day. The top three from each heat moved forward into the Final at day's end.
Visit the McMaster School of Graduate Studies website for a full list of competitors.