Funding announcement at McMaster boosts genomic research across Canada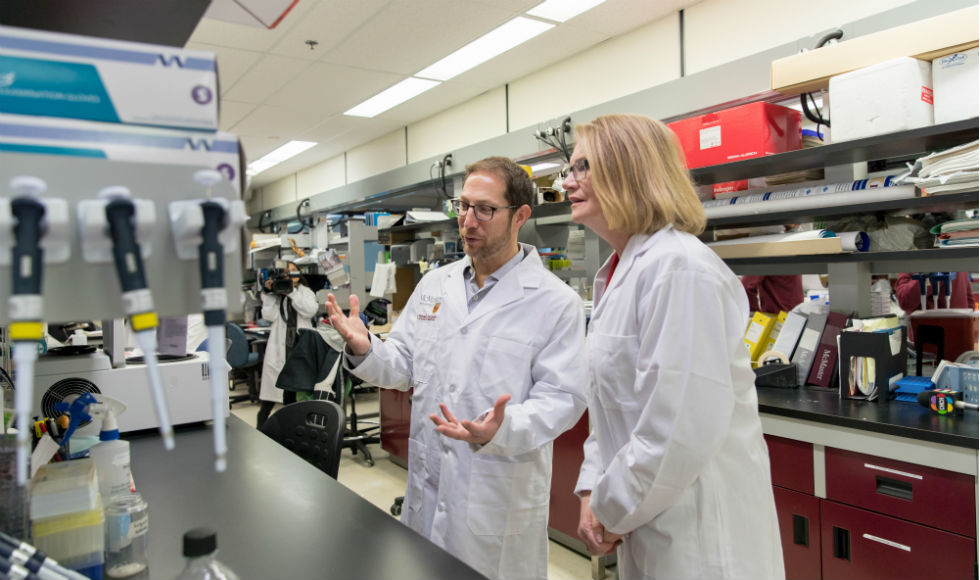 McMaster researcher Jonathan Bramson gives Kate Young, parliamentary secretary for science, a tour of his lab at the university on Friday.
---
December 2, 2017
McMaster University served as the host of today's announcement of a $24.5-million investment in genomic research being done across Canada, including here in Hamilton.
Kate Young, parliamentary secretary for science, announced $8.1 million in federal funding for five new projects under Genome Canada's Genomic Applications Partnership Program. The program works to translate Canadian knowledge and expertise in genomics into applications that support health and the economy.
An additional $16.4 million is being invested by provincial governments, businesses and research partners for a total of $24.5 million in support of cutting-edge research projects.
Read: Hamilton researchers: White blood cells could be made to hunt cancer cells
"Our government is proud to support scientists whose hard work leads to new discoveries, technologies and services that support a stronger, healthier and more vibrant middle class," said Young on behalf of Kirsty Duncan, Minister of Science. "I commend the researchers at the heart of these five collaborative projects who are using genomics to make a difference in the lives of Canadians, in our economy and in our environment."
Today's announcement highlighted the work of McMaster researcher Jonathan Bramson who received a total of $2.3 million in funding for a project that will validate a new white blood cell therapy for cancer.
Bramson, associate dean of research for the Faculty of Health Sciences, is a professor of pathology and molecular medicine. He is also a Canada Research Chair in Translational Cancer Immunology. His lab is situated at McMaster University.
The funding will assist Bramson and Triumvira in engineering and commercializing new immunotherapies based on T-cells, which are cells of the immune system, to treat terminal cancers.
"We are deeply grateful for this funding from Genome Canada," said Bramson. "We will use these funds to generate key proof-of-concept data for our partner, Triumvira Immunologics, that will be key to their future as they grow their research and development program in Hamilton and, ultimately, deliver these promising agents to cancer patients."