Future of Canada Project: McMaster researchers look to the past and today's challenging times to envision a better future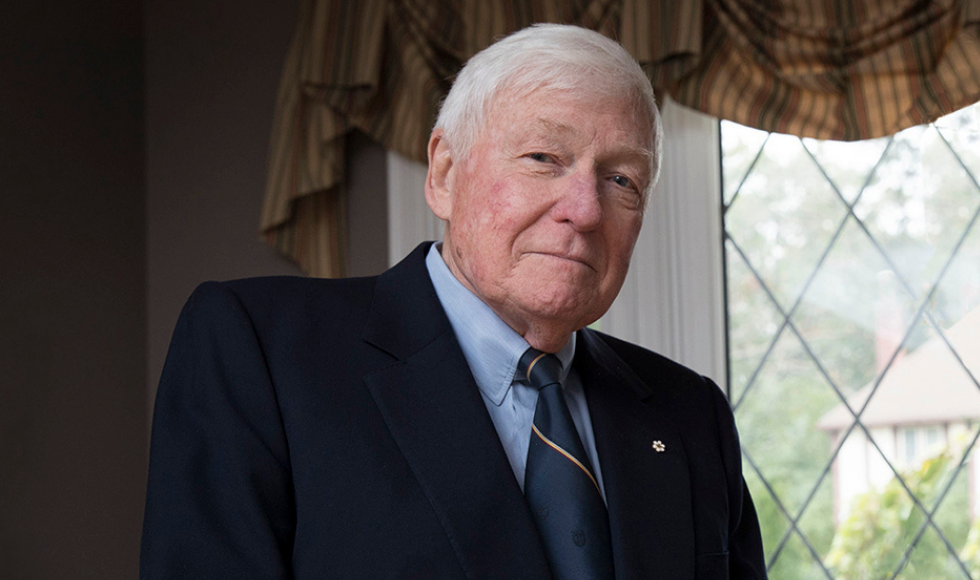 Distinguished Canadian L. R. "Red" Wilson invests in leadership, collaboration, expertise with national reach.
---
April 12, 2021
McMaster University is creating a Future of Canada Project, an initiative designed to propel novel research that explores the possibilities for Canada in the next decade, with an eye to making an impact in many aspects of Canadian life.
Supported by a generous $5-million gift from Chancellor Emeritus L. R. "Red" Wilson '62, the Project supports collaboration among McMaster researchers from various fields of study and leverages a national Council of leaders and experts for their guidance and perspectives.
The Project's mandate, over a three-year pilot timeline, is to help amplify the research impact by reaching new stakeholders, including policy makers, business and community leaders, and the public.
"At the forefront of this project is not just McMaster's rich expertise, but also Canada itself, and all of us living within it: how we have arrived at our current moment, these challenging times, and how we can move forward in a way that protects democracy, nurtures leadership, and achieves our fullest potential," said Wilson.
Wilson, a renowned Canadian business leader, is a recipient of the Order of Canada and the Vanier Medal for public service. He has been an extraordinary champion of McMaster University for almost six decades, serving as Chancellor from 2007 to 2013. He has focused on investing in the liberal arts, leadership and student success and L. R. Wilson Hall, home to the Faculties of Social Sciences and Humanities, was named in recognition of his many contributions.
The Future of Canada Project is led by McMaster President David Farrar and a governance committee in cooperation with a Project Council.
President Farrar said the Project is of such importance and priority it will receive $1 million in funding from McMaster.
"I am deeply committed to this Future of Canada Project and to the opportunities it provides to consider a range of important issues relating to Canada's past, present and future," said Farrar. "I am looking forward to the spirited discussions and research questions that will emerge as the Project Council, our researchers and the McMaster community connect, share ideas and collaborate."
The Project Council is a group of recognized leaders from across the country, with diverse interests, networks and areas of expertise. Council members will serve as Project ambassadors, help define each year's funding themes and offer perspectives and strategies to amplify results by reaching new stakeholders, including policy makers, business and community leaders, and the public.
The Council is chaired by Dr. Samantha Nutt, a 1991 graduate of McMaster's Arts & Science Program and a 1994 graduate of McMaster's medical school. Nutt is an award-winning author, speaker, Order of Canada recipient and founder of War Child Canada.
"This is an incredible opportunity to deepen our collective understanding not just of Canada today, but the Canada we'd like to see in the future," said Nutt. "We are facing some of the biggest questions and uncertainties in generations, from the long-term impact of the COVID-19 pandemic, climate change, economic inequality and shifting geopolitical threats, to truly reconciling our own legacy of cultural and racial injustice as we work towards building a more inclusive Canada for all. I am honoured to be a part of this important initiative and am excited to work with such a dynamic and diverse group of thinkers and academics."
Council members include Tina Varughese, Lloyd Axworthy, Dr. Andrew Boozary, Habon Ali, Mark Sakamoto, Mide Akerewusi, Peter Mansbridge and Sara Wolfe.
McMaster members include President Farrar and the Project's academic lead, Jean Wilson '77, director of the Arts & Science Program.
Wilson noted: "As director of a dynamic program of integrated studies in science, social sciences, and humanities, I know that a multidisciplinary focus can yield rich learning. This Project is a great example of how exciting and socially relevant collaboration across fields can be."
McMaster will host a culminating conference at the end of the Project. The Council, catalyst seed fund project leads, and key stakeholders will meet to celebrate work done, build on that work and disseminate core findings. The conference will be designed to showcase the work,  continue momentum and amplify the outcomes.