Global Nexus to work with National Research Council on infectious disease research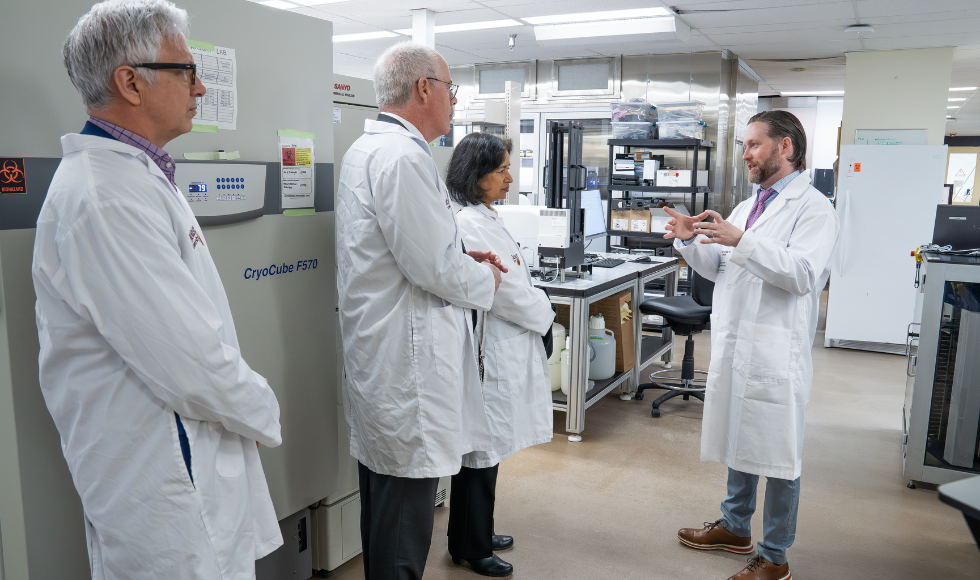 Matthew Miller, executive director of the Michael G. DeGroote Institute for Infectious Disease Research, shows visitors from the National Research Council of Canada around the institute. (Photo by Georgia Kirkos, McMaster University)
---
BY Blake Dillon, The Global Nexus School for Pandemic Prevention and Response
May 29, 2023
A new agreement between McMaster University and the National Research Council of Canada (NRC) will enable collaboration on evidence-based solutions to infectious disease problems.
The Memorandum of Understanding establishes a shared interest in collaborating on research related to infectious diseases, antimicrobial resistance, drug discovery, diagnostics, biocompatible materials and other areas.
"This agreement combines McMaster's leading infectious disease research with the NRC's well-established expertise in translational research in biosciences and biomanufacturing, putting Canada in a great position to deliver innovative, evidence-based health solutions for Canadians," says Iain Stewart, president of the NRC.
Led by the Global Nexus School for Pandemic Prevention & Response, McMaster will work with researchers from the NRC's Human Health Therapeutics and other life sciences research centres to explore possibilities for strengthening Canada's biomanufacturing and advanced biosciences output.
"The NRC is a leader in these spaces, and so combining their strengths with our own will create new possibilities for made-in-Canada pandemic solutions," says Gerry Wright, executive director of Global Nexus.
The agreement is a significant milestone and will allow McMaster to grow its global research network, says McMaster President David Farrar.
"Working together will allow us to explore and deliver global evidence-based health solutions, while driving recovery and prosperity and ensuring health equity," he says.
"Our combined capacity will no doubt lead to the results that are necessary for improving the health of Canadians and people around the world."
Stewart, along with Lakshmi Krishnan, the NRC's vice-president of life sciences, and Alain Beaudoin, vice-president, business and professional services, recently visited McMaster to discuss next steps with Farrar and Matthew Miller, scientific director of the Michael G. DeGroote Institute for Infectious Disease Research.
As part of the visit, the delegation also toured the institute, the McMaster Nuclear Reactor and the Canadian Centre for Electron Microscopy.