How Indigenous and western knowledge can work together to improve Six Nations water security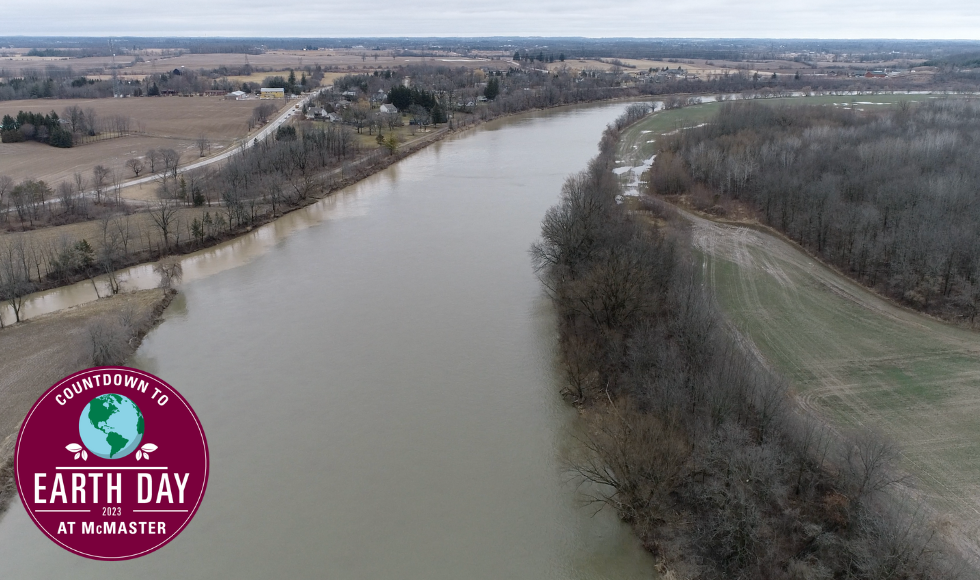 An aerial view of the Grand River, which is the largest watershed in southern Ontario. Photo courtesy Dawn Martin-Hill/Ohneganos.
---
BY Chris Pickles
April 19, 2023
Dawn Martin-Hill, professor in the Indigenous Studies and Anthropology departments, says looking at a satellite view on Google Maps one can easily find the Six Nations of the Grand River — just look for the intact forest. 
For Martin-Hill, that preservation of the old-growth Carolinian forest shows how the Indigenous community of the Six Nations knows how to treat the land with care.
And through her work with the Ohneganos water research project, she is advocating for Indigenous knowledge to be used alongside western science to protect the environment.
That's why Martin-Hill made the trip to New York City to attend the UN Water Conference on March 23 — to promote the use of Indigenous and western ways of knowing to tackle water security issues in Six Nations of the Grand River.
Martin-Hill's Ohneganos project hosted the event, titled Kayanní:yo 'A Good Path', with a panel of speakers focussing on how Indigenous ecological knowledge can be used in conjunction with western science to protect water and ecosystems.
"We're hoping to forge a new path, using western and Indigenous knowledge systems," she said.
"The UN is starting to realize how valuable Indigenous knowledge can be, but they're unsure how to fit that into the existing frameworks."
One issue Martin-Hill pointed out at the event was that, while PhD researchers receive funding, Traditional Knowledge Holders do not. But since the Haudenosaunee and other Indigenous groups and nations have long been protecting the natural world using that traditional knowledge, they have valuable insights that western science can use.
"Why should they take a vow of poverty to pursue this important research?" asked Martin-Hill. "These people play a pivotal role, but don't get any accreditation. I'd like to see that change."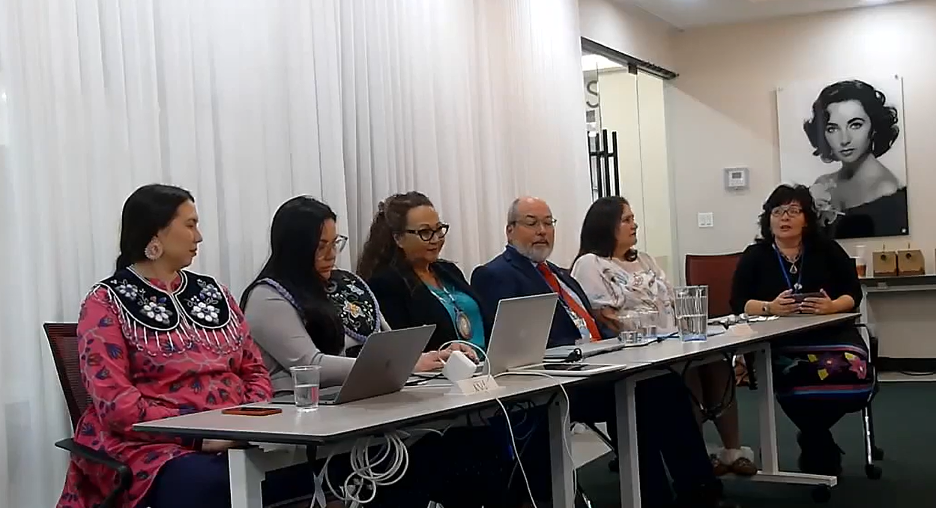 And there's definite sense of urgency in protecting the environment around Six Nations of the Grand River.
Highlighting the damage done to the section of the Grand River which flows through the community, Martin-Hill showed drone footage of the river, showing the sludge coming in from 25 wastewater plants upstream.
As part of the Ohneganos project, the team is trying to provide water-quality sensors to the community to monitor the water for chemicals.
Another part of the project also used a Household Water Insecurity Experiences (HWISE) survey to see the scale of water insecurity on Six Nations.
Martin-Hill says this was the first time the HWISE had been used in a developed country, since it's a tool typically used in the Global South. But the results, which parallel those found in developing countries, show Six Nations, a community only half an hour from Hamilton, is significantly water-stressed, she says.
"What we found was pretty distressful — the impact it had, particularly on Indigenous women," she says.
"People don't understand the economic and emotional burden it causes […] How violating it is to be a hard-working person, but not have the same water services as your non-Native neighbours."
The HWISE survey showed that 58 per cent of the Six Nations households surveyed had moderate to extreme water insecurity, to the point where families worry about flushing the toilet because they may not have enough water.
By speaking at events like this one, the team at Ohneganos hope to highlight the urgent need to take action to improve water security at Six Nations.
Alongside the event at New York, Martin-Hill and Makaśa Looking Horse, youth lead at Ohneganos, co-authored a paper titled 'Examining the connection between water concerns, water anxiety, and resilience among Indigenous persons: A systematic scoping review.'
It found there was a crucial need for more scientific research on water anxiety in Indigenous communities and that solutions should be found to provide equitable access to clean drinking water in Indigenous communities.
---
Presenting alongside Martin-Hill were Executive Director of the American Indian Law Alliance Betty Lyons, Beverley Jacobs from the University of Windsor, John Pomeroy, director of Global Water Futures, Makaśa Looking Horse, youth lead at Ohneganos, Nidhi Nagabhatia from the UN University, Lori Davis Hill, acting executive director at McMaster's Indigenous Health Learning Lodge, Karissa John, community coordinator at Ohneganos and Sub-Chief and Faithkeeper Leroy (Jock) Hill, Six Nations hereditary Confederacy Council.