Hamilton memory care centre will serve as living lab for researchers in aging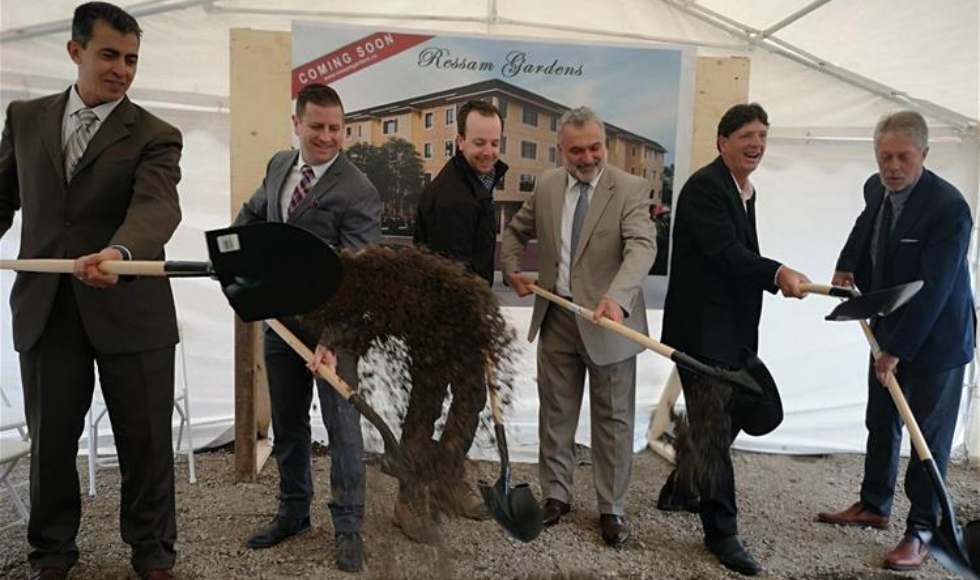 (Left to right): Lotfi Belkhir, John-Paul Danko, Nafia Al-Mutawaly, Terry Whitehead and ​Hamilton mayor Fred Eisenberger break ground at the location for the new ​memory centre that will serve as a living lab.
---
June 18, 2019
Nafia Al-Mutawaly was visibly thrilled as he drove a shovel into the ​ground on June 13 at the official groundbreaking for a $16 million residential care facility and "living lab" ​exclusively dedicated to people living with dementia.
Inspired by his mother, who had advanced dementia, the former McMaster and Mohawk engineering professor is the brain behind Ressam Gardens, a new seniors' residence in Hamilton designed to improve the quality of life of its ​residents.​
Set to open its doors in December 2020,​ Ressam Gardens will also act as a space where partners, ​including the McMaster Institute for Research on Aging (MIRA), ​can develop and test advanced smart systems that may positively impact this population.
"Conventional senior residences have a significant ratio of the dementia population, yet this population is treated no different than healthier residents," said Hamilton Councillor Terry Whitehead. "One of the aspects I find most exciting is its partnership with McMaster that will drive the development of some life altering technologies and solutions for this vulnerable section of our society."
Those technologies will include electric and smart systems to monitor the residents, including the use of GPS bracelets.
"We are actively developing with Dr. Al-Mutawaly two technologies that could play a significant role in the early diagnostics and treatment of dementia patients. The prospect of having a living lab in our backyard where these technologies could be developed, tested and improved is a dream come true," said MIRA researcher Lotfi Belkhir, associate professor in McMaster's Faculty of Engineering.
Al-Mutawaly based this project on Hogeweyk, a dementia village in The Netherlands. While dementia-specific communities are not new, "what's innovative about Ressam Gardens is that it is implementing research and evidence-informed decision-making around technology and memory care programs while also addressing the social and emotional needs of its residents," said Ine Wauben, managing director of MIRA.