Health sociologist Ingrid Waldron named McMaster's new HOPE Chair in Peace and Health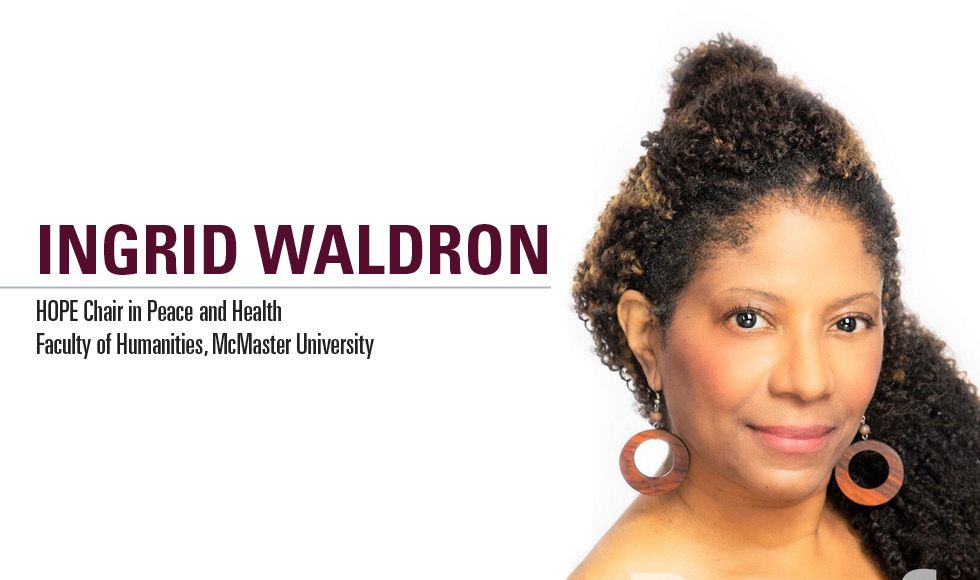 BY Sara Laux, Faculty of Humanities
June 4, 2021
On July 1, 2021, Ingrid Waldron joins the Faculty of Humanities and the Global Peace and Social Justice program as the new HOPE Chair in Peace and Health. She will also teach in the Faculty's Gender and Social Justice program.
Waldron, who was most recently an associate professor in the Faculty of Health at Dalhousie University, is a sociologist who approaches her work through an interdisciplinary lens. Her research focuses on environmental racism and the health and mental health impacts of discrimination on Black, Indigenous and immigrant communities.
As director of the Environmental Noxiousness, Racial Inequities & Community Health (ENRICH) Project for several years, Waldron was a key figure in the creation of a federal private member's bill, the National Strategy to Redress Environmental Racism, which, if passed, will be Canada's first legislation that addresses environmental racism. Introduced by Nova Scotia MP Lenore Zann, it has now passed second reading and is currently with the federal Standing Committee on Environment and Sustainable Development.
Waldron's first book, There's Something in the Water: Environmental Racism in Indigenous and Black Communities, which was published in 2018, won the 2019 Atlantic Book Award for Scholarly Writing. The book also formed the basis of the 2020 Netflix documentary, There's Something in the Water, which was co-produced by Waldron, actor Elliot Page, Ian Daniel and Julia Sanderson, and co-directed by Page and Daniel. She has also held grants from the Social Sciences and Humanities Research Council, the Natural Sciences and Engineering Research Council and the Canadian Institutes of Health research: all three of the Tri-Agency granting institutions
Most recently, Waldron and co-principal investigator Juliet Daniel, a professor in McMaster's department of biology and an associate dean in the Faculty of Science, received a $250,000 Exploration grant from the federal government's New Frontiers in Research Fund. Working with an interdisciplinary team of researchers from McMaster and Dalhousie, Waldron and Daniel will be investigating disparities in cancer incidence and outcomes in Shelburne, a Black community in Nova Scotia.
We sat down with her to talk more about her research and the intersection of peace and health.
Tell me about your work.
I'm a sociologist by training – the sociology of health and illness specifically. I focus specifically on health outcomes and health inequalities in racialized communities: Black communities, Indigenous communities, immigrant and refugee communities, and other marginalized communities.
I look specifically at how experiences of racism and other forms of discrimination impact these communities' health and mental health.
Tell me how you got into studying environmental racism.
I'd never heard of the term environmental racism until 2012, when an environmental activist in Halifax made me aware of the fact that polluting industries and other environmental hazards are often disproportionately sited near to Indigenous, Black and other marginalized communities in Canada.
I eventually decided to take on the project because it is a health issue and because there was an opportunity to conduct research with Black and Indigenous communities – communities I was already working with.
I also felt that it would be a challenge – it seemed very political, and if I could get it right, it would have real implications for communities. I thought the project could make a real impact.
So I said yes, hesitantly, because I'm not an environmental scientist, and I assumed, incorrectly, that only an environmental scientist who understood pollutants and contaminants would be able to do a project like this. I realized very quickly that with a sociology background, I do have a place in this: I can get at the racial factors, I can get at marginalization, I can get at colonialism, and gender – all those issues that sociologists have considerable expertise in.
I see environmental racism and its health impacts as part of the larger, broader sociology of health. Environmental racism is part of the social determinants of health – or the structural determinants of health, which is a term that is increasingly being used now.
Structural determinants of health – that's an interesting phrase. What do you mean by that?
I've been trying to get my students to move beyond the "social determinants of health" framework for years. [The social determinants of health are non-medical factors that influence health outcomes, including income, education, job situation, housing and access to healthcare.]
The social determinants concept is fine, but the word "structural" gets at the policies and decision-making processes within our social structures that impact people's well-being.
When we talk about "social" it's much more surface-level. When we say "structural," we put racism in context, because we're talking about policies that enable racism. Environmental racism is an outcome of policy – it doesn't just happen. The disproportionate siting of industry in certain communities is an outcome of environmental policies and decisions.
OK, back to the ENRICH Project. Tell me more.
It is a very community-driven project. When I first started the project, I travelled to Indigenous and Black communities in Nova Scotia to meet with residents and listen to their concerns about environmentally dangerous projects that were near their community. Many of them talked to me about the fact that there were ongoing health issues with respect to cancer, respiratory illness and reproductive illness.
I was also trying to see whether there was a pattern, because environmental racism is not about one case or one example – it's about a pattern over time, intergenerationally and over decades.  As a health researcher, I was most interested in the health effects, but for me to claim that environmental racism exists, I needed to look at the pattern over time. And, there has certainly been a pattern of environmental racism over time in Nova Scotia and in Canada, more broadly, over the last several decades.
In the case of Shelburne, the community talked a lot about the stigma of not being just a low-income Black community, but a low-income Black community that is living near a dump – and people see them as the dump. They live near the dump, and they are seen as the dump in many ways. That stigma takes a psychological toll on people.
What drew you into health care?
My father, who passed away in 2014, was a dentist. He was born in Trinidad, and he came up to do his dentistry degree at McGill before I was born. When I was a young girl, my fantasy was to also be a dentist, and to work in a dental clinic with my father – we were going to be a father-daughter dental team!
Later on, I realized that I wasn't necessarily interested in being a health professional, but I was interested in studying the issue of the health of culturally diverse communities.
I also wanted to study how discrimination impacts people. I was experiencing discrimination, specifically in Montreal and Toronto, and wanted to understand whether or not the way I was feeling was valid: were other people experiencing what I was experiencing? There had to be a psychological toll – and has anybody written about this?
How do you see the work that you've done intersecting with Global Peace and Social Justice?
When I think about the intersection of health and peace studies, I realize that research and teaching and the advocacy work I've been doing over the past 13 years squarely fit into that intersection of peace and health.
I focus on structural and state violence – the violence that manifests within our policies, within every social structure, whether it be health care, criminal justice, or employment. I look at how policies and actions and decision making have an impact on people's health, and I see state violence as a form of legitimate violence in the way it impacts people's health.
Peace studies is very much interested in exploring violence, but it's been more focused on physical violence, and the global violence that we see now in our world – but there's also a place for the subtle, systemic forms of state violence, in the form of how policies manifest and how they impact people on the ground.
What are you hoping to accomplish as the HOPE Chair in Peace and Health?
I want to build a larger profile in the Global Peace and Social Justice program, the Faculty of Humanities, McMaster, Hamilton, Ontario and the rest of Canada on the relationship between peace and health, especially as it relates to spatial forms of violence. That's another term that I like to use to describe issues such as environmental racism, climate justice, public infrastructure inequalities like transportation and housing, and other place-based inequalities in racialized communities.
Second, I'd like to develop interdisciplinary and multi-sectoral partnerships with other faculty as well as conduct research and engage in knowledge translation, community capacity-building and advocacy. These are activities I have led in Nova Scotia, so I would like to continue that work at McMaster.
Third, I would like to provide mentorship and support to students in diverse disciplines who have an interest in the intersection of peace and health, or spatial forms of violence, specifically as it relates to the health and mental health effects of structural determinants of health and violence in racialized communities.
I also want to engage the broader community in Hamilton and Ontario in the Global Peace and Social Justice program and the Faculty of Humanities through various events, workshops and other community engagement events.
There's a real separation between academics and the outside community in all universities, and all universities try to bring the community in to show that the university isn't such an intimidating place. Working with Chandrima Chakraborty [the director of the Global Peace and Social Justice program], I want to find a place or a space for the racialized communities I'm working with so they don't feel intimidated or feel that this is not a place for them.