Healthy forestry, healthy fish, healthy communities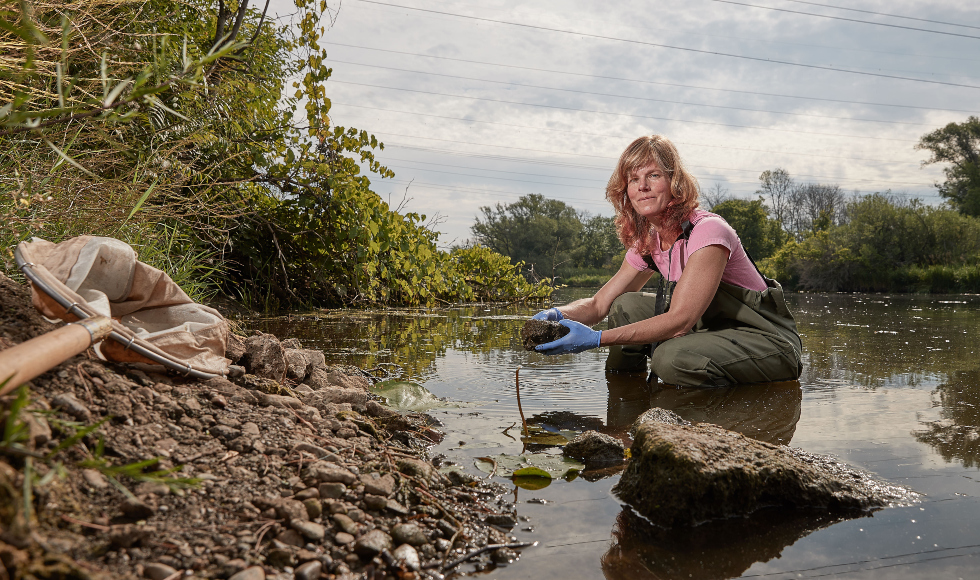 BY Sara Laux
December 16, 2020
"A big question right now is how much mercury is moved into waters from forestry activities and what the risks do they pose to aquatic systems? Mercury in fish is a big concern in Indigenous communities, especially in northern Canada, because of their reliance on traditional, subsistence fisheries."
–Karen Kidd, Biologist and Stephen Jarislowsky Chair in Environment and Health
The issue |

Forestry is releasing mercury into our waterways

Karen Kidd is no stranger to environmental concerns. Growing up in Sarnia, Ontario – the epicentre of Canada's petrochemical industries, which also happens to be on the shores of Lake Huron – she was inspired to try and find ways to minimize the harmful impacts of economically important industries on freshwater resources and aquatic life.

Originally a research scientist with Fisheries and Oceans Canada in Winnipeg, Kidd led a decade-long, ground-breaking project at the International Institute for Sustainable Development's Experimental Lakes Area in northwestern Ontario, which demonstrated the impact of synthetic hormones – like those found in the birth control pill – on fish and the food web of the lake.

Now, Kidd has turned her focus to mercury contamination – specifically the mercury that is released when trees are harvested by forestry companies. When forests are harvested, the mercury that is in the soil moves into nearby streams. This can increase the accumulation of mercury in aquatic ecosystems as the organic form of this metal – methylmercury – concentrates up food webs to fish, and can affect the fish and then the wildlife and humans that eat them – especially Indigenous communities that rely heavily on traditional fisheries.
---
More: Karen Kidd's work exemplifies McMaster's commitment to advancing the United Nations' Sustainable Development Goals (SDGs).
---
Fish are an important source of protein and nutrients such as heart-healthy omega-3 fatty acids. However, because methylmercury is a neurotoxin, it can have devastating effects on developing brains, both in utero and in children, when dietary exposures are high. It is important to understand the fish that are safe to eat.
With two-thirds of Canada's land covered in forest, trees are the basis of one of the country's most important industries. But is there a way to make it less disruptive to the country's sustainable clean water supplies?
The research |

Assessing–and reducing–mercury contamination

Working across many scientific fields – including ecology, biogeochemistry, chemistry and toxicology – Kidd's lab is currently working in northern New Brunswick and in northern Ontario to measure things like water quality, sedimentation, diversity of species and mercury bioaccumulation: all indicators of the health of an aquatic ecosystem. Those measurements form an assessment of how forestry in the area may be affecting the water – and give forestry companies a starting point for modifying their practices.

Kidd and her team are also working on assessing how the refurbishment of the Mactaquac Generating Station on the Saint John River in New Brunswick could affect mercury levels in fish in the river. The river, which is contained within the territory of the Wolastoqey First Nation, provides the community with fish – but with potential mercury contamination, they are generating knowledge on the species and sizes of fish that are safe to eat.

Much of Kidd's present research is motivated by the Minamata Convention on Mercury, a UN Environment Programme global treaty that brings together 125 countries to reduce the use, emissions and health impacts of mercury – aligning with Sustainable Development Goal 14, conserving and protecting life below water.
---
Find out more about Karen Kidd's research
---
The impact |

Healthy communities, healthy industries

Of course, Kidd's work extends far beyond clean water and healthy aquatic ecosystems: her research intersects with many of the other SDGs, including 3 (good health and well-being, since mercury is toxic at high exposures), 6 (clean water), 12 (responsible consumption and production of resources) and 15 (life on land).

Kidd works in collaboration with forestry companies so they can understand how best to adjust their practices to minimize their impact on the environment. Hydro-electric companies, like New Brunswick Power, also benefit from her research as they make decisions for refurbishing dams and generating stations.

"The research that we and lots of other Canadian researchers are doing is contributing to the global understanding of the current contamination of mercury – as well as practices that will minimize risks," Kidd explains.
Lessons learned |

Collaboration is key

For Kidd, collaboration is key to bringing about real change.

That's why her work frequently involves multiple partners, including the Canadian Forest Service, Fisheries and Oceans Canada, Environment and Climate Change Canada, other universities, and the Canadian Water Network, as well as partners in industry and the private sector.

"What I really enjoy about my work is that I get to interact with researchers across a lot of different disciplines," she says. "Collectively we can accomplish so much more towards solving pressing environmental issues and minimizing our impacts on water quality and aquatic ecosystems than we can individually."

Karen Kidd's research exemplifies McMaster's commitment to addressing climate change and to advancing the United Nations' Sustainable Development Goals(SDGs). Learn more about the best ways to align research with the UN's SDGs.