Heersink gifts launch collaboration between McMaster and University of Alabama at Birmingham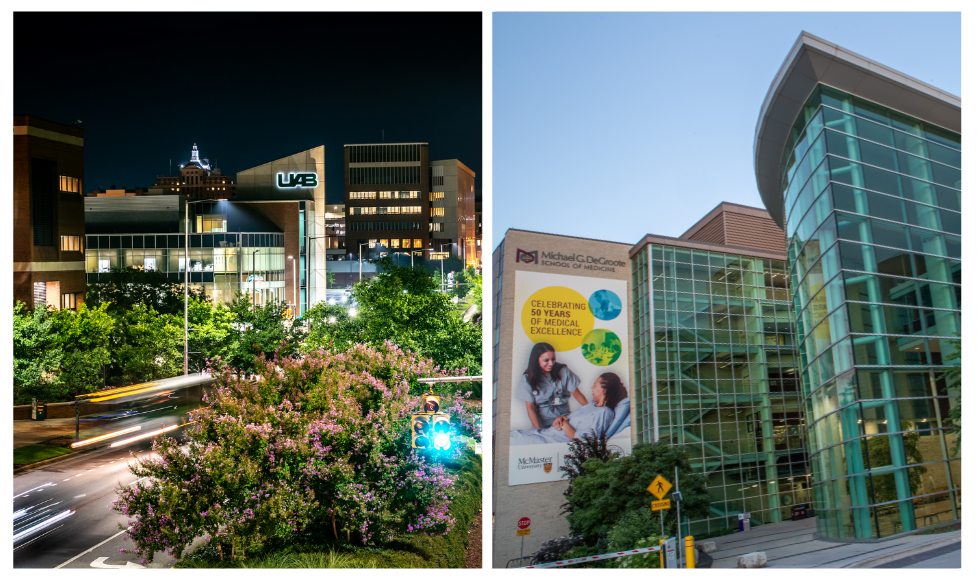 Multimillion-dollar gifts from philanthropists Marnix and Mary Heersink to McMaster and the University of Alabama at Birhmingham have laid the foundations for a close partnership on biomedical innovation and global health initiatives.
---
February 3, 2022
Multimillion-dollar gifts made by Alabama physician and philanthropist Marnix Heersink and his wife, Mary, to McMaster University and the University of Alabama at Birmingham (UAB) will lay the foundations for a close partnership between both schools.
The investments, aimed at creating biotech commercialization hubs and global health institutes at both universities, will spur the growth of a new cross-border innovation economy in Hamilton and Birmingham as both cities continue the transition from heavy industry to health care and service industries.
McMaster this week announced that the Heersinks are investing $32 million, which will create the Marnix E. Heersink School of Biomedical Innovation and Entrepreneurship and the Mary Heersink Centre for Global Health.
In September, the Heersinks made a gift of $95 million to the UAB School of Medicine, now renamed the UAB Marnix E. Heersink School of Medicine. The gift will also establish the Marnix E. Heersink Institute of Biomedical Innovation and the Mary Heersink Institute for Global Health at UAB.
"We are becoming increasingly globalized. If those two wonderful universities can increasingly tie the world together, I think it is fabulous," says Marnix Heersink, who grew up in Burlington.
"I cannot think of better schools to partner than McMaster and UAB. They are both located in old steel towns, whose economies are now transformed around medical education and research. The universities are young and that gives them both the hunger and freedom to push boundaries."
McMaster's strong track record in educational innovation, including its pioneering of problem-based learning, and UAB's position as the flagship academic medical centre in Alabama and its innovative health curriculum makes them ideal partners as they aim to educate a new generation of health sciences innovators, Heersink says.
Paul O'Byrne, dean and vice-president of McMaster's Faculty of Health Sciences, welcomes the collaboration.
"There is so much opportunity for synergy in these developments at our two universities, both in creating creative innovation for biomedical entrepreneurship as well as fast forwarding our global health initiatives," O'Byrne says.
Selwyn Vickers, dean of the UAB Heersink School of Medicine and chief executive of the UAB Health System, agrees.
"Biomedical innovation and global health are priority focus areas for the UAB Heersink School of Medicine that align well with our emphasis on discovery and collaboration," he says.
"I have no doubt that partnering with an outstanding institution like McMaster's Faculty of Health Sciences will expand and accelerate our programs in exciting ways, with the potential to improve the health and well-being of people throughout the U.S., Canada, and the globe."
John Kelton, a long-time friend of the Heersinks and a distinguished university professor of medicine at McMaster, likens the the relationship to a "free trade zone," that could exchange ideas and expertise in biomedical innovation and entrepreneurship, as well as global health issues and research best practices.
McMaster and the UAB are similarly sized schools, Kelton says, both renowned for their prowess in health sciences education and research. The biggest employer in both cities is the hospital-university sector.
By working together, entrepreneurs from both universities can create content that complements each other, combining each institution's strengths to create the most effective biomedical products, he says.
Once the pandemic eases, Kelton envisions student exchange programs, noting the opportunity for enriched learning.
The U.S. students who study in Ontario and their counterparts from McMaster who go to Birmingham will learn about the differences between the Canadian and U.S. health-care systems, he says.
The partnership will not only launch a new generation of biomedical innovators, but may also radically transform Hamilton's economic fortunes, just as the UAB has already done in Birmingham, Mary Heersink says.
"There is so much overlap and similarity between the two stories of both cities and their respective universities," she says.