Helping forests survive and thrive in the face of climate change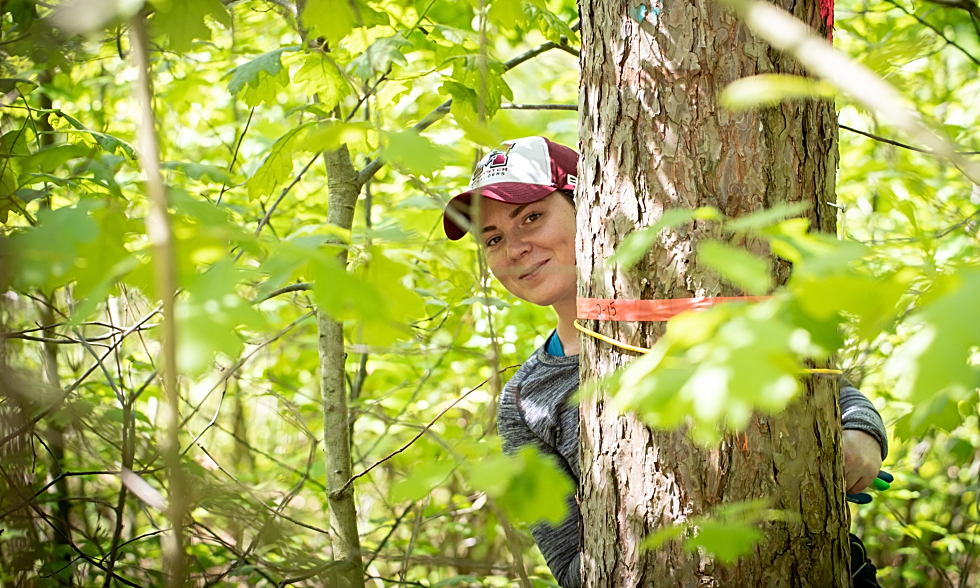 BY Erica Balch
June 4, 2018
Six months ago McMaster PhD student Alanna Bodo had never used a power tool, let alone built an electronic sensor.
But with some instruction from researchers at the University of Montreal, and a lot of practise, Bodo has now built more than 120 'sap flow' sensors designed to measure transpiration, the process by which trees draw water from the ground and release it as vapour through their leaves. Simply put, it's how trees breathe.
The sensors are a critical piece of Bodo's research which aims to shed light on how the changing climate is affecting forests, and to identify forestry practices that could help trees not just survive, but thrive as they adapt to rising temperatures and increasingly dry conditions.
"The weather is getting warmer and it's raining less, which means trees will need to change the way they use water," says Bodo, a PhD student in Earth and Environmental Sciences, whose research is part of the Southern Water Futures* project led by McMaster researcher Altaf Arain, professor of Geography & Earth Sciences.
"We have to figure out how to manage forests so there's enough water to keep trees breathing, otherwise whole forests and the ecosystems they help sustain will suffer," she continues. "So we're experimenting with different tree harvesting techniques that could help forest managers do this."
At a plantation forest at Turkey Point, Bodo is putting four different tree-thinning techniques to the test. The site – a red pine forest – has been divided up into 20, 100 metre-long plots, with multiple plots being used to test each technique.
"It's important to look at competition between trees," explains Bodo. "If there are too many trees, none of them will have enough water, but if you thin them in selective ways like we're doing, more of them will survive."
Bodo is studying both 'dispersed' techniques, which involve cutting down trees in neat rows so the remaining trees are evenly spread out, as well as 'aggregate' techniques – in which a larger areas of trees are clear cut within the plot.
She is also experimenting with the number of trees, cutting down 33% of the trees on some plots, and 55% on others to compare the results.
To determine which technique is most effective in promoting forest health, Bodo has installed the sap-flow sensors into trees in each plot. As the sap moves from the truck to the leaves, the sensor measures how much water is travelling through the tree. The more water passing through the sapwood, the higher the transpiration values, and the healthier the tree.
"What we're trying to do is find that sweet spot," she says, "We want figure out which thinning technique will provide trees with enough water for optimal growing conditions, while cutting down as few trees as possible."
Bodo's says her research could have important implications for planners who manage forests in provincial or national parks and could help inform sustainability practices for the commercial forestry industry. The data gathered in this project could also help researchers better understand the impact of climate change on Canada's southern forests, particularly on Red Pine forests, now and in the future.
"Our changing climate is unpredictable," says Bodo. "There are lots of models, but we can only work with the scientific data that's available. So by gathering this data, not only can we make recommendations for the planners and people involved in decision making, we can also put this data into the models to help better predict what's going to happen in these environments as a result of climate change."
*Southern Water Futures is part of Global Water Futures (GWF), a major research initiative aimed at delivering risk management solutions—informed by leading-edge water science —to manage water futures in Canada and other cold regions where global warming is changing landscapes, ecosystems, and the water environment. GWF includes researchers from The University of Saskatchewan, the University of Waterloo, McMaster, and Wilfrid Laurier University.